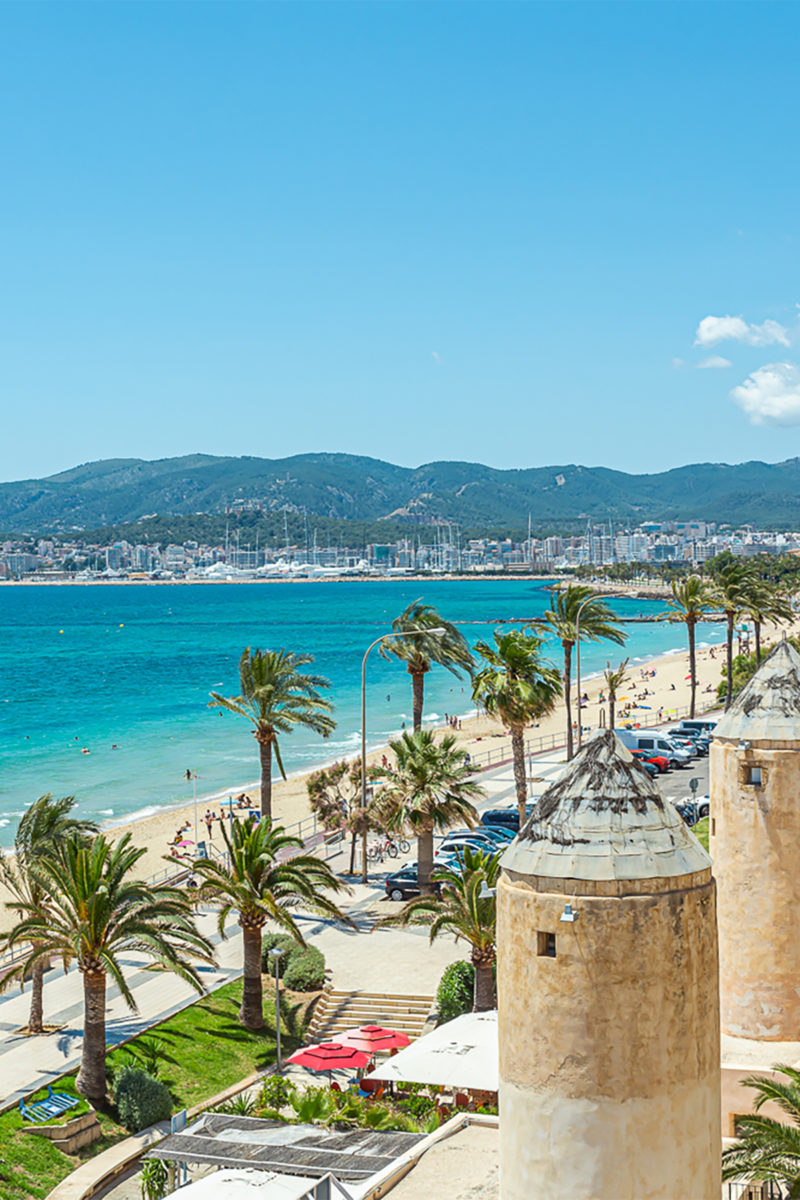 When the landmark Portixol Hotel was given a top-to-toe makeover by its new Swedish owners at the cusp of the last millennium, they were at the vanguard of what would be the rejuvenation – and transformation – of Portixol and its surrounds. Fast forward two decades, and this former fishing village now enjoys a status as one of the capital's most happening suburbs. Well-heeled ex-pats have since flocked here, snapping up and breathing new life into much of the area's traditionally low-rise architecture and adding a chic cosmopolitan vibe to the neighbourhood.
Portixol's main focus is its small and attractive bay, with bustling yacht club, and scattering of seafood restaurants. Its once-modest handful of former fisherman's cottages today represent some of the most sought after real estate on the island, with premium property continuing along the popular beachfront promenade as you move along the pretty coast. Inhabiting the streets behind the first-line, prices drop and the neighbourhood takes on a more everyday, residential aspect with local businesses catering to the local community. Either side of the marina, upscale properties house a mix of Mallorcan and foreign residents, as well as making popular holiday and second homes for the well-to-do.
As well as its picturesque seafront setting, it's the breezy outdoorsy lifestyle the area affords that has attracted a growing number of mostly northern Europeans to invest in property here. The long beachfront bike lane is the main artery for cyclist, skaters and scooters, connecting quickly to the Mallorcan capital.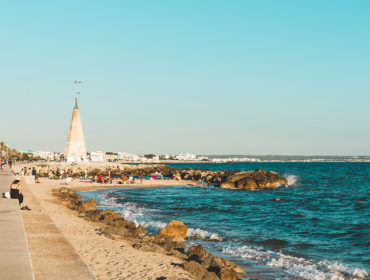 Portixol and its El Molinar neighbourhood have evolved from their fishing heritage into one of the most buzzing and desirable seaside spots on Mallorca.
The neighbourhood also appeals to boat owners, with two marinas – one newly modernised – which double as social hubs for seafaring enthusiasts as well as the broader community looking to connect with like-minded locals. Appealing to everyone from young working families to holiday homeowners to retired couples, the neighbourhood continues to flourished as one of Mallorca's real success stories.
Properties for sale in Portixol & El Molinar
Where to buy a property in Portixol and El Molinar
Portixol Marina
Stretching from Passeig Portitxol to the developments surrounding the main marina, this area represents the most overtly modern section of Portixol. The 'passeig' itself is a buzzing strip of beachfront real estate complete with sea-view restaurants and child-friendly, traffic-free terraces. Apartments make up almost all the housing here, with prime properties providing views directly over the Can Pere Antoni beach – such as the luxury Marina Plaza complex. Just north of the marina and up Carrer de Medellín, upscale apartment buildings house a healthy mix of foreign and native families who area also just steps from the large Duet Sports Portitxol sports centre.

Portixol
The area between Carrer de Llucmajor and Portixol Bay has become one of the most sought after places on the island to buy property, particularly on the front-line where charming former fisherman's cottages offer lovely views over the water. Its high desirability, combined with very limited properties, has pushed prices to up to €10-12.000/m2 – matching even the most coveted neighbourhoods in central Palma. Many Mallorcan's have sold up to profit on this boom, mostly to wealthy North Europeans who visit their second home regularly throughout the year.
El Molinar
The name refers to the many windmills that used to define this farming neighbourhood, and you'll still find a few farmsteads standing in the fields on its northern outskirts. But it's the first-line properties that have attracted most of the attention with foreign buyers, which overlook a long stretch of pretty coast and pleasant beachfront promenade. A freshly remodelled marina has added to the neighbourhood's prestige, while inland – especially above Carrer de Llucmajor – the streets continue in their more down-to-earth residential character.
Cuidad Jardín
While originally built as an upscale resort in the 19th century, Cuidad Jardín has since become a popular residential neighbourhood for a community of mostly Spanish families attracted by good local infrastructure, playgrounds and decent housing. While convenient for some, close proximity to the airport makes for inevitable noise from air traffic, especially during summer months. However, the sandy beach and pleasantly laid-back holiday atmosphere is attractive enough to draw modest summer crowds from Palma and the surrounding neighbourhoods.
Advantages to buying a property in Portixol and El Molinar:
Within easy reach of central Palma and the airport
Long beachfront lane popular with cyclists and skaters
Thriving local and international community
Pretty bay and long stretch of sandy beach
Not hugely impacted by seasonal tourism
Two marinas and lots of water sports
Good range of local dining options
Some things to bear in mind
First-line properties are scarce
No holiday rental licenses available
Some noise from nearby airport
Prices generally high
Portixol and El Molinar Price Guide
2/3 BEDROOM APARTMENT 
€250.000-€2.500.000
2/3 BEDROOM TOWNHOUSE 
€600.000-€3.000.000
4/5 BEDROOM FAMILY HOUSE
€800.000-€4.000.000
(Please bear in mind that prices are subject to change)
Types of property in Portixol and El Molinar
Fisherman's cottages
Much of Portixol's character is defined by the small homes once occupied by the fisherman who used to live and work there. These modest, low-rise dwellings have since become some of the most desirable, thanks as much to their simple charm as their seaside setting. Most bought up in recent years have been updated, some even demolished and rebuilt as sleek contemporary homes. Their relative scarcity means they seldom come on the open market, and when they do, the price can easily exceed a million euros – even for a doer-upper.
Apartments
The best of the luxury-level apartments can be found lining Carrer Joan Maragall, with guaranteed sea views and a sandy beach practically on your doorstep. Penthouses here represent some of the highest-end properties in the area – and particularly popular with affluent buyers – with rooftop pools, panoramic vistas and price tags around the three to four million mark. Several upscale complexes with marina views house a mixture of ex-pats and locals, while inland 'regular' apartments provide more modest accommodation. A few fisherman cottages have also been converted into small apartments, and are quickly snapped up as a holiday home or pied-à-terre.
Family townhouses
Townhouses large enough for families are some of the most common properties in the area – mostly found in the neighbourhoods of El Molinar and Cuidad Jardín. At the more accessible end of the market, you can sometimes find older buildings in need of renovation and with traditionally features such as wood shuttered windows, terracotta tile roofs and original exposed beams. At the higher end, there's some beautifully updated examples of family homes – some as parts of communities – with gardens, pools and parking. These are in high demand, so command a high price and go quickly.
Rules and Regulations
While most places have strict regulations concerning first-line properties, Portixol's traditionally inconsistent architecture means there tend to be less rules concerning maintaining aesthetic uniformity. As a general rule, however, floors cannot be added with new builds not allowed higher than three storeys (ground floor plus two). Windows, too, cannot be drastically increased in size so fully glass-fronted facades are not permitted. Holiday rental licenses are also very hard, if not impossible, to get for properties in the area.
What the Experts Say About Property in Portixol and El Molinar
"The Portixol and Molinar neighbourhoods offer a fantastic quality of life for those who love an active outdoors lifestyle and still want easy access to the capital. Bear in mind that the surge in prices have largely levelled off, and other areas offer better opportunities for a substantial return on investment."
Terence Panton, Managing Partner Centre & East, Engel & Völkers
"As it is a small area, the demand is much higher than the supply, so using a local realtor expert who really knows the neighbourhood – and the owners – is highly recommended."
Carin Isgård, CEO, Buy a Home Mallorca
Trusted real estate agents in Portixol and El Molinar