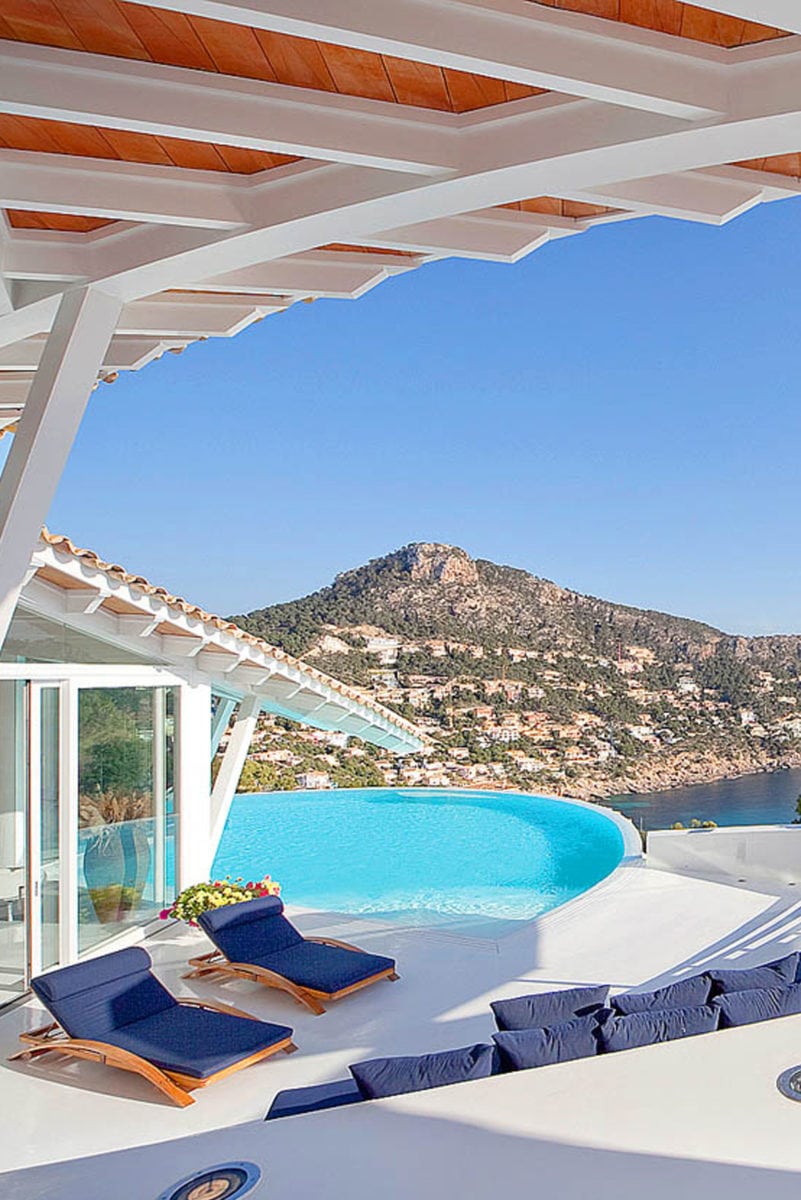 Situated on Mallorca's south-west coastline is the dreamy destination of Port Andratx, home to some of the most high-end property on the island. This exclusive sea-side town pulls in wealthy buyers from all over Europe, with Germans accounting for the highest proportion. The majority of Port Andratx's property sales cater for the second home market, appealing to buyers after a summer residence or winter-sun hideaway. Sought-after properties are usually renovated villas situated on the hill-side boasting spectacular views over the harbour. In the centre of the port, penthouses with roof terraces have become an increasing trend, adding to Port Andratx's exclusive property profile.
Buyers after something unique in Port Andratx will find it in one of the many luxury properties staggered into the hillside. Over the years, property developers have used the rocky coastline as a dramatic backdrop to their designs including underground garages and infinity pools. Properties in the southwest of Mallorca fetch some of the highest on the island with Port Andratx known for piquing the most interest.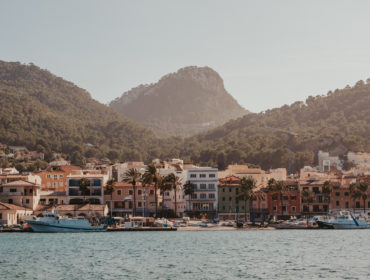 Port Andratx is home to some of Mallorca's best seafood, an international sailing club as well as fantastic restaurants. Find out more in this hc/ guide!
The sophisticated lifestyle in Port Andratx is reflected in its style of property. Members at the Club de Vela in particular have contributed to the level of class in the area meaning that property has followed suit. Expect nothing short of luxury homes in Port Andratx.
Where to buy a property in Port Andratx
LA MOLA
La Mola is one of the most exclusive areas in Port Andratx marked by its impressive tower 'Torre de Sa Mola' dating back to the 15th century. The area that encircles the tower on Carrer Ullastre is one of the greenest areas in Port Andratx and boasts supreme views over the bay and harbour. Properties are largely modern villas with gated entrances and benefit from plenty of hours of sunlight. Some of them even have views of Sa Dragonera.
CALA MARMASSEN
Cala Marmassen is located between Punta Marmassen and Morro des Garrover on the eastern side of La Mola. It is characterised by rocky terrain and high cliffs where you will find luxury villas scattered between pine trees looking out to sea. The stony beach below is not the smoothest of beaches and is quite difficult to access. However, it would appeal to buyers who enjoy deep-sea diving or snorkelling.
MONPORT
Monport has seen an increase in buying interest thanks to yacht enthusiasts looking for residency close to Club de Vela and the port. This is a quiet residential area but does see an influx of tourists in the summer months who stay at hotel Mon Port Hotel & Spa. Properties on this side of the harbour are sought-after for their great views of the entire port – residents can enjoy watching the fishing boats sailing back and forth.
CALA MORAGUES
Cala Moragues is situated 2km from the port and is known for being another exclusive area of Port Andratx. It is quite a rocky area which means that properties are usually staggered into the hillside at varying heights. There are lots of vegetation too around this part which buyers looking for nature will appreciate. Gardens usually benefit from vast areas of shade thanks to a rich canopy of pine trees.

CALA LLAMP
The rocky cove of Cala Llamp is a neighbour of La Mola and Cala Marmassen, located between Sa Punta des Cocó and Morro des Garrover. The beach is the ideal place for swimming and is nice for families with children given its natural shallow pools. Properties here have the best of three worlds: views of the port, sea and mountains. Cala Llamp is known for its much-loved Beach Club Gran Folies.
Advantages to buying a property in Port Andratx:
Stunning views of the Mediterranean and Sa Dragonera
Thriving nautical community
International mix of residents and lively town centre
A rich portfolio of modern architecture
Some of the nicest beaches in the southwest close-by
Sophisticated sailing club
Quite good privacy particularly in the sheltered hilltops
Close to Andratx town and the villages of S'Arraco and Sant Elm
Large marina awarded Blue Flag as one of the cleanest marinas in the world
Daily fish market
Lively quayside with a wide selection of bars, cafés and restaurants
Some things to bear in mind
In the winter months most businesses shut down – very little activity between November and March
Road access to properties in the hilltops can be difficult
30-minute drive to Palma
Nearby beaches are usually rocky, small and difficult to access
Planning permission is very slow and complicated, and sea-view plots are hard to come by
Port Andratx price guide
APARTMENTS/PENTHOUSES:
€200.000 – €3.000.000+
VILLA:
€500.000 – €25.000.000 +
FINCA:
€1.000.000 – €16.000.000 +
(Please bear in mind that prices are subject to change)
Types of property in Port Andratx
IN THE PORT
In the centre of the port properties tend to be luxury apartments in community buildings or complexes. These types of properties fit perfectly within the holiday rental market and usually come with a community swimming pool, terrace and parking. Buyers will find these type of apartments in a gated community just a short stroll from the marina. They are usually well-maintained and come decked out with modern fittings such as stylish kitchen units and en-suite bathrooms. There is of course the odd apartment that might require some renovation work, but the standard of property overall in Port Andratx is quite high. Luxury villas and penthouses share this level of standard too with many being designed by some of the world's best architects including Alberto Rubio.
IN THE HILLTOPS
Properties located in the hilltops and the surrounding area are where the most exclusive properties are found – expect large sea-front terraces, private pools and crisp architecture. The higher up the property is, the more impressive the view and thus, more expensive to buy. Homes that face west benefit from Mallorca's most spectacular sunsets and usually come with incredible decking areas – perfect for alfresco dining. Many properties staggered into the rock face are distributed over several floors with rooftop spaces and underground garages not being uncommon. Owning a property in the hilltops of Port Andratx is real estate gold, you're not likely to lose investment here as long as the incredible views and landscape stay the same.
RULES AND REGULATIONS
There is a limited supply of quality land with sea views around Port Andratx making it very difficult to find your dream plot. If you're interested in constructing your own home, you should be aware of the very restrictive planning system and the several hoops you'll need to jump through to obtain permission. There is a lot of red tape around planning on the southwest coastline but this doesn't mean it's impossible. The local city council are responsible for issuing permits and the requirements will change differently depending on the nature of your project. Consult with a good solicitor to ensure that you take the correct steps.
What the experts say about buying property in Port Andratx
"The majority of buyers are European, especially German, English, Danish and Swedish. The biggest demand for properties are between €2 million to €6 million euro, but it really depends on the area and the type of property."
"Port Andratx has this very carefree lifestyle, the exclusivity of the area means people can walk around unnoticed and at the same time be part of tight-knit community."
"I recommend you always get advice from an experienced real estate agent in Port Andratx. When investing in Mallorca you must listen to your heart but at the same time hear the advice of a professional. They can adhere to your criteria and help with the negotiation, legal support and overall process."
Javier Arriola, Sales Director, First Mallorca
Trusted real estate agents in Port Andratx
See below for more Villas for sale in Mallorca!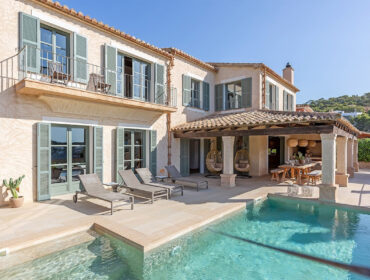 Discover the best Mediterranean villas for sale in Mallorca handpicked by Dr. Helen Cummins and team of local property experts.