When a villa lies within a 50,000sqm plot with full views of Port d'Andratx Bay and the Serra de Tramuntana and this is just one of main talking points, you know the property can only be described as one-of-a-kind.
The living area, approximately 600sqm above the picturesque harbour of Port d'Andratx, elegantly combines modern luxury with Mediterranean style: it's no small feat of design that the five-bedroom, four-bathroom villa does not stand out in the landscape but rather blends into it seamlessly, becoming a part of it.
It's hard to tell from the approach that the mansion, sold by luxury Mallorcan estate agents Engel & Völkers, also includes a swimming pool, a gym, a sauna, a guest apartment, a jacuzzi and a terrace with all-round views. Before reaching the house one traverses the well-kept garden, coasting a sun terrace and taking in the beauty and most of all peace of the surrounding countryside.
Luxury and premium design is not just about grand gestures and set pieces however, and this house delivers on the details too. High-quality materials such as parquet floors, a cutting-edge summer kitchen and the living room with a fireplace make this a perfect main residence as well as holiday home, striking the right balance between spacious and cosy.
Underfloor heating, air conditioning and house-wide sound system are further proof of this integration, which sacrifices no luxury but does it with supreme taste. A bodega, an office and large double garage round out the offerings, and for the more active crowd the property also offers direct access to a local hiking trail.
Photos by: Engel & Völkers Mallorca
Property reference number: W-028DTW
See below for more Villas for sale in Mallorca!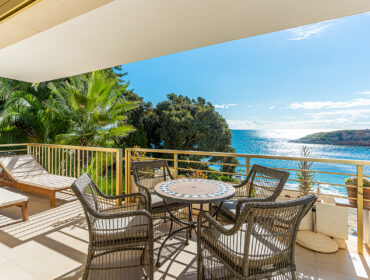 Discover the best Mediterranean villas for sale in Mallorca handpicked by Dr. Helen Cummins and team of local property experts.