THE DEVIL'S HORN by Anna Nicholas
"Having penned six travel titles about Mallorca, it was fascinating to break into crime fiction. Soller has been my home for 20 years, so I wanted to create a likeable, intelligent and headstrong Mallorcan heroine living in an authentic mountain community, just as I do. Crime-fighting Isabel and her pet ferret Furó have been in my mind for a long time. This is first in a series and the next, Haunted Magpie, will be published later this year."
Anna Nicholas
Drawing from her 19 years living on Mallorca, British author Anna Nicholas releases the first novel of her gentle crime series. We're introduced to Isabel Flores Montserrat, an eccentric sleuth who keeps a pet ferret and is addicted to sunflower seeds, Chupa Chup lollies – and calories. As a former detective, Isabel has turned her back on her old life, helping run her mother's rentals agency in rural Mallorca. However, this laidback existence is turned upside down by a murder, an abduction and the emergence of a drug cartel. The National Police knock on Isabel's door for help. What is she to do?
Beautifully written and intelligent, Nicholas paints an entertaining account of life on Mallorca, which readers familiar with the island will enjoy. The Devil's Horn is poignant in all the right places and funny too, sustained by swift dialogue and detailed descriptions. Find a comfortable spot, this is your spring page-turner!
SLEEP, EAT, DRINK, SHOP, EXPLORE PALMA by Travel Colours
"As the founder of Travel Colours, I'm always in search of the most beautiful places. From cosy coffee shops, where young, trendy people sip their lattes, local Tapas Bars and internationally acclaimed gourmet restaurants, to some of the most beautiful Finca retreats, this guide will lead you away from the tourist hubs to some of Palma's hidden local gems." Stefanie Friese, Publisher & Editor in Chief at Travel Colours
Lively city-seekers in search for the trendy underside of Palma, the cool hideouts and hip cafes, will not be disappointed with this neat city guide. White space is used liberally throughout, signalled by the plain front cover, and is welcomed, leaving the colour to the photos. This no-fuss, simple approach makes for easy flicking through and delving into what catches the eye. We paused over café La Molienda for its home-brew coffee and cool team photo, and likewise over Mama Carmen's vegan dishes scattered with flowers. Not a lot of detail is given in the text, prices of rooms and food for example are missing, but the guide does well in providing an atmospheric snapshot. You get the sense of each place, of precisely how it feels to be there and what is to be enjoyed.
111 PLACES IN MALLORCA THAT YOU SHOULDN'T MISS
by Rüdiger Liedtke
"For many years, Mallorca is an island that has fascinated me. I love its turbulent history, enormous cultural diversity, unique landscape and of course, Palma – one of Europe's most attractive cities. If you leave behind the touristy places, Mallorca is full of exciting surprises. In my book, I present some of the discoveries that particularly excited me which I hope the reader enjoys discovering too." Rüdiger Liedtke
A book of Mallorcan temples, trails and unheard of tales, Liedtke's selection of places goes deeper than most. Art enthusiasts will find his choices particularly interesting with pages dedicated to sculptures, tiles and artwork. From the 'Winged Lion' in Plaza España to 'The Stone Horses' in Santanyí, Liedtke gives the reader a detailed overview of each place, weaving in elements of Mallorcan history and tradition. Structure wise, the book has a traditional 'guidebook feel', text on one page, image on the other, which is consistent all the way through. Easy to use, well-researched and interesting, this book is one for the backpack. Even long-term residents and locals who have lived here for years will find something new. Perhaps you've never seen the 'Stairway to Heaven' in Artá? Or 'The Trotting Track' in Manacor? Explore this spring and see for yourself!
Food, love and Mallorca by Camilla Bröms
I've always known that someday my dreams would come true, to live in a warm country full of sunshine. When I moved to Mallorca I felt that all the little pieces fell together, step by step, the sun, the heat and the big happiness in my heart. This made me want to share the greatest inspiration: how to enjoy life. This is what 'Food, love and Mallorca' is all about, and I promise there is more to come." Camilla Bröms
After spending eight years living her dream life on Mallorca, the Swedish chef and interior designer Camilla Bröms publishes her second book. Food, love and Mallorca consists of seventy homemade recipes including her golden gazpacho and famous blueberry buns. The book couples Camilla's active lifestyle with healthy, soul-satisfying food that make for a content life on Mallorca. The narrative thread keeps the reader on their toes as the book follows Camilla in various aspects of her life, from farmers' markets, her daughter's birthday to a trip back to her roots in Northern Sweden. A good choice for those interested in a book that combines Northern and Mediterranean recipes told by a woman who knows exactly how to balance both.
Eating Colours by Barbara Martí
Eating Colours brings together more than fifty children's smiles with clever tips and creative recipes to inspire a healthy and happier future. Colours can be used as a form of therapy, helping us feel relaxed, optimistic and positive. Just imagine what happens when we eat them!" Barbara Martí
Barbara Martí from hotel Ecocirer in Sóller has published her first book Eating Colours, a go-to healthy recipe book for busy parents. Based on her own experiences as a mother, Bàrbara intertwines easy-to-make, plant-based recipes with natural photography. Parents can pick this up at any point of the day and find something healthy to make – minus all the fuss. The photographs throughout are of children from Mallorca (including Bàrbara's own family), eating, playing and enjoying her recipes. The book captures those funny little moments we all know and love: when happy children and colourful food come together. An all-round smiley series of recipes to make healthy breakfasts, brunches, drinks and treats.
Eating Colours is available at: Rialto Living in Palma, Ecocirer in Sóller or at www.ecocirer.com
Vegan around the world
"We have always been passionate about cooking – we love travelling and experimenting with world cuisine. As ethically motivated vegans we have combined our skills and passions, creating all the recipes, the design and the photographs too! In our book and restaurant in Selva we offer a wide range of all-time favourite dishes from the great cuisines of the world, showing how easy it is to make amazing plant-based food without compromising on flavour." Miriam and Jens
Whether you're a dedicated vegan or someone interested in adopting a more plant-based diet, this colourful book packs a delicious punch. Curated by the owners of restaurant Villa Vegana, Miriam and Jens present cuisine from all over the world that will inspire you to eat plant-based food full-time, part-time or any time. From India to Latin America, the Mediterranean to Scandinavia, the couple have travelled all over to create a book of recipes that are simple, tasty and above all, easy to make. Each chapter is split geographically and includes dishes that range from curries to empanadas to ceviche, all of which begin with a useful spice and herb guide to help form a basis of rich flavours. Vegan around the world shows you that vegan food is for everyone, brought to life by a couple that live for adventure.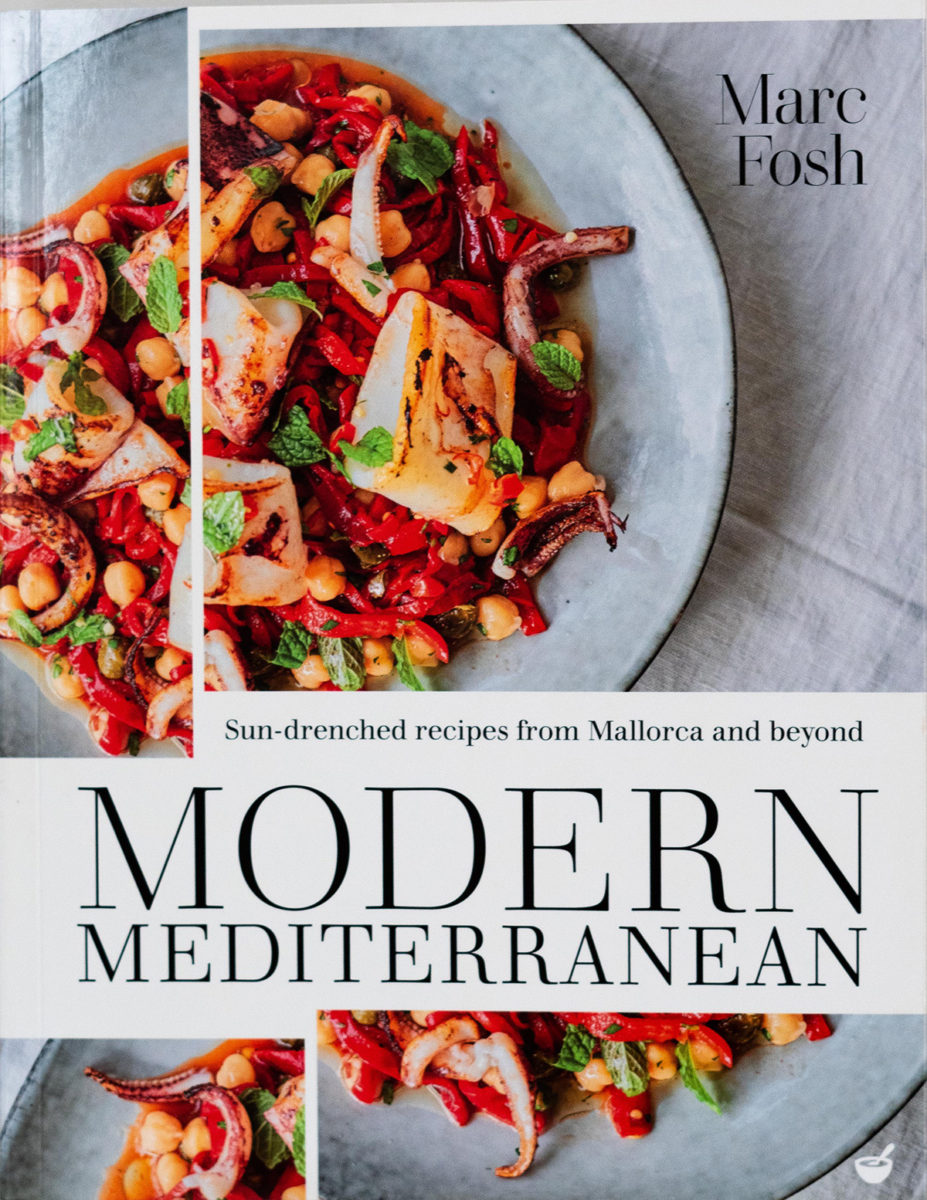 Modern Mediterranean by Marc Fosh
"In the book, I've tried to take you on a tour of the bountiful produce of Mallorca and the whole Mediterranean region. In recent years these remarkable ingredients have been utilised by the island's best chefs to create a cuisine that builds on its history and traditions. The book is organised into 18 chapters by key ingredient; covering everything from tomatoes, garlic, almonds and olive oil to octopus, chorizo, saffron and truffles…it's really a love letter to the Mediterranean and its food." Marc Fosh
Michelin-starred chef Marc Fosh shows us in his book Modern Mediterranean: sun-drenched recipes from Mallorca and beyond recipes that are fresh, seasonal and easy. Marc takes us through his favourite Mediterranean ingredients and turns them into good, honest home-cooking. His philosophy throughout is about creating those infamous table sharing moments, when good food, wine and conversation flow as one.
His sections on olive oil, red prawns and Mediterranean herbs in particular are ideal sources of inspiration for dinner parties or family gatherings. Marc is an advocate for shopping local (particularly at the Mercat de l'Olivar) and possesses an unwavering passion for using Mallorca's own produce. It is quite simply the Mediterranean sunshine in a book.
Restaurante Sebastian in Deià by Sebastian Pasch & Patricia Sheridan
"When we first opened the restaurant we never imagined getting to where we are today. The idea of the book came about as we wanted to create a thank you to everyone who has made these 25 years possible. All in all, it is a recollection of some of our favourite moments throughout the years, our favourite recipes and our wonderful journey." Sebastian and Patricia
The couple behind the much-loved Restaurante Sebastian in Deià share how it all began since moving to Mallorca and achieving 25 years of culinary success. Restaurante Sebastian in Deià is full of secrets and anecdotes – not forgetting a few classic recipes. Readers will enjoy the beautiful photos inside as the book follows how Sebastian and Patricia came together to create one of Deià's most popular restaurants. Recipes include sea bass with saffron risotto and dried tomatoes, and rack of lamb with rosemary honey crust, all of which serve as the perfect winter warmer. Each recipe is accompanied with a few words from the couple which adds a sweet personal touch. All in all, a great combination of good old-fashioned Mediterranean cooking and a heart-warming real life story.
Death in Deià
"I've been enjoying Mallorca for some thirty years, staying in a range of different locations. In the book I've attempted my own screenplay, a montage of the places and experiences enjoyed: from beautiful mountain ranges, pretty seaside villages, sun-drenched market squares, colour-washed villas adorned with bougainvillea to the tourist bars and packed beaches; and then on again to a darker world lurking in the shadows. However, it was discovering Deià and the Tramuntana mountains some seven years ago, when creative forces took over …" David Coubrough
British novelist David Coubrough releases his second book Death in Deià, a sequel to the successful murder story Half a Pound of Tuppenny Rice. The narrative follows the same characters as the first, which takes the reader on a murder mystery that starts in St Ives, Cornwall, and continues in the mountains of Deià. When multi-millionaire Ken Stone dies, one of his three daughters inherits his massive estate and disappears to Mallorca. Years later, Grant Morrison, a family friend, goes in search of the missing daughter but does not return. Expect deceit, manipulation, cover-ups and secrets in David's new page-turning crime thriller. The perfect winter book for when the nights turn darker – you won't want to put it down.
Address details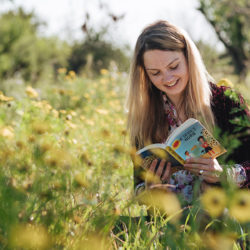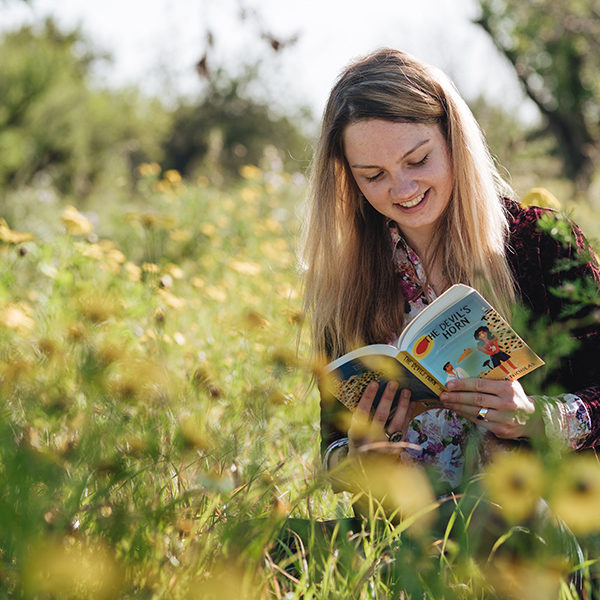 Rialto Living
Carrer de Sant Feliu, 3, Palma