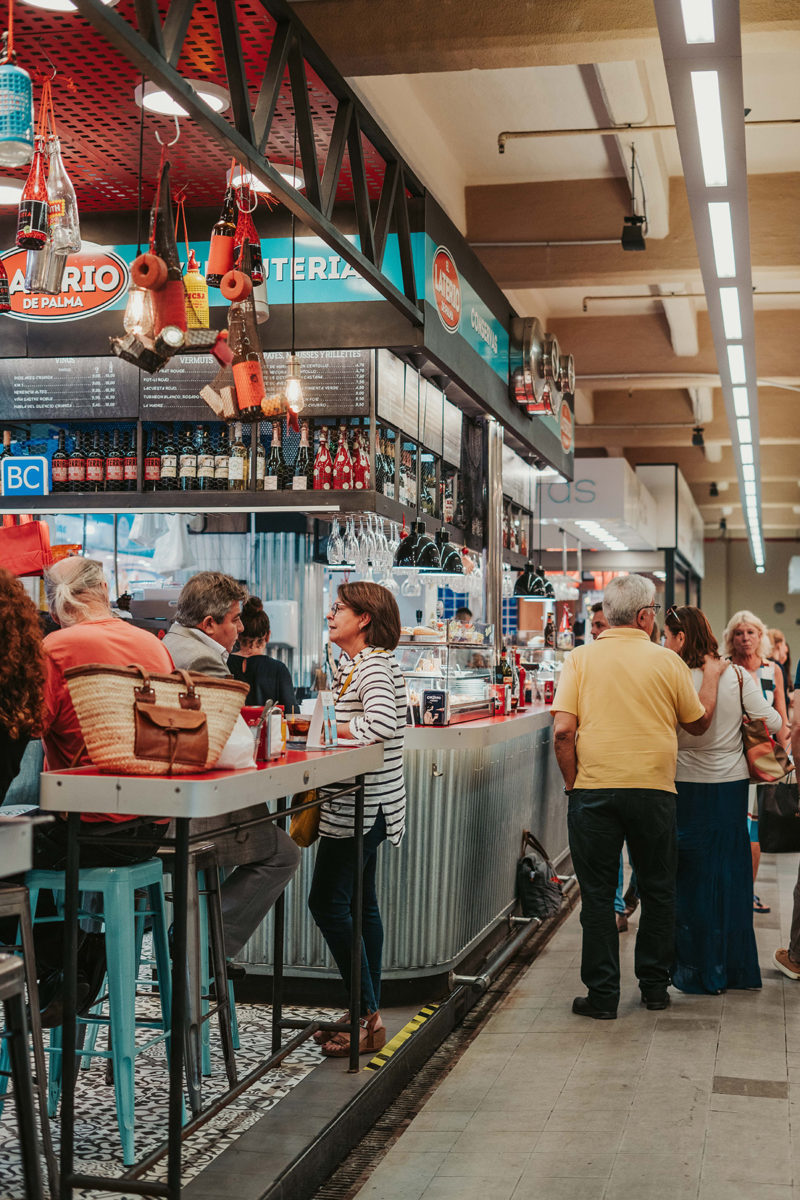 Mercat de l'Olivar
The Mercat de l'Olivar situated just off Plaza España in Palma is a hotspot for fresh produce, reeled in every week from all corners of the island. Stalls packed with fresh fruit, herbs, fish and meat are teeming with colour, creating a vibrant atmosphere to do your weekly shop. However, what is rarely considered is that the market is also a place to stop, take a break and have lunch. While little samples are generously on offer, the market also goes much further, serving up grilled fish, traditional tapas and platters of meat – a level of cuisine that could rival many restaurants nearby.
The market is typically Spanish in atmosphere, where fishermen shout over crates of fish, businessmen rub shoulders with butchers and in general, everyone talks with everyone. This relaxed level of socialising is what attracts the locals here every week, contributes to the buzz, and above all, makes the food fun. What would a slice of jamón be without a friendly "¿Cómo va?" Or a cut of cheese absent of a smile? In short, not so entertaining. The personable, friendly approach you find at Mercat de l'Olivar brings the food to life, making the eating part all the more enjoyable.
With a lunchtime beer in hand, locals often stand up at the market and prefer to chat to each other. This is the traditional way the food is enjoyed, allowing for open conversation and easy flow between stalls. Stretched between two main areas, the market is split into a world of wellies and ice in one (the fish hall) and fruits and meats in another. Therefore, lunch – if you so choose – can be a mixture of everything.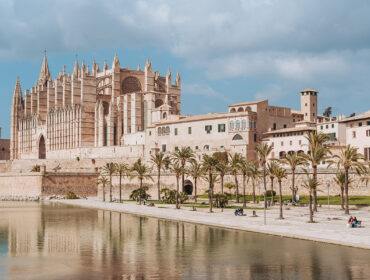 Palma de Mallorca is a city full of surprises. Move to Mallorca's capital and discover the very best of what the island has to offer.
For traditional Spanish tapas you might choose to start at Buades who have been running their family stall for 40 years. Here they serve full platters of Ibérico ham and bread drizzled in olive oil, which – as of this year – can now be enjoyed at their new rustic seating area. After a few more beers, perhaps you fancy changing scene and moving next door to the fish hall. Head towards the back and you will find El Cocedero in white and gold, serving up a variety of cooked and grilled seafood. Choose a dish of fresh prawns and it will return perfectly fried, sizzling in garlic cloves and oil. Or opposite is where the popular combination of oysters and champagne are served – what many locals consider a speciality.
As you edge closer towards the exit, it is hard to miss the neon pink Gamba & Pink Salmon, famous for its sushi and little pots of salmon. The prices here – and throughout the market – might be considered steep, but they are reflective of the quality on offer. The Mercat de l'Olivar is all about delicious local produce and great Spanish buzz. And no one can put a price on that.
Mercat de Santa Catalina
The Mercat de Santa Catalina is the beating heart of Santa Catalina. Whether you're doing your weekly vegetable shop at Eco Sa Teulera or picking up a bouquet at Miquel Capellà, great pleasure is taken in strolling the aisles and soaking up the buzzy atmosphere. Like Mercat de l'Olivar, the market lends itself to both shopping and stopping for a spot of lunch.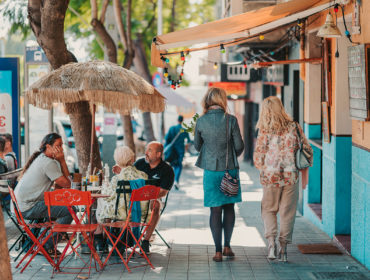 Santa Catalina has it all. Find out everything you need to know about living in Palma's buzziest neighbourhood in this definitive area guide.
Local dishes can be found at Bar Joan Frau – one of market's busiest places – where they serve popular dishes such as frito mallorquín, croquettes and paella. If you're lucky enough to get a table, you'll be sitting behind the bar right in the heart of the action! Or if you're a lover of Japanese cuisine, you'll love the sushi and dim sum at Arume which is often frequented by party-goers on a Saturday afternoon before Tardeo begins.
Mercat San Juan
Famous for being the first gastronomic market on the Balearic Islands, San Juan in S'Escorxador is dedicated to serving-up international cuisine. Segmented into different stalls, diners will enjoy perusing the variety of food on offer: from oysters to pintxos, to noodles and sushi, all appetites are fulfilled. Long tables with stools line the centre which allows for a sociable atmosphere where tourists and locals alike sit side by side. This is a good market to visit particularly in the evening, where many choose to watch a film at the independent cinema opposite – Cineciutat – and then finish at San Juan for dinner. Special events are also enjoyed throughout the year thanks to the enormity of the market, where a bar and kitchen are hired for gastronomic shows and side rooms for private events.
Mercat 1930
The Mercat 1930 is the newest gastronomic market in Palma and for many is considered the most exclusive. Located on the famous Paseo Marítimo next to the nightclub Tito's, the market is frequented by those who dock their boats in the neighbouring harbour. Therefore, you can expect to find a touch of glitz and glamour about the place, as people from all over the world stop here for something to eat before venturing into the city. Again, channeling the same ethos as San Juan, Mercat 1930 is dedicated to serving international cuisine which includes Iberian hams, fajitas, tapas, burgers and sushi. Oysters are a recommended choice given they are sourced from Daniel Sorlut who's stall at Mercat de'l Olivar is famously praised by locals for unbeatable taste and freshness.
Diners can choose to eat either inside or outside, the latter being particularly busy in the summer months where tables are taken until the late hours. A balmy evening near the seafront, a glass of champagne and plate of tapas – what more could you want?
Address details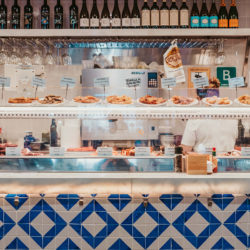 Mercat de l'Olivar
Plaça de l'Olivar, s/n, Palma