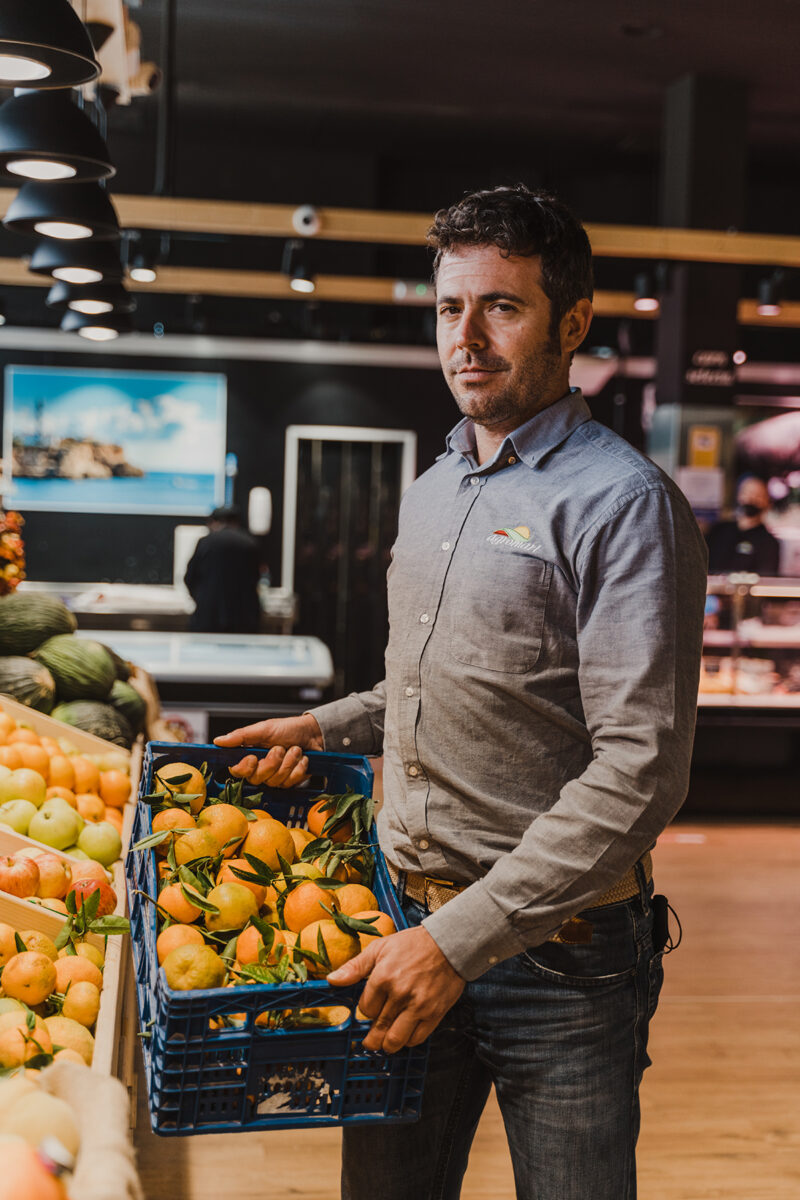 Agromart is celebrating its 10th anniversary this year. Few in Mallorca are unaware of the fruit and vegetable chain. It is known for selling the island's varied produce, from Sóller's famous oranges and lemons to Ramallet tomatoes and black artichokes. What's remarkable about the brand is just how speedily it has grown. In just one decade, 22 shops have opened across the island. We met Agromart's director, Xisco Martí, in Porreres where it all began.
Farming spirit
"There aren't any great secrets or strategies," he says. "It's simply about producing the best product and selling it, or, if we don't produce it, buying the best quality and selling that." Surely growing its own is a winning element then – although by no means a secret. Agromart was born when two fruit and vegetable producers from Porreres decided to join forces rather than compete. The word MART was created from the initials of the owners, the three siblings – Miguel, Apol.lonia and Rafael Figuera Vaquer – and their associate, Tomeu Lliteras. The farming spirit runs through all their veins, and Rafael, head of production, continues to oversee the varied crop grown for their shops.
Peppers, aubergines, courgettes, melons, plums, apricots… "Everything that can be produced in Mallorca can be found at Agromart," Xisco tells us. They even have Papayas from Son Ferriol. And while we are thinking how remarkable it is to have a chain solely dedicated to the island's produce, Xisco Martí, brings us down to earth. "We also have everything that doesn't grow in Mallorca, because we are specialists in fruit and vegetables and we can't limit ourselves to island-only produce." That said, they certainly give precedence to local products. A mango flown in from Peru will only be given a small area in comparison to the mountains of apricots from Porreres. Our questioning reveals the pragmatism behind Agromart's team and their awareness of the overall consumer system. "We can't fight against the system, because if we do, we will lose."
Reducing waste
Yet they do have principles that encompass sustainability and care of the environment. "We have succeeded in getting rid of so much plastic packaging," Xisco tells us. On his desk is a packet of pistachios left by a sales rep which won't be making it into their stores, even though it's biodegradable. At Agromart, nuts, pulses and dried fruits are all sold in reusable glass jars. A refund of 10 cents is given per returned jar. Sticking to their philosophy of reducing waste is one area in which they profit little financially. "We have asked for a government subsidy for a large machine to clean glass jars. At the moment it imposes a huge effort and cost. It's not profitable."
Although Agromart's director claims there is no secrets behind the chain's success, the team's great business sense is evident. Expansion is set to continue with a store opening in Port Andratx as well as a new range of fresh meat and fish counters. The meat is all km zero and, where possible, the fish too. "I've yet to see a salmon swimming in the rivers of Mallorca," Xisco laughs. "The island," he clarifies, "offers everything that she is able to, within her limits." In spite of these limits, at Agromart at least, there will always be something delicious and local ripe for discovery.
Text by Emily Benet
Photos by Sara Savage
Address details
Agromart