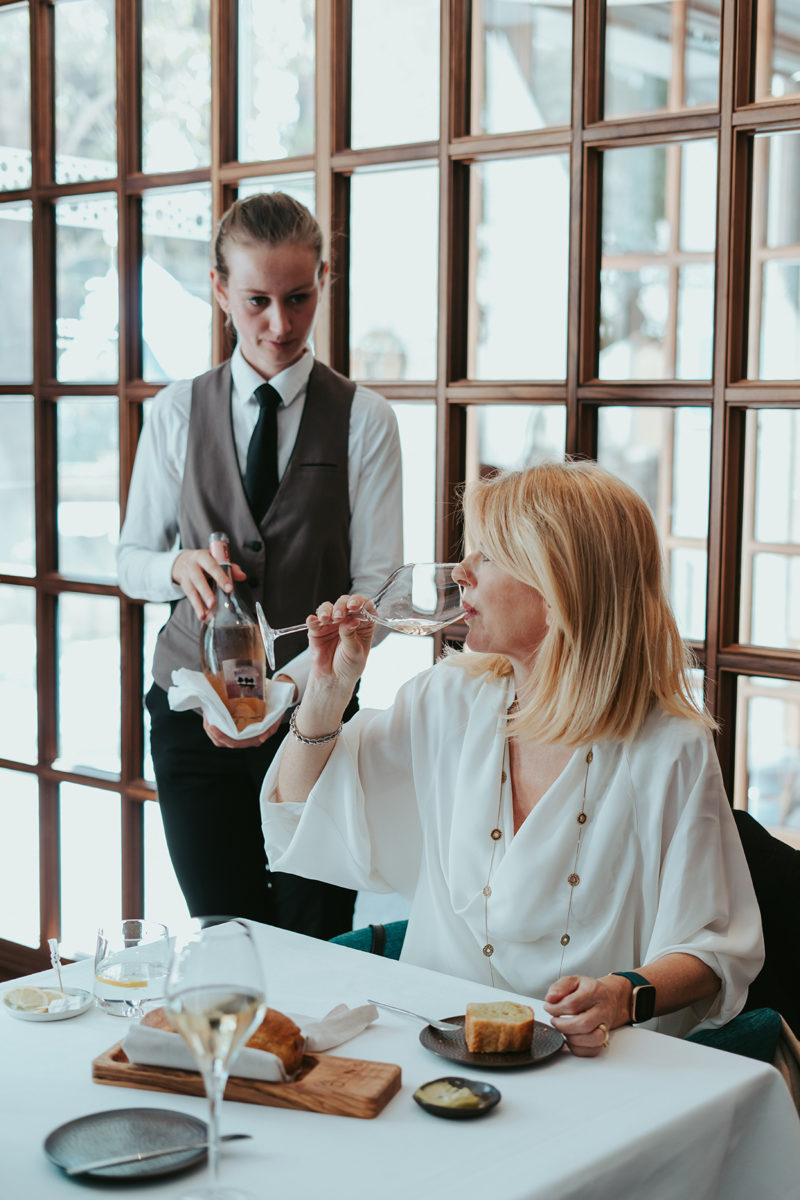 Overlooking Palma's ancient city walls in the historic La Calatrava quarter, El Llorenç Parc de la Mar opened in 2019 and quickly established itself as one of the finest in the city's already impressive collection of Palma's high-end boutique hotels. It has since continued to wow many a guest with its plush Arabian-influenced interiors – the work of celebrated Swedish designer Magnus Ehrland – together with a superlative dining experience, gorgeous rooftop infinity pool and spectacular views across the Bay of Palma. We were looking forward to being wowed ourselves, and were not disappointed.
The hotel is positioned perfectly for a weekend city break in Palma. Pick a room facing the sea and you're graced with a calming blue scenery while having the sand-stone historic Old Town on your doorstep. The streets that surround the hotel are some of the oldest in Palma so anyone interested in exploring its boutique shops and tiny patisseries will do well staying here. The main centre is a short walk away where you'll find an even further choice of shops and cafés – both international chains and local stores. At this hotel, you are well-positioned for an all-round experience of Palma de Mallorca.
First impressions
Wherever you go in the world, there's a feeling all top-class hotels have in common when you first step inside – that air of hushed sophistication paired with a fluidity of warm-yet-professional service. And as we entered El Llorenç Parc de la Mar we found just that, setting the tone for the rest of our stay.
The capital's rich past has been distilled in the hotel's plush interiors, with a celebration of its Moorish roots taking centre stage. Arabian latticework is an omnipresent motif, from carved into wooden doors and etched onto elevators, to the poolside towels and even shadows cast by rooftop daybeds. Designer Magnus Ehrland has fused this ubiquitous geometry with a raft of other decorative flourishes that include shimmering gold fittings, numerous abstract paintings and frilly tiki-style parasols; the results is an environment that artfully balances the palatial with the playful.
DINS Restaurant
El Llorenç Rooftop
El Lloreç Rooftop
El Llorenç Rooftop
El Llorenç Room
El Llorenç Room
El Llorenç Room
El Llorenç Spa
El Llorenç Spa
Five-star facilities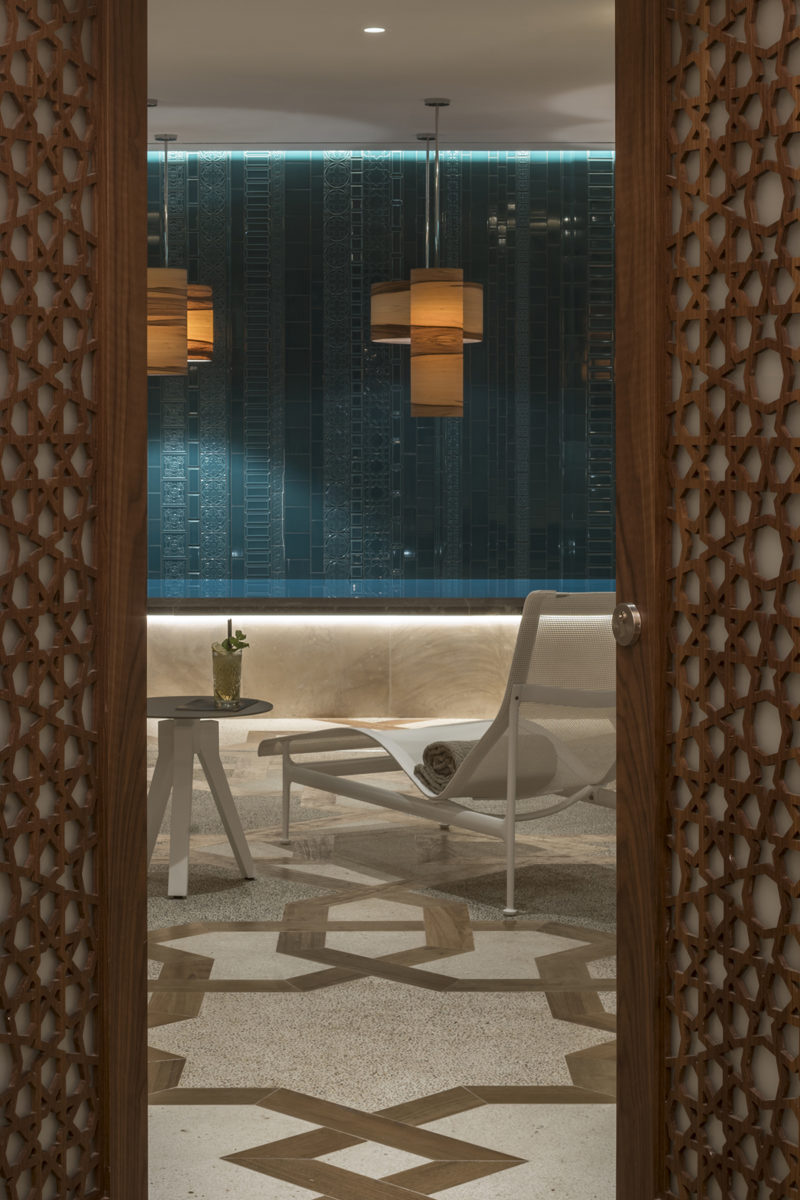 Unlike most Palma boutique hotels, the new-build El Llorenç isn't confined by the restrictions of centuries-old architecture – and this really shows in its facilities. Crowning the marble and sandstone edifice is a three-tier rooftop terrace that encompasses a swish bar and dining area at the top and swoon-worthy pool below – the largest and only infinity pool in Palma with views over its bay. With its exclusive beach club vibe, we happily spent the afternoon between sun-dappled daybeds and cooling dips in the pool – a push-button drinks service was also put to good use.
Another example of an uncompromised design is the Ç Wellness Studio spa, with a 14-metre heated pool, jacuzzi, spacious sauna and steam rooms, as well as a bright gym and oodles of space to unwind after a workout in the rarefied atmosphere.
Eclectic guest rooms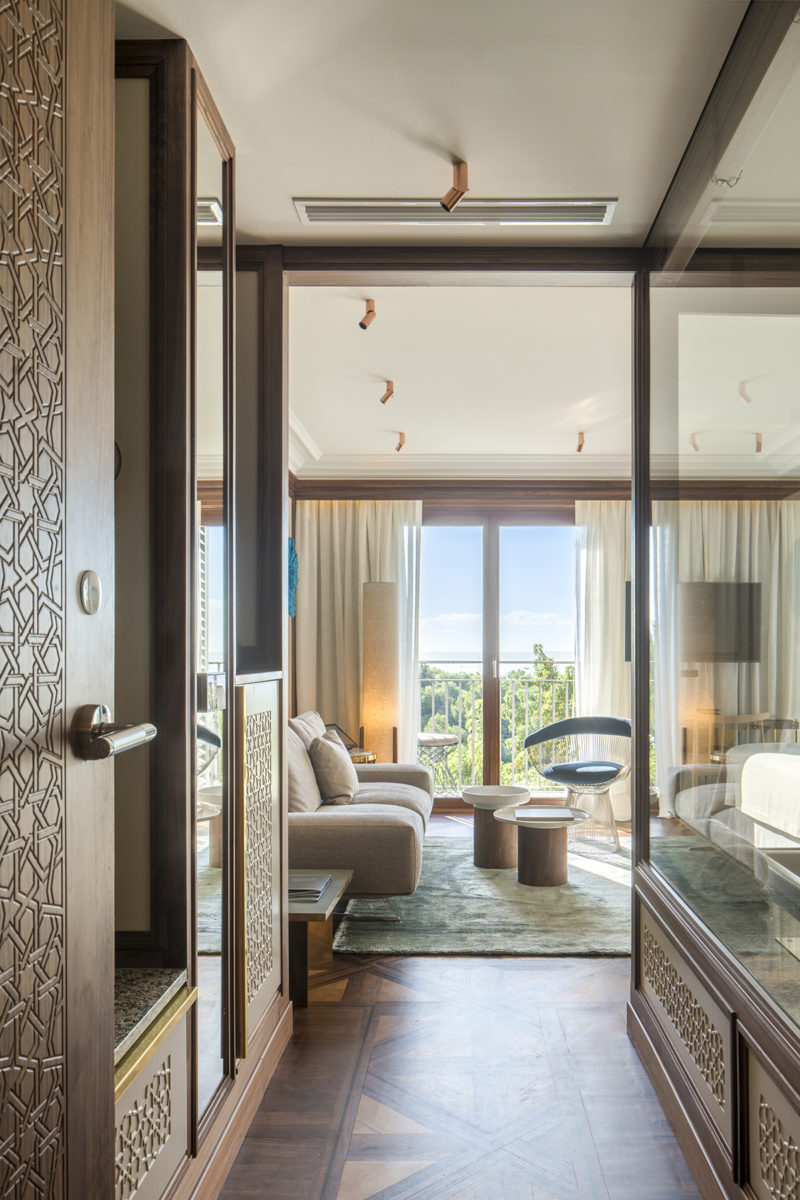 Design that flirts with the flamboyant continues in the guest rooms, characterised by an eclectic mix of retro furnishings, gorgeous parquet floors and, of course, abundant Moorish geometry. Our first-floor Junior Suite extended to a leafy internal terrace – though was overlooked by other rooms. In-room tech impressed, with mood lighting system, smart TV, and bedside iPad providing everything from pillow menus to taxi bookings at your fingertips.
Our bathroom combined roomy tub and rainfall show, together with top-end toiletries. A button activated blackout curtain and double glazing ensured a sound night's sleep.
Sublime sea-view dining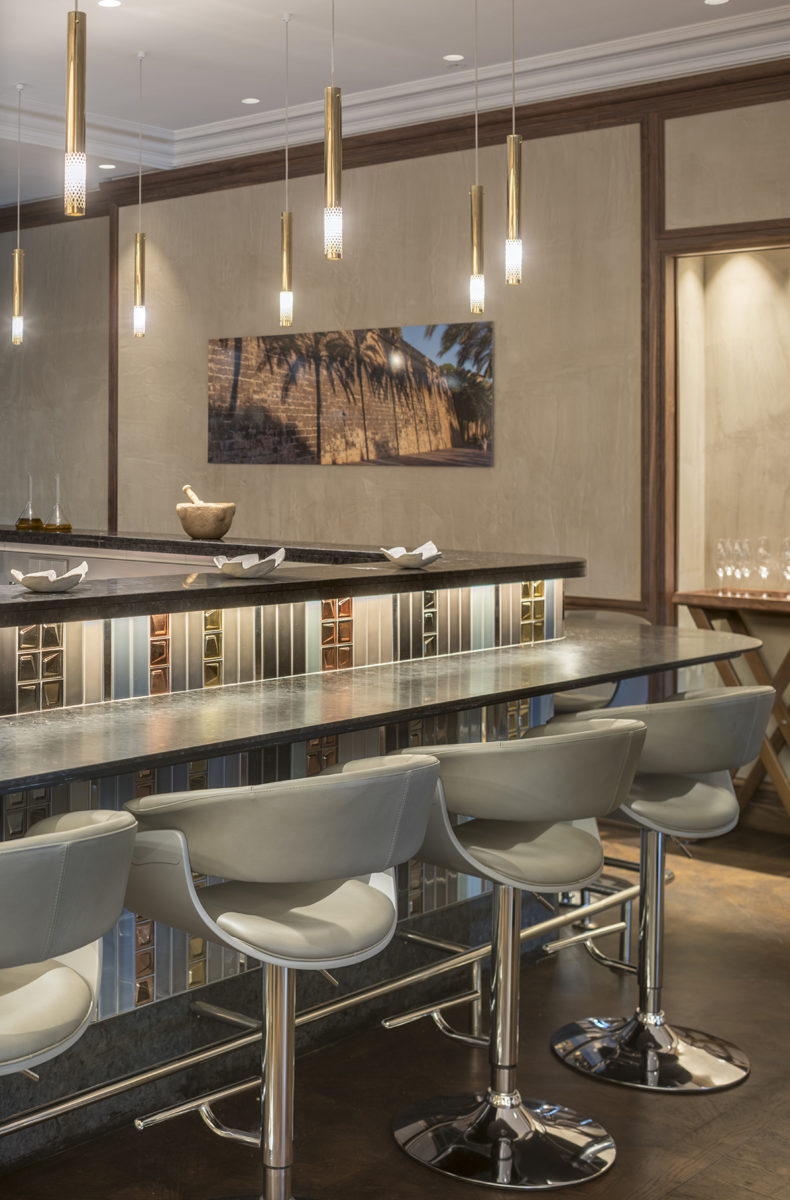 The hotel's signature restaurant is DINS, run by star Mallorcan chef Santi Taura. Its menu is firmly centred on traditional Mallorcan cuisine, but reinvented with Santi's innovative flair. We took dinner on the rooftop terrace with plump oysters and cooked-to-perfection steak, accompanied by splendid sea and city views. It's also the perfect spot for sun-downer cocktails. The next morning, breakfast too was a delight, with a mix of table buffet and a la carte options – with oysters again making an appearance on the menu (but not on our plate).
Urbà Restaurant is the most open and cosmopolitan concept of the Santi Taura group where you can enjoy, in a beautiful space, tasty proposals designed to share.
Out and about in Palma
Discover what you can enjoy in the areas surrounding El Llorenç Parc de la Mar and why it is our recommended choice in Palma!
Proximity to Palmas' landmarks such as the majestic La Seu Cathedral.
Great base for exploring the charmingly historic lanes in Palma's old town.
The picturesque fisherman's barrio of Portixol and urban beaches and the sea front promenade are nearby (ideal for walking, jogging, cycling, roller-blading, etc.)
Within easy strolling distance of the capital's numerous bars, cafes and restaurants.
What we would recommend
From our experience of El Llorenç Parc de la Mar, find out what we really enjoyed and recommend you to try.
A dinner at DINS (book well in advance to make sure you get a table).
Plan to spend two or three hours in the Ç Spa.
An afternoon on the rooftop terrace lazing by the pool as you sip a cocktail and take in Palma's bay views.
Lunch or dinner on the roof top – a more causal affair serving delicious local food.
A suite with sea views (you'll miss gazing over the bay of Palma in rooms with inner-patio).
Why stay here?
If you're planning a weekend trip to Palma, then choosing which hotel to book isn't always an easy decision to make. There is an abundance of beautiful boutique hotels to choose from, but for us, El Llorenç Parc de la Mar, is well-worth a visit. If you appreciate interior design, you'll definitely enjoy Magnus Ehrland's play with patterns and details. Of if it's top cuisine you're looking for, then you won't go far wrong at DINS by Santi Tauri – Mallorca's beloved local chef. The infinity pool ticks all the boxes if you're just looking for some sun and sea, and then of course, there is the Ç Spa – ideal for a relaxing detox.
This is the hotel in Palma to book for an upmarket getaway in the heart of the Old Town.
Photos by Mauricio Fuertes
Address details
El Llorenç Parc de la Mar
Plaça de Llorenç Villalonga, 4, 07001 Palma