Ever since the early days of hotel openings in the 1950s, bringing the first package holiday tourists to this wild and lesser-known island, Mallorca has been in constant evolution. If we compare the jolly but unsophisticated days of old to the here and now, we see a whole new era.
Nowhere is change more evident than in Palma city, where forgotten manors and neglected palaces have been reborn as boutique hotels. A cosmopolitan type of globetrotter now fills these once dusty, unloved spaces, brought to life with a staggering amount of vision and hard work. Welcome to Palma's best boutique hotels 2020 as selected by our editor Helen Cummins.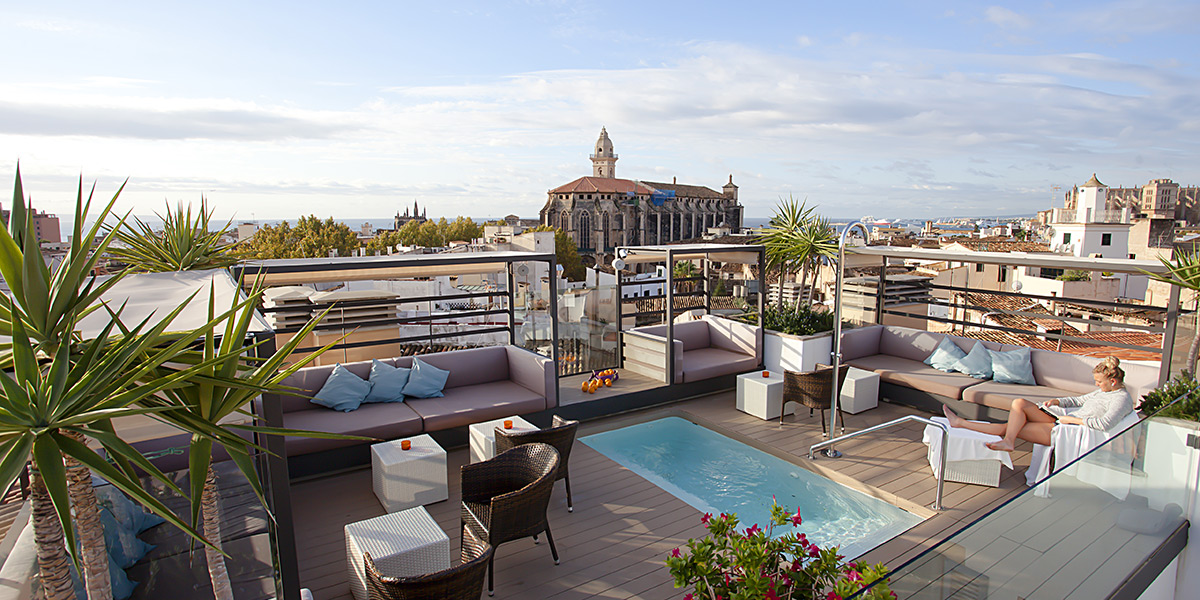 20. Palma Suites
Filling a gap for who take long stays on the island head is Palma Suites. A home away from home concept, this aparthotel immediately feels cosy. It's supremely thought out suites, ranging from attractive basic options through to penthouse loft suites, have everything you'd ever need for a wonderfully comfortable stay: kitchens, lounge areas, the best TVs, underfloor heating. Just the place to retreat and unwind after exploring the delights of the city, right on the doorstep.
Read more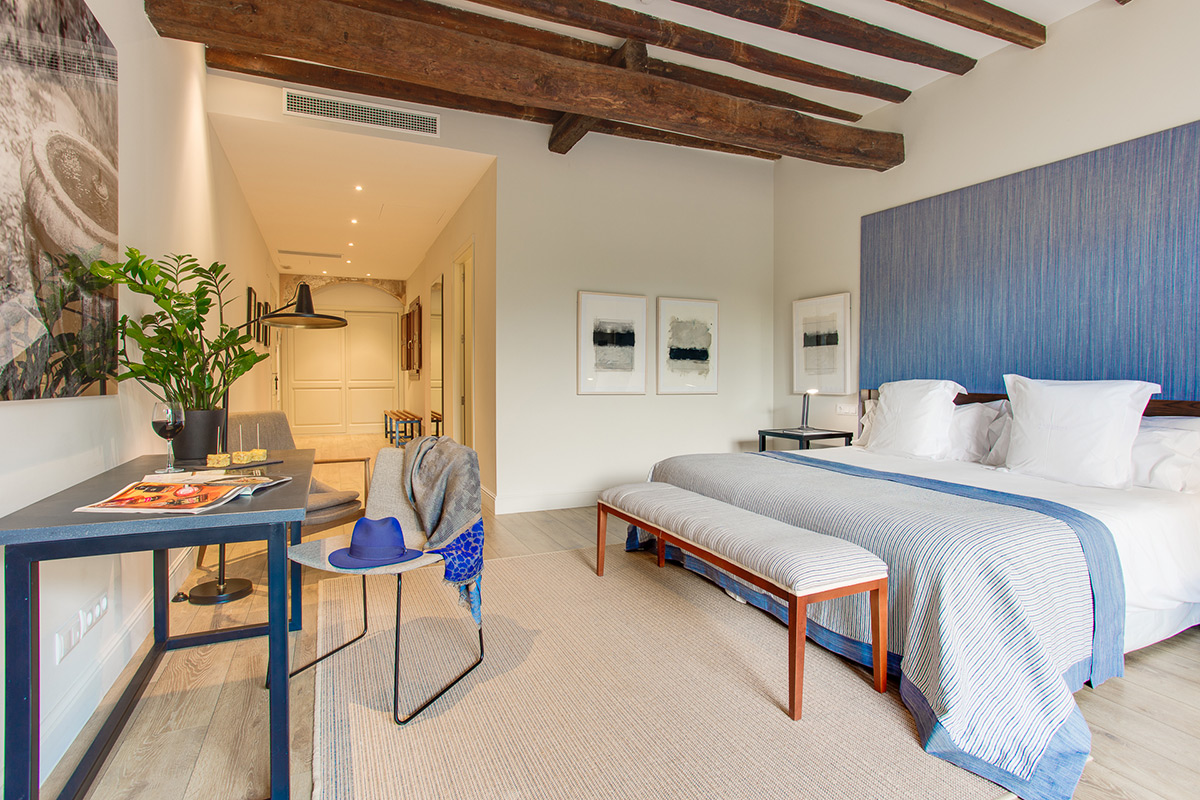 19. Calatrava Boutique Hotel
The 16-room Calatrava Boutique Hotel is situated directly by the sea adjacent to Palma's ancient city wall. Enjoy breakfast overlooking the Mediterranean on the hotel's rooftop terrace followed by a stroll around the neighbourhood of La Lonja or a day on sunbathing on Palma beach. In the summer months, families will enjoy the open air cinema in Parc de la Mar with free entry.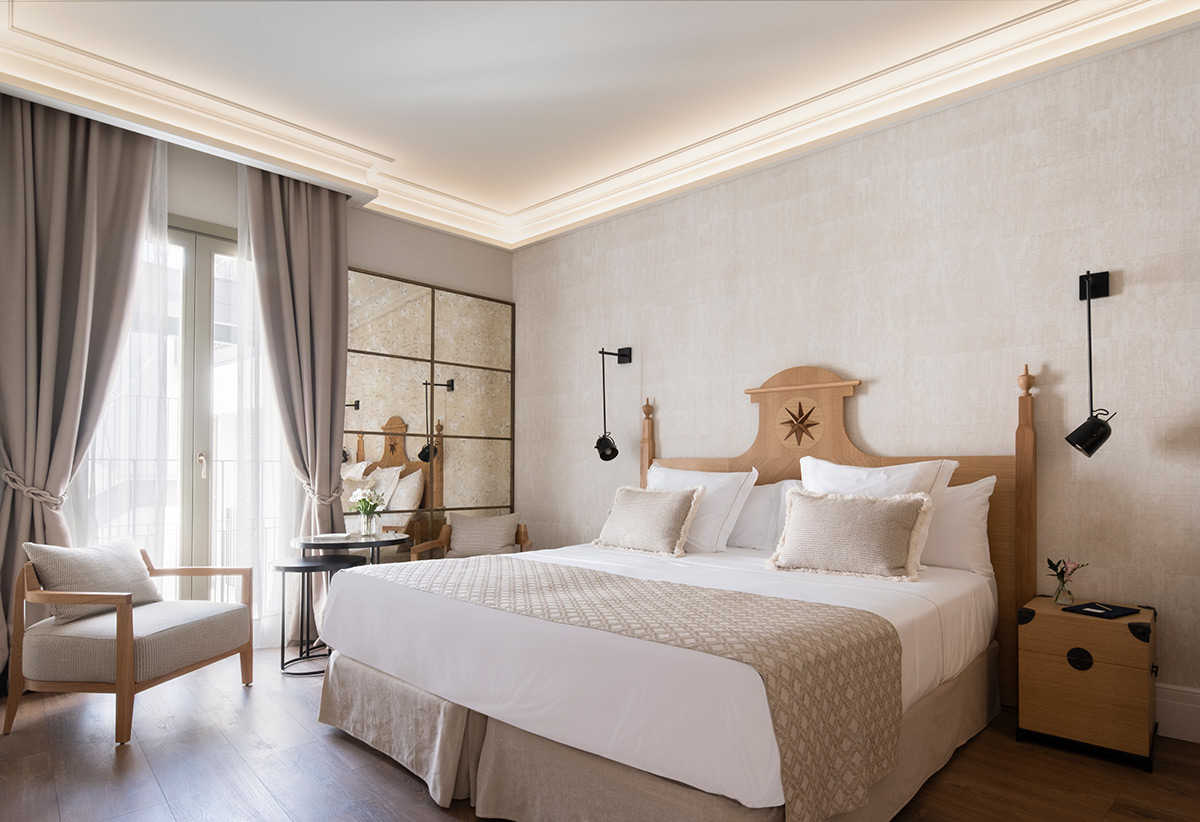 18. Antigua Hotel Palma
Get a real sense of Palma's past with a stay at the Antigua Hotel Palma thanks to a restoration which has re-touched the building's period features. Tucked away down one of the quietest corners of Old Town Palma, this small boutique hotel would suit a romantic getaway – guests can enjoy the bijou spa, rooftop terrace with plunge pool plus historic city views. A break here might include a trip to the nearby Arab Baths, a stroll around the cobbled streets and Mallorcan dinner at La Cuina del Antigua.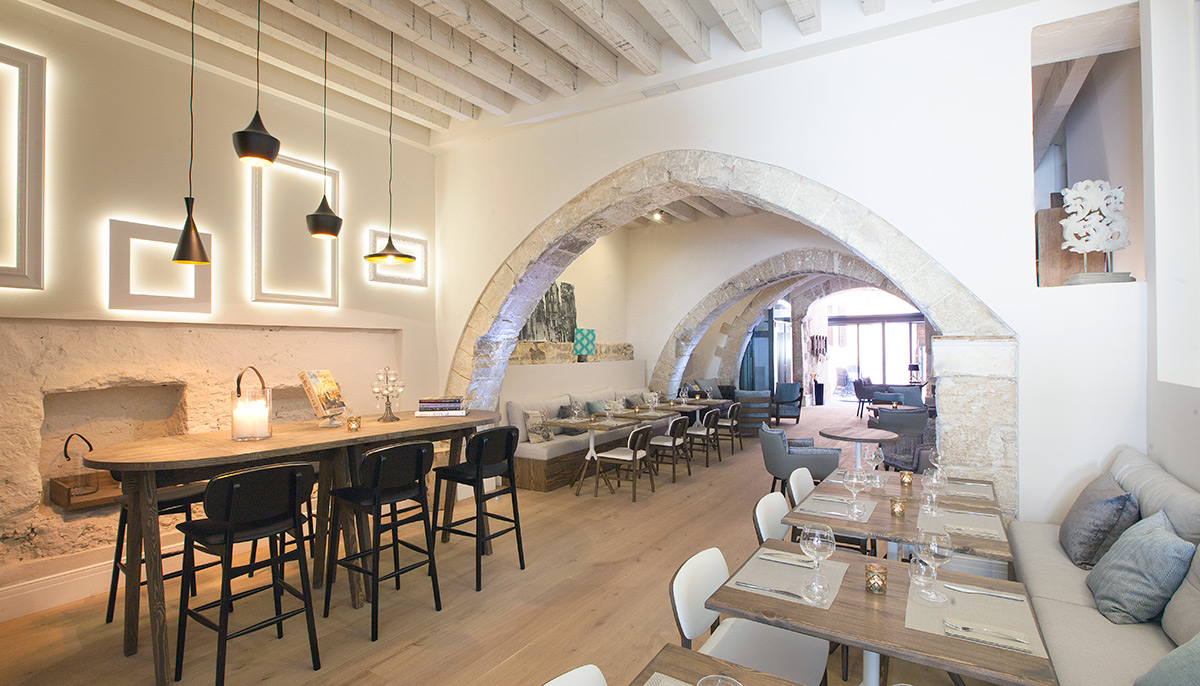 17. Hotel Posada Terra Santa
Just off Plaça de Quadrado down an anonymous side street is this tucked away gem. You can't help feeling like a city insider when you stay at Posada Terra Santa. Lovingly restored by a talented family, this 16th century mansion suits those with a preference for understated good taste. This is Palma, after all, where the most unassuming frontage can conceal the most astonishing interior…
TIP: The Posada can be hard to find but is just around the corner from Hotel Sant Francesc. And don't forget to check out the charming family photos in the library room.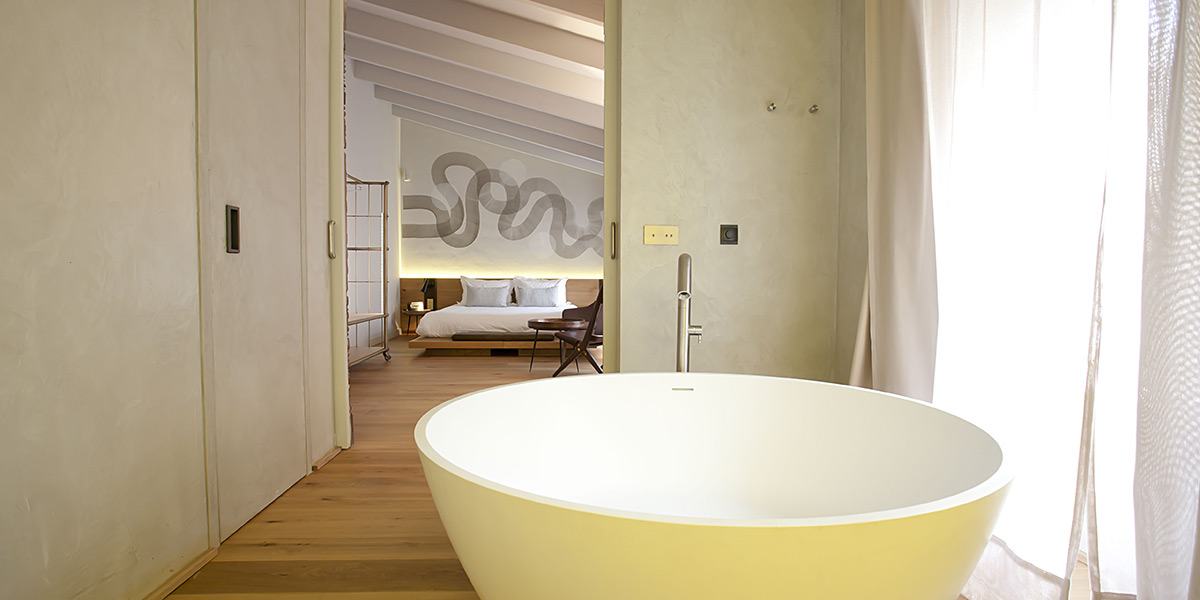 16. Purohotel Palma
Bang in the middle of the La Lonja district, Purohotel is a Palma staple. This cool hub, once an 18th-century palace, is at once social and relaxing. Its formula lies in creating a feel-good oasis of food, music, spa experiences and guest comfort. Art is prevalent throughout the hotel, reflecting the likes of the kind of cosmopolitan guest Puro attracts – who also frequent its chic beach clubs.
Read more
15. Hotel Mama
The folks behind the Cappuccino group of cafes were bound to do something unique with their first hotel, and Hotel Mama does not disappoint. Full of fun and quirky touches, this new Palma offering scores big on character and location. Being directly on Plaça Cort means the immediate area is as exciting as the hotel interior, and an energetic team goes out of their way to please. Tahini, the restaurant, is well regarded and there's even a private cinema.
TIP: HC loves Hotel Mama for after-work drinks.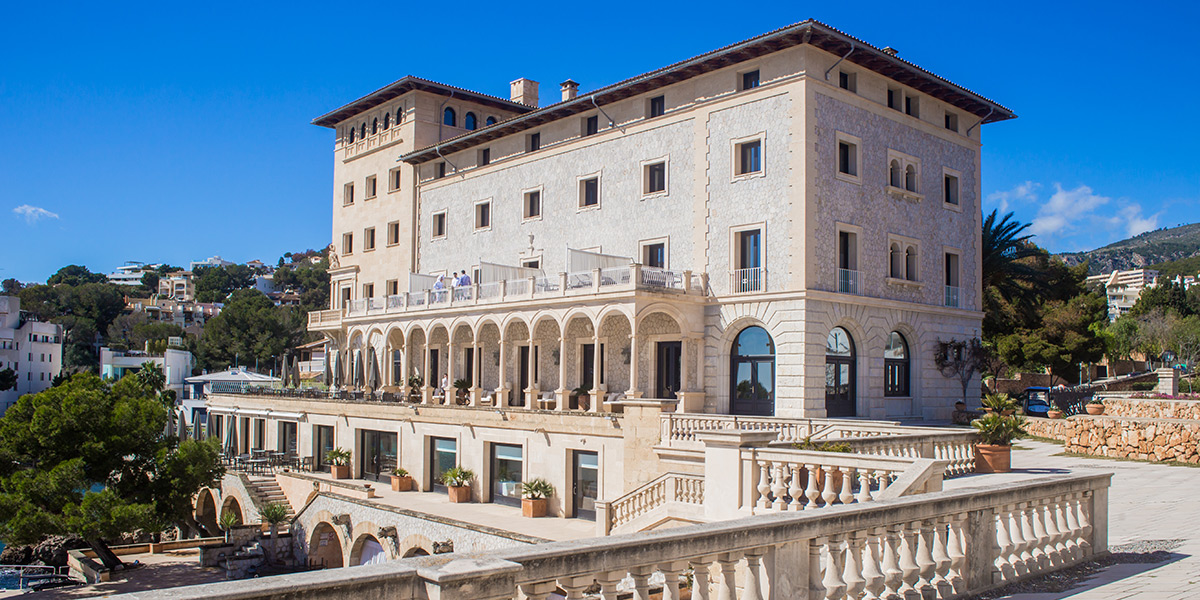 14. Hotel Hospes Maricel & Spa
It's forever immortalised by hit TV show The Night Manager, but Hotel Maricel was doing just fine on its own, thank you. And how could it not? This iconic honey-stone mansion on the Med on Palma's outskirts affords wonderful views in a thoroughly elegant ambiance. A dreamy spa, breakfast voted the world's best and a terrace restaurant made for dressing up complete the movie-worthy picture.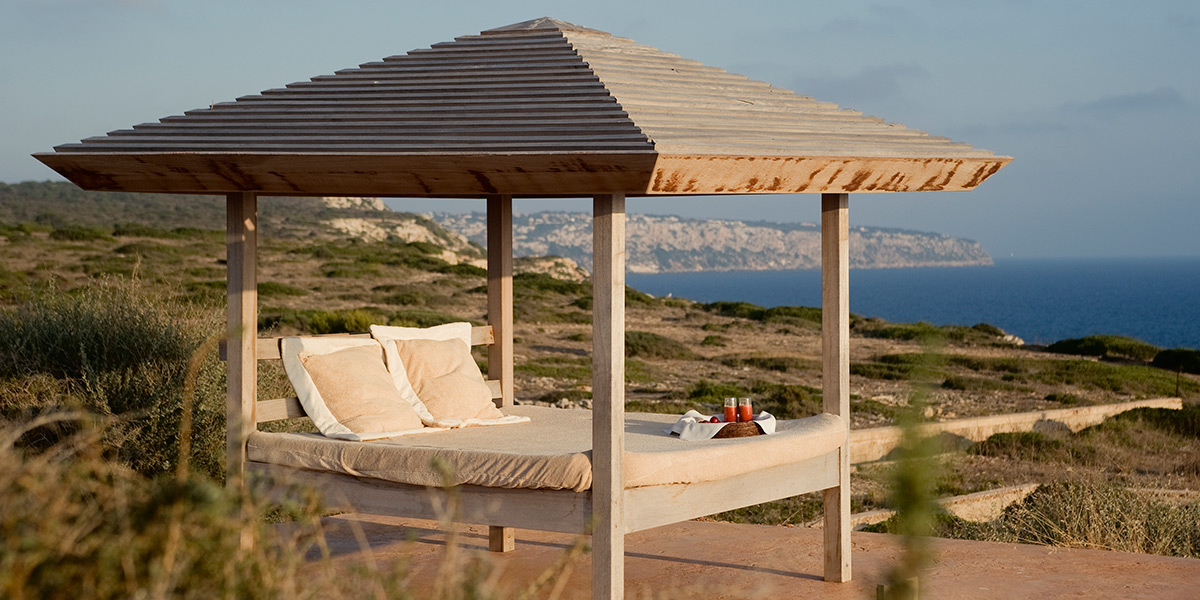 13. Hotel Cap Rocat
Mallorca would not be Mallorca without Cap Rocat, the former military fortress-turned-deluxe hotel just outside the capital. Seriously romantic, perched on a cliff with views to the Bay of Palma, this adults-only stay affords dramatic views. Sweeping up the long drive approaching the hotel gives a sense of total privacy, and guests find they're happy to hide away here lounging on daybeds by the sparking infinity pool, and dining by torchlight at night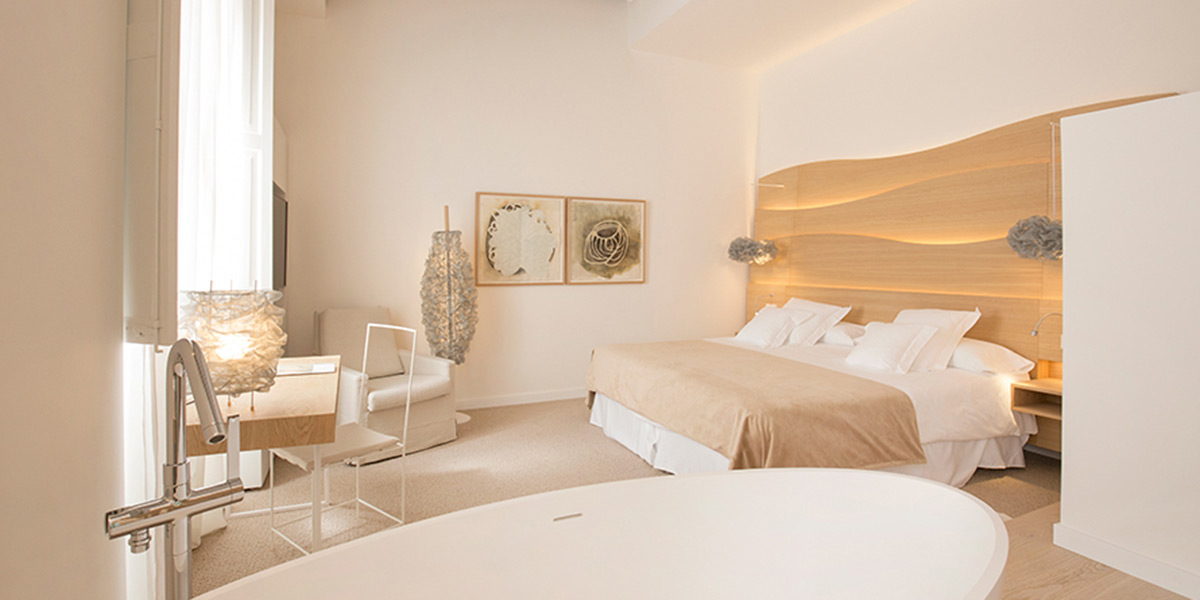 12. Convent de la Missió
One of the first on the island to develop the luxury historic hotel concept and still a reference for style, Convent de la Missió offers something very special. Not only does the former monastery on a peaceful old town street ooze character, it also has its own Michelin-starred chef, Marc Fosh, working the restaurant. Quite what the old inhabitants would have made of the decadent cuisine, strikingly minimalist interiors, modern art and whirlpool baths is another thing…
Read more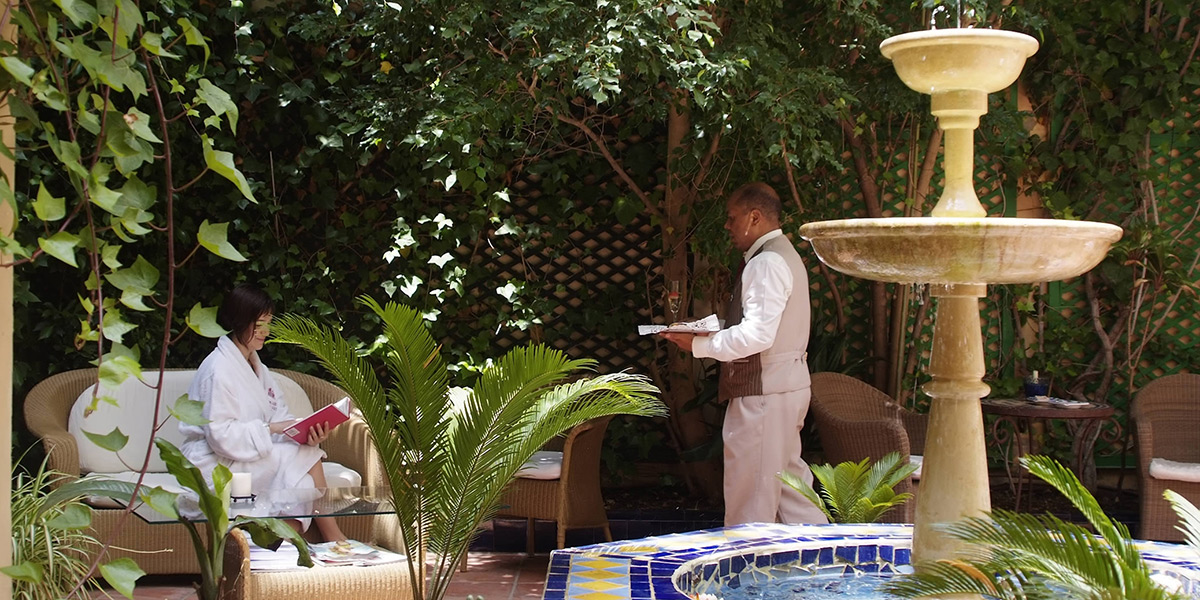 11. Palacio Ca Sa Galesa
With just 12 rooms, each named after a musician, the 16th century old town hotel known as 'the palace' lavishes attention on its guests. You'll feel like a king or queen spending time in a building imbued with history, which prides itself on upholding time-honoured traditions. The breakfast here is famous, and each room has a Jacuzzi. Service is notedly flawless.
TIP: Choose from a 'bath butler' menu of therapeutic soaks to enjoy in your room.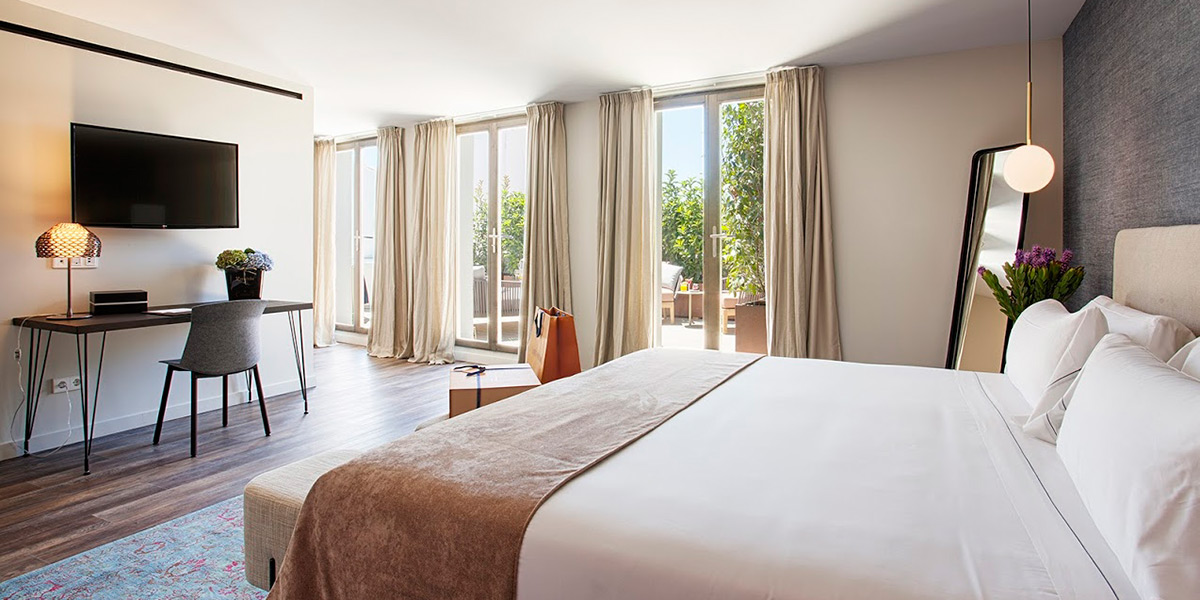 10. Boutique Hotel Sant Jaume
A fresh, contemporary stay checking all the five-star boxes, with a sprinkle of extra magic. An atmospheric bar and restaurant, dedicated wellness centre, private sundeck and superb rooms hit all the right notes, but the location is the real star of the show. This urban refuge sits between a church and a convent on Carrer de Sant Jaume, in the heart of the city action.
Read more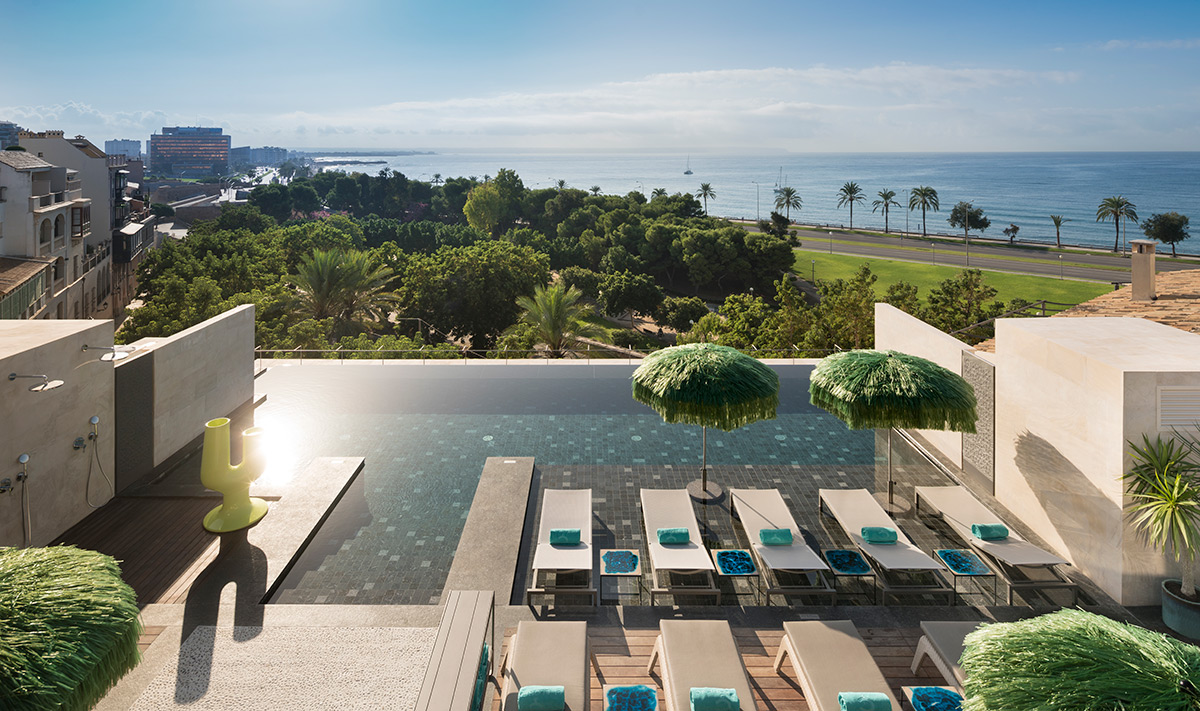 9. El Llorenç Parc del Mar
This 5-star hotel is a leading example of how interior design can push new creative boundaries. Designed by Swedish interior designer Magnus Erhland, the hotel pays homage to the surrounding area's history while incorporating contemporary themes. Dark wood, lattice work and Arab-Mallorcan tiles are just some of the motifs that contribute to the hotel's rich aesthetic. If nothing else, stay here for the largest infinity pool in Palma and most incredible rooftop bar.
8. Hotel Cort
Right next to the ancient olive tree in Plaça Cort is one of Palma's most-loved hotels. This bright and breezy bolthole lifts the spirits with its effervescent take on décor and serious approach to looking after guests. Tapas on the terrace by the lively Plaça is also popular with locals (always a good sign), and people watching from your own private balcony is a pleasure.
Read more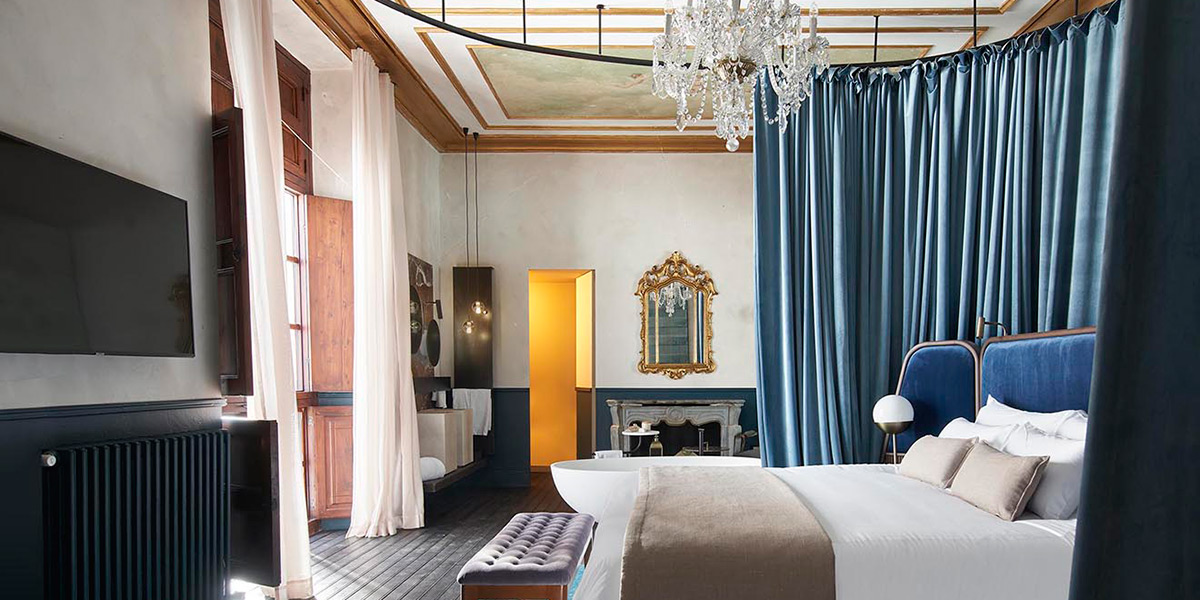 7. Can Bordoy Grand House & Garden
Can Bordoy celebrated its spring 2019 opening with a Great Gatsby themed party and fittingly so, as this Palma stay is steeped in glamour. Not a place for passing trends, this is a hotel of timeless luxury and each of its 24 suites are dramatically staged. The lush secret garden and pool is a peaceful haven steps from the buzz of La Lonja.
TIP: Best minibars and private whirlpool baths.
6. Boutique Hotel Can Alomar
Nestled away on leafy Paseo del Borne, rubbing shoulders with Louis Vuitton is Can Alomar. A sister hotel of Can Cera and run by the same crack team, the hotel is similarly outstanding in terms of service, décor and guest care. Food and drink is above and beyond – literally, as the hotel's De Tokio a Lima restaurant occupies a terrace looking out over this, arguably the city's loveliest avenue.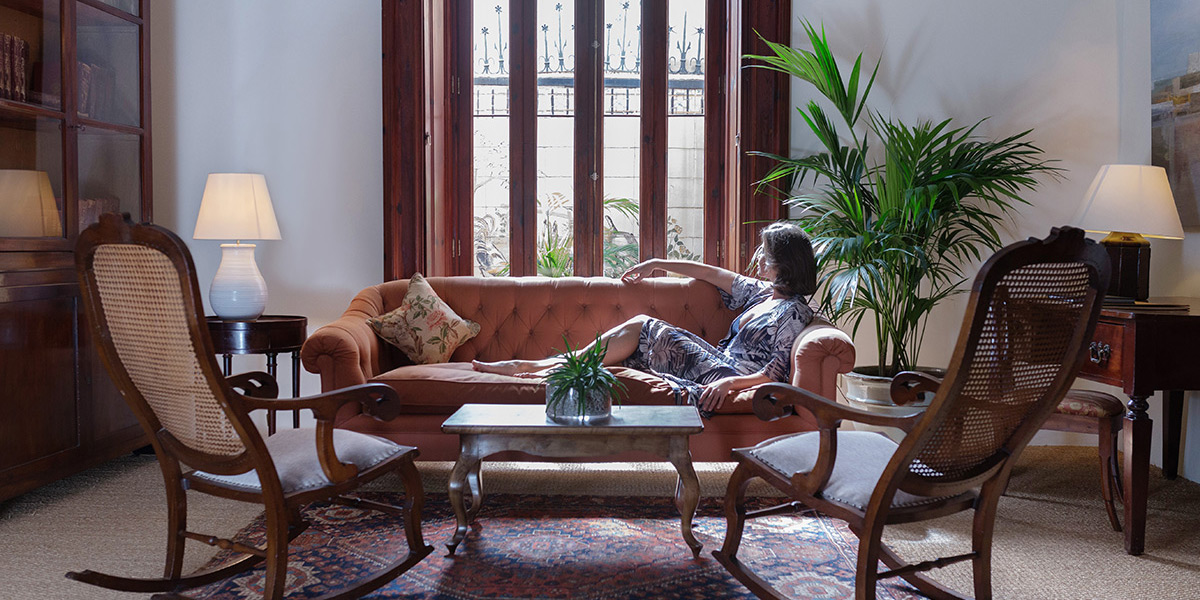 5. Boutique Hotel Can Cera
Where else but Palma would you find a hotel like Can Cera? Straight from the 13th century with showstopping Mallorcan patio, marble staircase and period furniture, this place is a piece of living history – updated for the discerning 21st century traveller. Slick service and an unrivalled locale steps from one of the nicest plazas of the old town cement this palace in the best stay lists.
Read more
4. Summum Prime Boutique Hotel
Style buffs go ga-ga for the surroundings of this exquisitely renovated palace. Located a street away from Avenida de Jaime III, the 18-room hotel drips style without ever feeling cold. Rather, guests are cocooned in every comfort which include decadent dining, purely pampering rooms and a small but perfect spa. The hotel's Parietti Suite features a stunning 18th century frescoed ceiling.
Read more
3. Hotel Glòria de Sant Jaume
HC loves the décor at Glòria de Sant Jaume, the Palma hotel that captures the spirit of a prestigious Mallorcan home. With original Medieval features, Santanyi stone, a gorgeous spa and excellent restaurant, it's a little microcosm of everything great about the island. Spend a while lazing on the lovely roof terrace at this tucked away address and we think you'll agree.
Read more
2. Sant Francesc Hotel Singular
Elegance permeates every inch of Sant Francesc. The five-star haven with a superb location in the old town consistently garners breathless reviews for its beautifully preserved character, sophisticated interiors and top-notch service. The chic roof terrace with its pool and bar serving sushi and cocktails is an extra-special draw, and the staff strive to make guests feel cared for. One of our editor's very favourite places on Mallorca.
Read more
1. Palacio Can Marques
A-list splendour is exemplified at this magnificent palace. An 18th-century palazzo opened as a hotel in 2018, Palacio Can Marques is a ravishing blend of old-world charm meets thoughtful, sumptuous design. The experience of staying at this La Lonja masterpiece is heaven, with gracious hospitality and every small detail a delight. No wonder you'll find the most expensive suite on Mallorca here – complete with its own tower boasting 360-degree views, private terrace, vast lounge, and your very own chef…
Read more
"In a country so close to civilised Europe" wrote George Sand on her stay in Mallorca in 1838, "we found it difficult to understand why we were unable to find a single inn."
How times change. The quality and variety of hotels on the island in 2019 is one of the best things about staying here; and in Palma, even the most demanding visitor will find many options to delight and inspire.