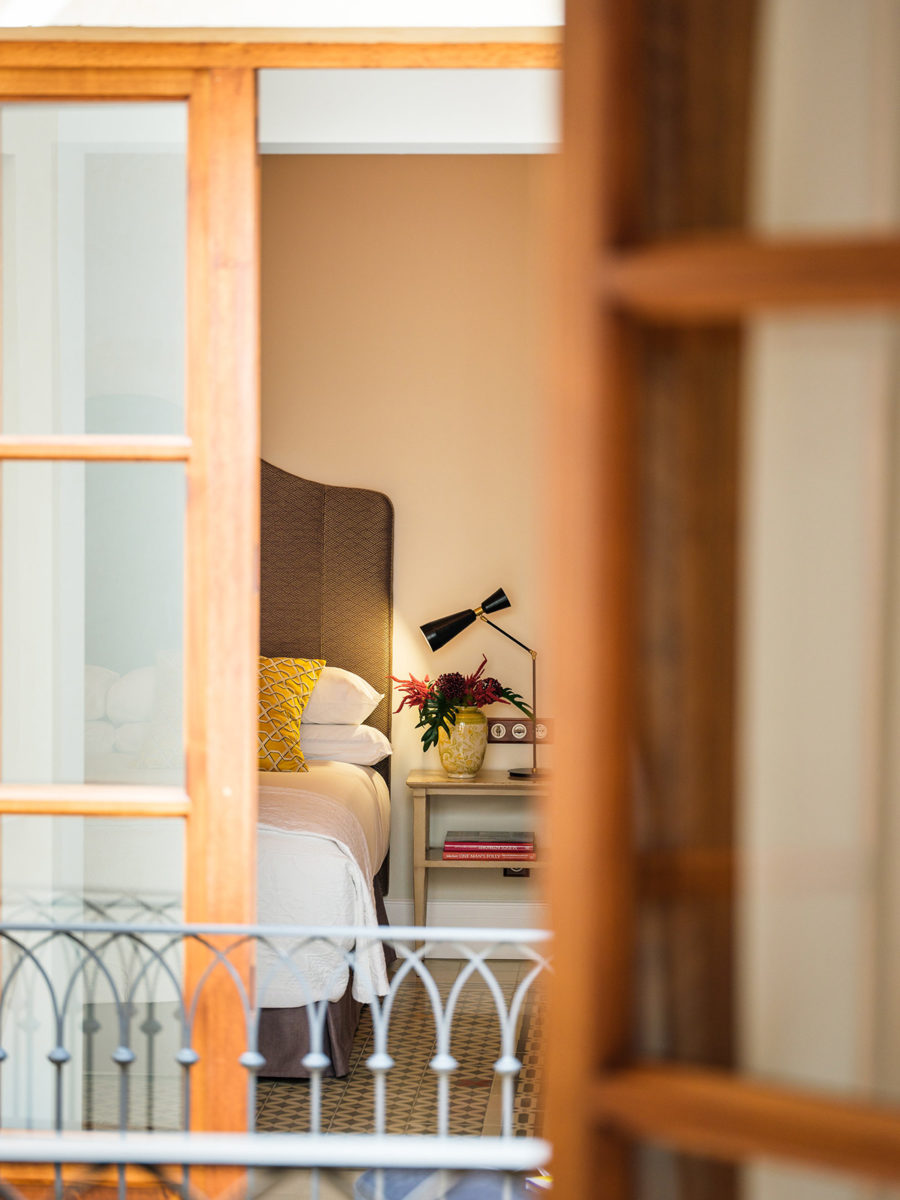 The art of telling a good story requires part art and part science; the storyteller must know intimately about a place and also how people think and live, there. Seated with a cup of tea in the foyer of Boutique Hotel Glòria de Sant Jaume in Palma one senses they are part of a perfectly crafted tale, told in 14 rooms, with a restaurant, bar and spa.
The fabled hotel — situated on a tiny cobbled street in historic Central Palma — has been on the land registry of Palma the 16th century. A traditional Spanish manor house, it was reformed by a Mallorquin family in Belle Epoque grandeur in 1870.
The plot twist? A family saga ensued, and when the hoteliers Jordi Cabau and Heidi Wolf bought the property, it had been virtually untouched for 50 years. A passion project of epic proportions began. Cabau and Wolf own the Mallorcan hotel group Cabau Hotels, and understand intimately what guests desire. They are collectors of art and beautiful artifacts, true epicureans. Together, the couple began the task of repurposing the architectural elements from the various periods of the building to maintain a sense of history in the hotel; hydraulic tiles in the bedrooms were copied to continue floor patterns, the marès walls and giant wood beams of the original structure were exposed, and parquet herringbone floors were installed. As in any great story arc, love prevailed, and the hotel is glorious.
From modernist inspired light fixtures to hand-hewn banisters, no details were overlooked, no expense spared. Cabau drew many of the renderings for the bar and restaurant by hand, hiring local craftsmen on the island to create wooden cabinetry and casement windows based on his own designs.
Wolf ensured the hotel feels like a home, albeit, a fantasy one. Bedrooms exuded Spanish conviviality, with rich textures, collections of personal artifacts from the family´s own collection, and all the thoughtful amenities of a five-star hotel. With a comforting menu of delicious Mallorcan specialties and a wine list that is personal and unpretentious (including difficult to procure Billecarte Salmon Champagne alongside favourite Mallorcan vintners) the restaurant, Patio de Gloria is for those who know decadence is discerning, not flamboyant. More than once the Hotel Glòria de Sant Jaume has been compared to the Parisian institution, Hotel Costes, and for good reason. It exudes the intrigue of a storied establishment, imbued with history and passion.
Address details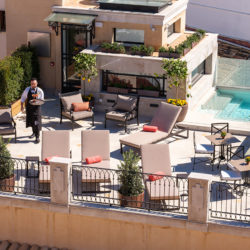 Gloría de Sant Jaume
C/ Sant Jaume 18, Palma