Cupid played an important role in the 'birth' of Sant Francesc Hotel Singular. Its owner Andrés Soldevila Ferrer tells the story of how his family discovered Palma after his brother fell in love with a beautiful Mallorcan woman.
On the day of the marriage proposal, strolling through the historic centre, the Soldevila family stumbled upon this 19th-century neoclassical mansion. Situated in a picturesque square in front of the Basilica of Sant Francesc, the building was the former family home of the Alomar Femenía family. They were aware of the potential of the property and this is how the project was born. Its delicate and meticulous restoration then began.
After its opening in 2015, this exclusive hotel offers its guests a new kind of luxury: more relaxed, but driven by professionalism and aesthetics. Sophisticated and 'culturally curious' travellers from all over the world stay at Sant Francesc Hotel Singular for its excellent service, beautiful design and impeccably restored Mallorcan architectural elements. Attention to detail is an evident hallmark throughout, from the construction of the building, specially commissioned furniture, and works of art, to impeccable and attentive service.
Miguel Feliz, as General Manager, and his team ensure that their guests have a magnificent experience, acting as ambassadors not only for the hotel, but also for Mallorca as a destination.
The hotel has been recognised and awarded on numerous occasions, both for its architecture and design, as well as for its great service. Among the latest recognitions is the inclusion of Sant Francesc Hotel Singular in the exclusive list 'The World's Best Hotels and Resorts: The Gold List 2019' (recognition granted directly by the editors of the prestigious international publication Condé Nast Traveler). In 2018 it was also recognised as the 'Best Luxury Hotel' in Spain (Boutique Hotels category). "We are passionate about what we do", says Andrés Soldevila Ferrer. "Providing guests with the opportunity to experience the mystique of staying in a 19th century palazzo." Following the success of Sant Francesc Hotel Singular, the Soldevila family is now working on what will be the second hotel in the collection. Another "masterpiece" that will open its doors in Santanyí at the beginning of 2020. We cannot wait.
Address details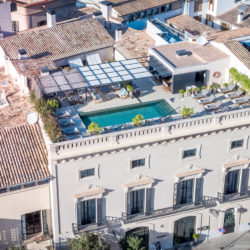 Sant Francesc Hotel Singular
Plaza Sant Francesc, 5, Palma