According to Marga Rotger, a job well done should last for a lifetime. The fact that the designer from Inca appreciates quality and style is already shown by her taste in cars. Next door, separated from her office by a glass pane, stands a white Mercedes 190 SL, built in 1957, the favourite car of icons like Grace Kelly.
Jointly with her father, Marga also owns an 85-year-old Graham Paige, which is built out of wood and in perfect condition. "As a designer, I've always based myself a bit on these cars," says the 42-year-old, meaning that her projects should also survive the passage of time without becoming unfashionable.
Hotel Predi Son Jaumell
Hotel Predi Son Jaumell
Hotel Predi Son Jaumell
Marga's trademark: She likes to work with noble authentic materials such as stone, marble, polished cement, blackened iron, and wood, which has 'quirks' like knot holes. Those, she combines with bright colours like green, blue and white to create a harmonious Mediterranean style. In addition to her feel for a timeless modern design, Marga Rotger also has a passion for places and their history.
The restaurant "La Parada" in Palma, located in the old train station with its former ticket desk and waiting room at the Plaça d'Espanya, constantly refers to the history of the building. The extractors above the bar remind you of 'the face' of an old locomotive, the black and white pattern of the floor is resumed in matching table sets, and the cupboard has the shape of a cow because, back then, animals were transported from this station.
"For guests to feel comfortable in a restaurant, the circulation has to be right," Marga explains. That's why she likes to design several dining areas in different styles, like in the newly opened Voss Urban Bistro in Puerto de Pollensa. A wallpaper with exotic birds determined the colours for the restaurant.
She combined blue and turquoise seating with materials in warm natural tones, such as leather stools, bamboo chairs, wooden tables – working also with indirect lighting. Light always plays a major role for her and, with the help of mirrors, light can be directed and spaces expanded. "When I am planning a facility, functionality is the priority, and then the aesthetics follow," says Marga, who studied at the Escuela Superior de Diseño in Palma and the Istituto Europeo di Design in Milan, and worked in various furniture houses on Mallorca prior to having her own business for the past 12 years.
Each project has Marga's personal touch and, to strengthen her brand, she commissions furniture such as cupboards, benches, or headboards on the island, according to her own ideas – rather than ordering everything from a catalogue. Together with craftswomen from Capdepera, she designed cushions, stools, and lampshades out of palmito cords, for example, which are typical of Mallorca. They now decorate country hotels like the Hotel Predi Son Jaumell in Capdepera.
The look for urban design hotels such as the award-winning Nakar Hotel in Palma, completed in 2016, is a bit soberer, with straight lines and no ornaments. The combination of natural materials such as oak and stone with black-lacquered iron and glass provides a warm atmosphere in the reception area. Indirect lighting is intended to reinforce the feeling of relaxation. The rooms are also decorated in neutral colours, the selective use of black (bedside tables, bedspreads, a freestanding bathtub) gives the furniture a further touch of elegance. For the new Hotel Protur Naisa in the former military residence on the Paseo Mallorca in Palma, Marga Rotger plans open baths, which can be concealed with a movable structure made of bamboo sticks.
Even in her own home, Marga loves things simple and contemporary: oak parquet, white doors, and wooden windows set the scene for the noble and functional furnishings. In the summer, she decorates her home with bright natural materials such as linen and cotton, while the winter months are for darker shades, as well as furs and leather.
Her recommendation to interiors fans is to arrange furniture, lamps, and pictures in a different way at home, rather than buy something new straight away – the result can be astonishing. Another tip from the interior expert: "What should not be missing in any ambience are plants, they give spaces naturalness and let us feel at ease right away," says Marga Rotger.
Photos by Sara Savage and Gori Salvà
Discover more top interior designers in Mallorca!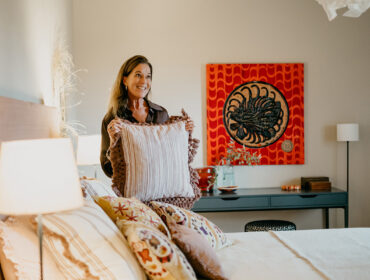 Discover the best interior designers in Mallorca who not only work with a Mediterranean palette but also interweave design ideas from international brands.
Address details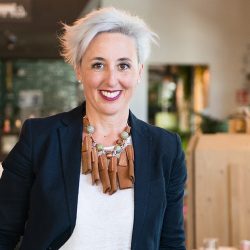 Marga Rotger
Avinguda Jaume II, 11, Inca