Chemistry applies as much to a working relationship, as it does to love. Anyone who has ever hired an interior designer will tell you that affinity is a key factor. If you and the designer have it, the result will wow. If you don't… well, you'll fall at the first hurdle. So, employing the services of one can pay off if you enjoy a great relationship – and you might end up with a lacklustre home if the dynamic is lacking.
"A good relationship between a designer and a client should be a rather intimate experience," says Drew Aaron, a Mallorca-based entrepreneur who has hired designers for homes in New York, the Hamptons, Palm Beach, Greenwich and Prague. "You need to date first, while both parties feel each other out and see if it's the right chemistry to move forward towards marriage."
The biggies: Cost, time and hassle
It's a common misconception that taking the DIY route will automatically save you money. "Not everybody knows what exactly what they want, or where to find it," says Marga Comas of Palma design outfit Bornelo. "We know a lot of distributors, brands and manufacturers; we know where to go to find the best things for each project; where to get the best prices. Also, as insiders, we can often secure the client certain discounts."
In addition, going it alone takes a great deal more time and effort. If you love going hunting for furniture and décor items, then curating a space yourself can be a source of much joy and satisfaction. If you don't thrill so much to the task, and you can't devote whole afternoons to tracking down the perfect pillows, it can quickly become a huge headache.
"If the client wishes, we can arrange everything ready for living," says Comas. "Towels, cutlery, crockery, linens: every last detail."
Such diligence comes at a fee – so clear communication about budget is vital from the start.
That expert knack
There are so many variables involved in getting it right, that may be unseen to an untrained eye: which kind of materials are better in one place or another; which layout will be most comfortable for daily use; how to deal with suppliers; how to conjure atmosphere. If your own knowledge is lacking, you may simply overlook aspects; no matter how applaudable your enthusiasm.
Aaron and his Czech model wife Hana Soukupová are well-versed in the factors at play, and know exactly who and where to turn to. For their Son Vida villa, they enlisted edgy, up-and-coming US designer Meg Sharpe. Getting the approach right for the couple's finca in Alaró, however, proved more complex.
"In searching the island for the right designer and furniture stores we quickly learned it was not as easy as we were accustomed to, unlike NYC where there is a design district that has everything from soup to nuts, it appeared that many of the top boutiques for furniture and design were randomly scattered throughout the island."
If you're unsure where or how, you can quickly feel overwhelmed. After some investigation, the Aaron-Soukupovás hit upon Santa Maria gems Livingdreams and Villa Wesco; Palma stores Rialto Living, Trends Store and Kidshome, and Aquaquae – who did their bathrooms.
It wasn't until they discovered Terraza Balear in Santa Ponsa, however, that the couple knew they'd found their guys. "Upon arriving in their showroom it was love at first sight."
The cosiness factor
There's no doubt that hiring an interiorist is going to give your home style. But will conceding control over your personal space affect its personality? Naturally, if you've done it yourself, your home is guaranteed to be a reflection of you. Then again, what this also means is that you've done it yourself. Rather than exposing all your tastes (the good and the not so good) the right designer will work with you to hone your better judgement.
"After all," stresses Comas, "we are not building or decorating for us or for a magazine, we are decorating for a person that has his own taste."
This could be the secret as to why the pros of hiring one of today's top designers may outweigh the cons: they do it as though they were you – only better. Unless, of course, you just happen to be Martha Stewart.
Discover top interior designers in Mallorca!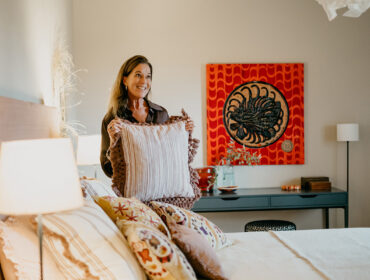 Discover the best interior designers in Mallorca who not only work with a Mediterranean palette but also interweave design ideas from international brands.