Founder of Portals-based Arquitectura 81, Inés Rodríguez is the talent behind this innovative design, which displays all the creative flair that has garnered her a reputation as one of Mallorca's top architects.
Her main design objective was to raise the day area to the highest part of the land, to connect it both visually with Bendinat's nearby cove and literally to the flat garden area at the top of the plot. The inventive solution also meant orienting this section for the best views while ensuring the veranda offers adequate shade. This terrace also extends out to an elegant pool and inside to an open-plan kitchen-dining-living room.
The stylish modern family home is spread across four levels from basement to roof, all connected by lift. Four of the five bedrooms have ensuite bathrooms, plus there's a gym, TV room, laundry and garage parking.
The use of natural materials that age elegantly were prioritised, with wood and stone playing major roles. "Natural stone is interwoven with traditional Mallorcan stone walls, connecting us with the nature of the island and the land from which the building derives," Inés explains.
Address details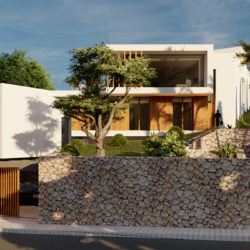 arquitectura 81
Miguel de Cervantes, 14, 07181 Portals Nous