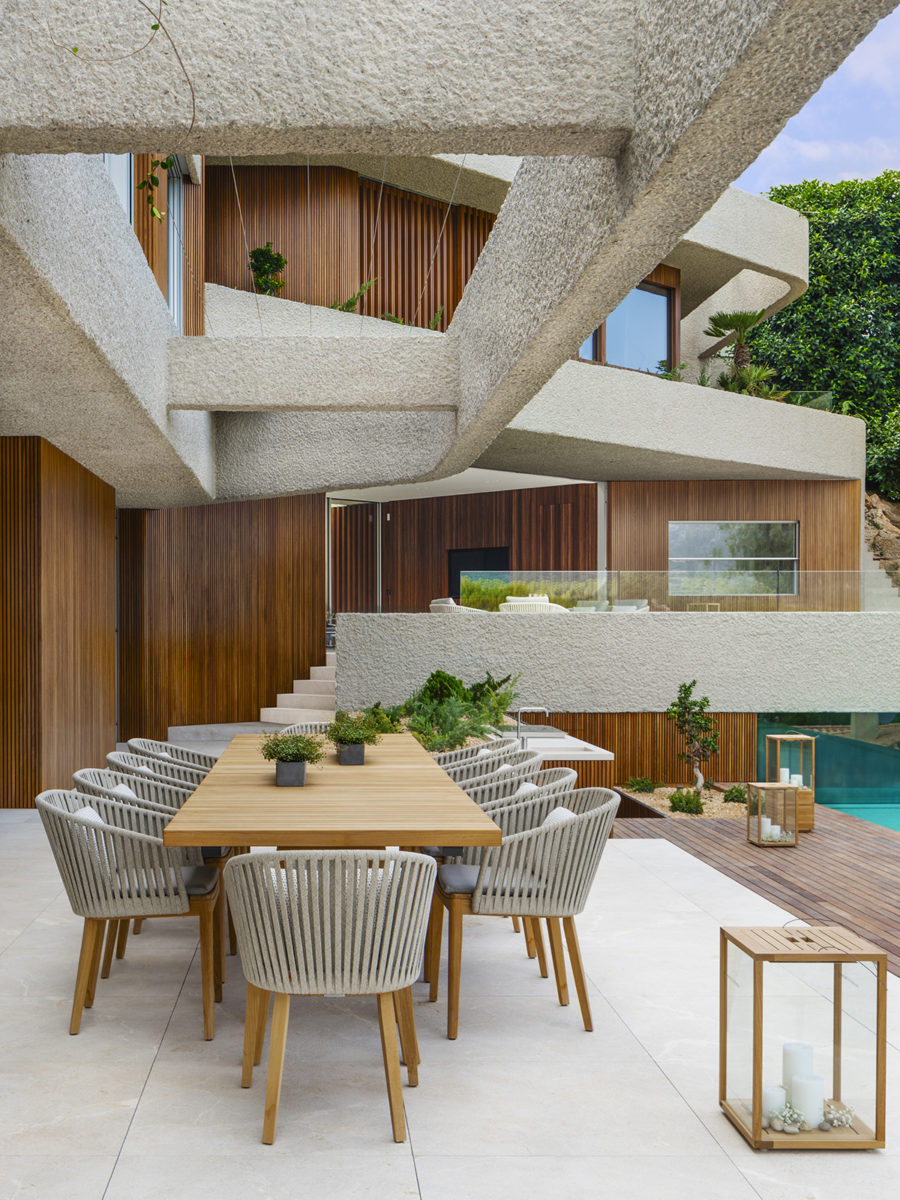 "Our task at Terraza Balear was to ensure that the breathtaking look of the home's exterior translated to the interiors." And with such a stunning piece of architecture as P27 – created by Argentine architect Osvaldo Luppi – this top interior design studio was given the opportunity to showcase some of their very best work.
Elegantly adapted to its topography, a rocky hillside in Camp de Mar, this unique villa is spread over three levels to take full advantage of the surrounding mountain and sea views. In a novel departure, rough concrete plays a key role, with warm woods and white walls providing calming counterbalance. To echo and enhance the architectural emphasis on earthy tones and textures, Terraza Balear opted for a selection of natural materials such as wood, stone, marble and organic fabrics.
In the living room, soft-hued furnishings featuring light blue highlights connect to the sea for a subtle yet contemporary statement. Also on the ground floor, the indoor-outdoor dining area features a sleek dining table and chairs, while lamps were chosen to reference the architecture, instead of distracting from it.
Inspired by nature, inside and out
Off the living room, a cosy plant-filled breakfast area provides a pleasant spot for occupants to relax with a morning coffee. The collections here were chosen to work harmoniously with the furniture on the opposite terrace, which features soft neutral tones to combine with the ubiquitous wood floors and fittings.
A perfect spot for socialising on summer evenings is the rooftop terrace, where a palette of greens echo the trees surrounding the rear of the house. In the basement is a secret hideaway, in which homeowners can enjoy the indoor pool, spa and sauna. Here, loungers in turquoise match the aquatic tones, plus a large window built into the infinity pool allows glorious view from this sublimely relaxing area.
As Mariana Muñoz, CEO & Founder of Terraza Balear, explains, "we were inspired by the landscape and the potential of the architecture to create a space that provides the ultimate in comfort and quality."
Photos by Mauricio Fuertes
Address details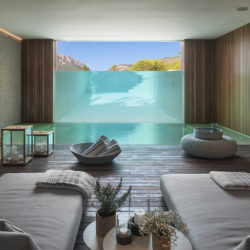 Terraza Balear
Calle Islas Baleares 18 Polígono Son Bugadelles 07180 Santa Ponsa