How did your journey into property developing begin?
I've spent 7 years in purely real estate and doing reforms for clients but my ultimate goal was to always become a property developer. If you're in real estate, I think you naturally have one foot in property development, it's just part of the business.
What are the most common challenges that you face?
Sometimes there can be a clash of cultures in the building sector. German construction is very standardised and in general form follows function. The main challenge therefore is finding the balance between creative design and practical us as we are not constructing standard houses to live in but masterpieces. People buy because they are unique and simply wow! However, I always say that houses have to work at the end of the day they must look great but also be resistant to extreme weather for example. Talk to us about a recent property that you're particularly proud of.
Talk to us about a recent property that you're particularly proud of.
We've just finished a property with architect Jaime Salvá. I remember seeing the plot in Santa Ponsa and just knowing that it had to be something different. My idea was to use concrete but being an urban material we knew it would cut buying interest by 50% – and it did! We had viewings and they would say 'we love it, but it's lacking Mediterranean feeling,' which almost convinced me to change. Anyway, I'm happy we stuck to our guns. The house was sold before it was finished solely because we went into a niche.
It's the dream of many to have a house built from scratch in Mallorca. What would you say to those looking to do it themselves?
There's a big difference in doing it yourself vs. buying a finished new build property. If you do it yourself you are confronted with thousands of small to big decisions to make. As a non-expert, you'll find that the budget goes up and of course it takes longer to finish. It can be a headache. Clients who bought our houses compared with those did a reform or new-build told us that they would never ever do it again. Imagine doing this in a foreign country in a different language at a time when there is a shortage of material, manpower and price increases… Good luck!
Favourite place to build in Mallorca?
Bendinat – although getting a plot around that area is not easy!
Least favourite place to build in Mallorca?
At the moment, probably the Casco Antiguo because of the strict norms and restrictions. You're so limited when it comes to creativity and design.
What are buyers looking for in 2022?
Exterior space is super important and creating a space for working at home. A gym as well even though the ones I see in other houses are quite old-fashioned – with all the machines in a row. For a project we're doing Son Vida at the moment, the gym is created for personal wellbeing so it's more for meditation and pilates. It's what our clients are asking for.
Why Sophisticated Estates & Projects?
We try not to produce like a standard product. If you see our houses, you'll see a certain language. People tell us that we do a nice mix of contemporary and Mediterranean. The goal is to have a house that feels cosy even though you might be livinginahugeglasspalace.
Address details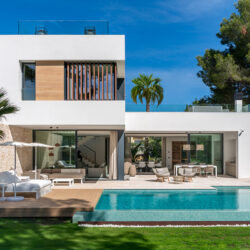 Sophisticated Estates & Projects
Calle Pursiana, 21, 07013, Santa Catalina