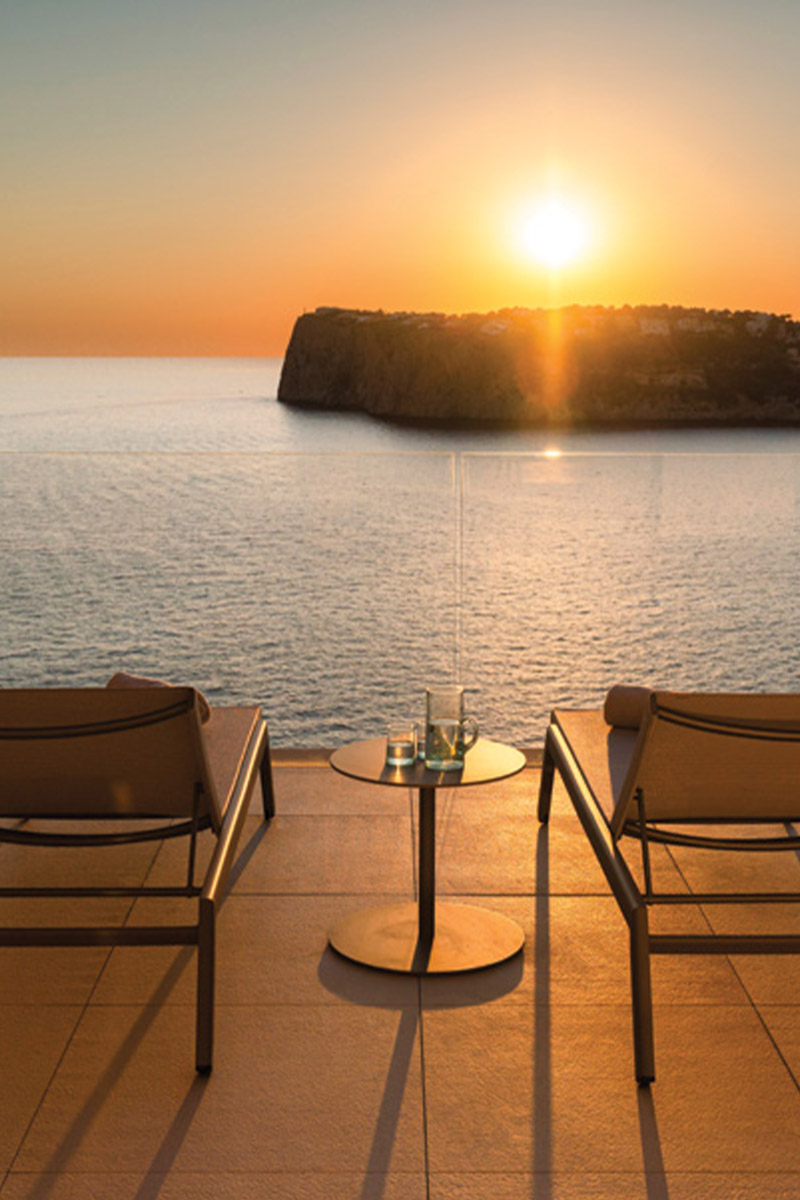 With its vertiginous crescent of rocky hillside overlooking a broad shimmering bay, it's no wonder Cala Llamp has become a magnet for some of the Mallorca's most exclusive residential developments. Neighbouring swanky Port Andratx only adds to its upmarket vibe and has helped it become home for many of Mallorca's most impressive luxury properties – of which Can Roca is one.
STONE AND SEA
The design of this five-bedroom modern villa is clean-lined and contemporary, though with a palette of calming hues and stone cladding that echo the surrounding hills. Carved into the rocks, its L-shaped design, various floor-to-ceiling glass doors, and sun-filled patios make the most of spectacular sweeping panoramas. The feeling is of being on a ship sailing towards the horizon.
Behind this spectacular slice of luxury living are two of Mallorca's top companies: architectural and management firm APM and kitchen specialists, Birgit Müller.
To match the property's top-end finish, the kitchen had to be something special. "Can Roca's interior is modern, Mediterranean and timelessly beautiful," explains Birgit "and the kitchen, with its mix of materials, fits harmoniously into this concept."
COFFEE AND WOOD
Warm cappuccino and soothing grey tones characterise the bright and airy space, with illumination provided by a large sea-view window and designer lighting. Smart units have handle-less designs, adding to its flowing quality, while the Calacatta marble countertop is as highly-durable as it is eye-pleasing.
The high-end sinks and taps are titanium, with appliances by top brands such as Miele and Bora. Another highlight is a round solid oak table resting on the kitchen island. "It embodies our passion for wood as a material," Birgit continues, "with an authenticity that only nature itself can produce."
The result is a top-quality kitchen that more than earns its place as the heart of this home, and certainly goes to help justify the eight-figure price tag this premium property is presently on the market for.
Text by Leon Beckenham | Photos by Karina Ivanova
Explore similar property for sale in Port Andratx!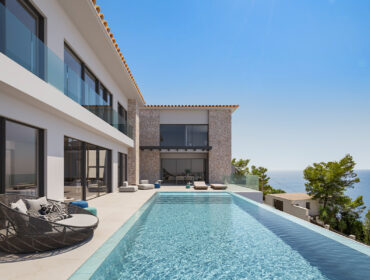 The property market in Port Andratx is synonymous with luxury in Mallorca. It signifies exclusivity and promises a good return on investment.
Address details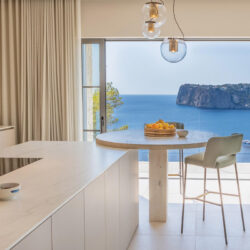 BIRGIT MÜLLER
Passeig de Mallorca 4, Palma de Mallorca