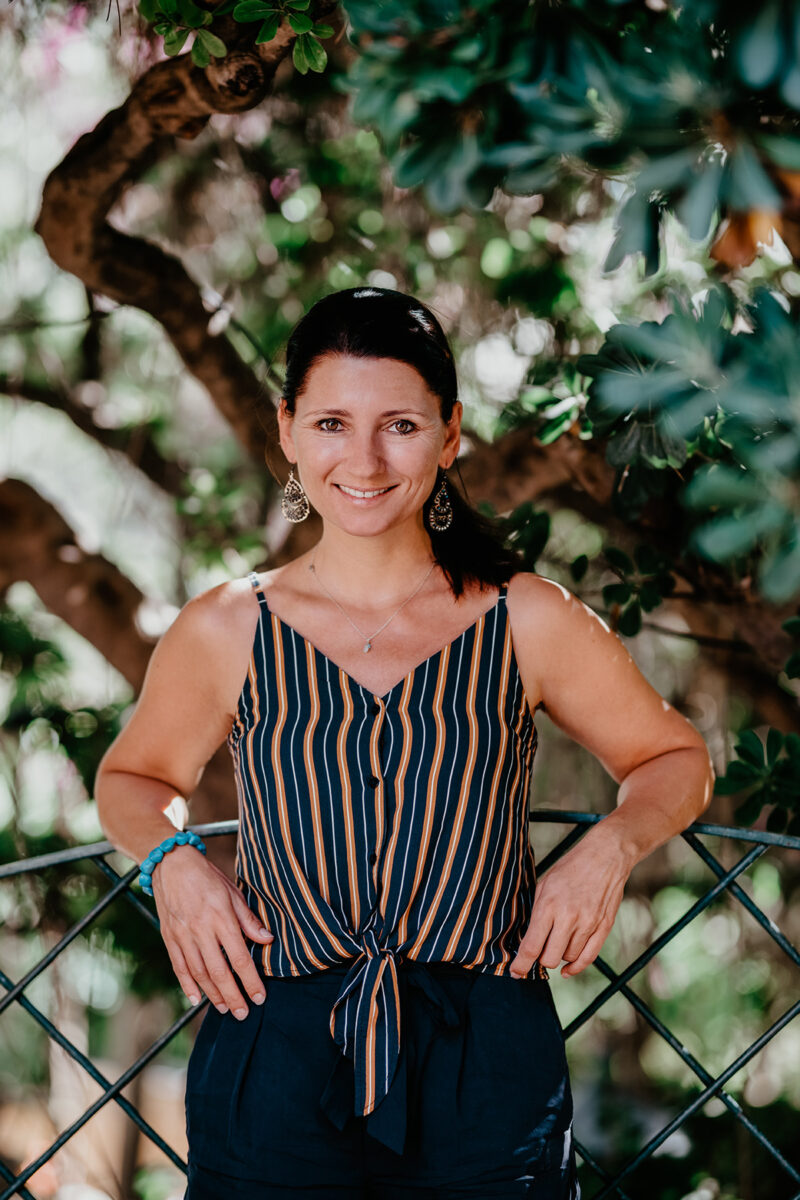 Mandy Fletling has remained likeable, empathetic and refreshingly down-to-earth even though her success as a property agency boss on Mallorca could long have gone to her head. Only a few weeks ago, the 39-year-old opened the third branch of her agency Living Blue Mallorca which she manages with her husband and which quickly established itself as the most successful agency for the island's central region.
Anyone dreaming of a house on Mallorca will initially think of a house by the sea – as did Mandy Fletling and her husband when they named their future company – whilst they were still living in Mexico –"Living Blue". Life, however, taught them otherwise and took them to Mallorca's central region where they found their new home in Alaró. "We found everything we were looking for and what we liked in Alaró! It was family-friendly, international and had the most beautiful town and country houses so we didn't need long to make up our minds."
As with all important decisions in her life, the skilled businesswomen was guided by an inner feeling. When she was only 11 years-old, she went into the first travel agency in Brandenburg, her home town in Germany's former East, with a postcard of Mallorca in in her hand and said, "That's where I want to go!" Her aunt had sent her the postcards from Mallorca every year. "Up until the fall of the Wall it wasn't possible to travel anywhere in East Germany and travel agencies didn't even exist!" laughs Mandy.
It's this combination of modesty and assertiveness which has helped her become so successful. After returning from her first holiday on the island she started learning Spanish, studied at a private business university in Barcelona and then went on to spend many years working with a well-known property company on her favourite island, Mallorca. Here she worked her way through all the various roles from team assistant to consultant. When the economic crisis occurred, the single mother took some time out with her daughter and lived in Mexico for a while. Here she rented a bungalow by the sea, did a yoga training course and got to know her husband and business partner Claudio, also a property consultant. When the couple found out that they were to become parents they decided to live a more "serious lifestyle" again and flew to Mallorca together.
They rented a house in Alaró, opened their first Living Blue Mallorca office and soon got to know people. "The people here welcomed us with open arms and entrusted us with their homes and apartments – first to rent and then later to sell." In the beautiful area around the Tramuntana mountains, priorities are different and a relaxed visit to the market is more important than people watching and being seen on some luxury harbour. The region therefore attracts a particular type of person – the ideal place for anyone seeking the "true Mallorca" with a friendly, typically Mallorcan town centre as well as an international atmosphere and stunning scenery characterised by the twin peaks. "Many very cultivated and well-off people of many nationalities live here who place importance on understatement and love nature and traditional living," emphasises Mandy. It wasn't long ago that clients first had to be persuaded to look at properties in the island's central region. Today, however, people usually come well-informed and with clear ideas of what they want. What's more, the Tramuntana region still offers plenty of attractive investment opportunities with good growth margin. "There's still potential there," says the expert. Here you will find properties which are ready to move into, plots of land for development as well as exciting renovation projects which can be sold for a profit. This, in turn, doubles the number of clients – the ones who are looking for a property for themselves and the others who have recognised the potential of the area as a business opportunity.
The "Living Blue" idea has developed into a small property empire in the heart of the island almost by itself and Mandy Fletling has now moved from her first office on a small square in Alaró to the popular market square. This was followed by an office in a prime location in the small town of Santa Maria followed a further office right by the picturesque harbour of Port de Sóller. With this, the agency has ventured the step to the other side of the Tramuntana mountains and, in doing so, completed its original idea of Living "Blue" – living by the (blue) sea. The clientele remains the same as the area around Sóller has always been an enclave for a particular type of Mallorca enthusiast who appreciates peace and seclusion. "We live the lifestyle we are selling and, in the end, we are all neighbours," laughs Mandy Fletling. "Most of my neighbours are former clients."
Photos by Sara Savage
Address details
Living Blue Mallorca
Plaça de la Vila 13, Alaró