At 7am a little girl rises and goes downstairs to find her grandfather in the kitchen. Whilst everyone else slumbers on, they quietly gather bread, oil, and garlic, and take it outside – where cool pine-scented air, birdsong, and amazing sea and mountain views are the backdrop to their simple al fresco breakfast-for-two.
This isn't a scene from a Disney feel-good family movie but one of many treasured memories for Marga Bauzá, who spent much of her childhood at Coll d'Es Pi in the UNESCO World Heritage site Tramuntana mountains. Between Andratx and Banyalbufar, close to the picturesque small village of Estellencs and the Galatzó mountain, the house feels a world away from Mallorca's bustling capital, Palma.
"I also remember summer siestas," Marga says. "We'd go to the beach or swim in the pool in the morning, then have lunch, listening to the cicadas and birds. Afterwards all the family relaxed and snoozed on the terrace. It was so nice."
Marga's grandfather built the house 37 years ago, in the year she was born; the house has seen her grow up, get married, and have two little girls of her own. Six years ago, Marga and her husband – who live in Palma – rented out Coll d'es Pi for holidays, through an agency, but Marga had no contact with those who stayed. "One part of my heart was telling me I must make a change, be more conscious in my actions and free with myself," Marga explains. "Thanks to Coll d'es Pi, I can be what I want." What Marga really wanted was for others to enjoy what she'd had as a child. "My feeling is that people are renting more than just a house – it has a family history – and I wanted to be more involved."
She left her marketing career in the luxury retail sector to open her peaceful "refuge of love" for Slow Family Holidays. "Here they can connect with nature, with each other, and themselves – taking a break from the fast pace of life today." The place is perfect for three generations of a family to vacation together: bonding, sharing, and making their own memories.
In early 2016, Marga began renovating the house with the help of Lluïsa Llull Deco Events. Coll d'es Pi can accommodate eight people, with four bedrooms, three bathrooms, dining room with fireplace, and large kitchen. The large outdoor space (almost six hectares) includes a terrace with spectacular views and swimming pool with chill-out zone. Kids have a large indoor playroom: "We don't have any plastic toys; we've made everything in a conscious way, such as tee-pees and toys that let children use their imagination."
There's also a surprise: "It's wonderful to see the children's faces when they spot it," says Marga, who welcomes arriving families. "Having this contact with them is one of the best moments for me." In advance, she ascertains any special needs and, for late arrivals, will buy breakfast items for the first morning. Cots and high chairs are available for babies and infants.
A successful video campaign last October filled the house every weekend with Mallorcan families. A user-friendly website attracts families from Germany, Switzerland, Sweden, Holland, and Britain. Depending on the month, minimum stays are between two and seven nights.
To promote Coll d'es Pi, Marga invited gastronomic association Chefs(in) to hold their Hidden Kitchen dinner there in February. Menorcan chef Silvia Anglada – from the Balearics' only official Slow Food restaurant – cooked. Some of the diners have since stayed at the house.
Marga wants to teach her new conscious way of living and plans an October one-day mindfulness retreat for mums, in collaboration with Virgina Quetglas from healthy-cooking school El Rincón de Nana.
This warm-hearted mum recalls another special moment: "At Christmas, after church in the village, we came home and, in the little place my grandfather made for me, I found my Christmas presents. It was like magic." All children should have happy memories like these…
Photos by Coll d'es Pi
Address details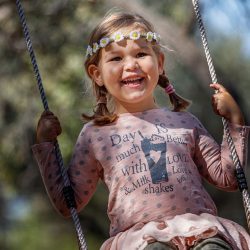 Coll d'es Pi Estellencs
Ma-10, Estellencs, Mallorca