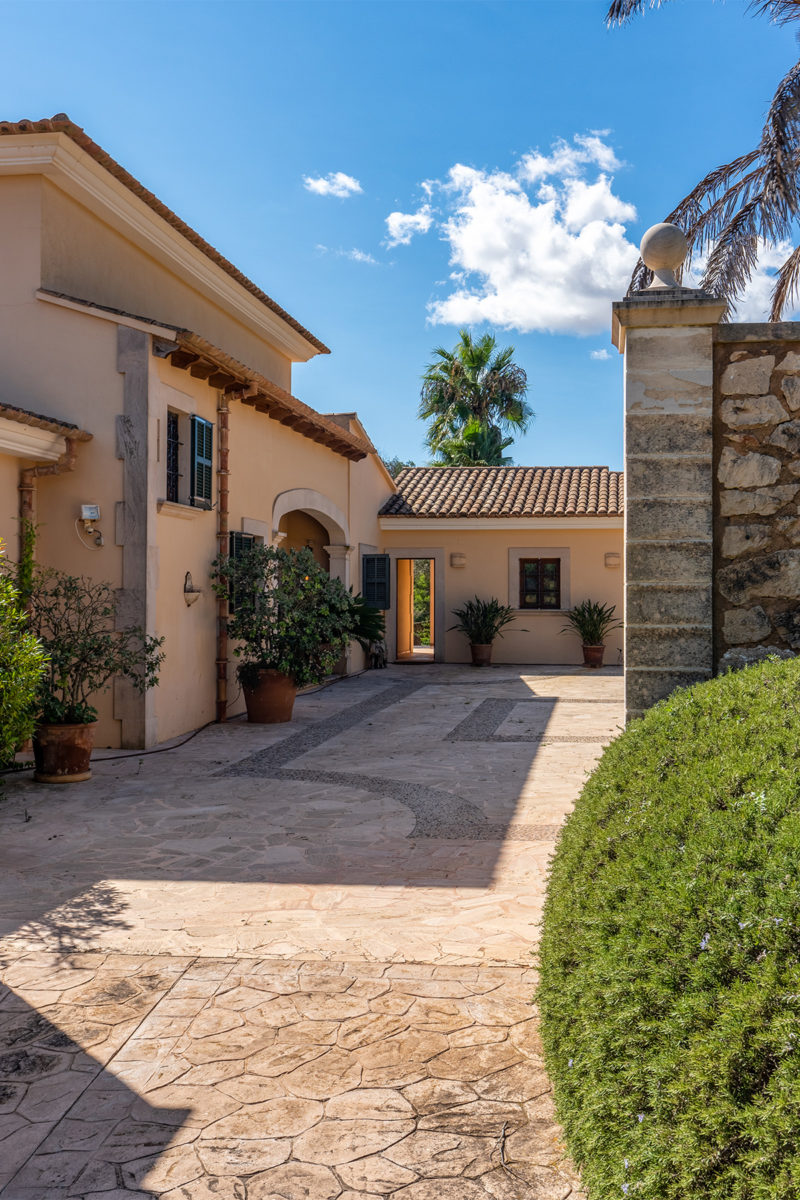 This 4-bedroom county retreat is located high in the hills in the quaint village of Alquería Blanca near Santanyí. The views from this grand luxury villa are picturesque and overlook the Mediterranean Sea and mountains of the Pla I Llevant. Unlike other properties for sale in Santanyí, the villa comes with its own guest apartment with separate entrance. There is also a small private chapel below the house.
The property has been maintained to an exceptional standard by the current owners, so few amendments are necessary. It would suit a large family looking for a second-home in Mallorca to while away the summer months, or as a permanent residence to live an authentic Mediterranean lifestyle.
Property Interior
The interior of this property has been beautifully put together. Classic wooden beams, stone floors and archways are just some of the little details that position this villa at the luxury end of the market. There are huge fireplaces as well, which are reminiscent of a simpler time living in the foothills of rural Mallorca.
There are 4 bedrooms and 4 bathrooms in total. The kitchen, dining room and living area is all open plan, allowing for relaxed family living. The ambience is light and airy and there are plenty of areas where the sunshine filters into the property.
Property Ref. 314
Rural country retreat in Alquería Blanca
Rural country retreat in Alquería Blanca
Rural country retreat in Alquería Blanca
Rural country retreat in Alquería Blanca
Rural country retreat in Alquería Blanca
Rural country retreat in Alquería Blanca
Rural country retreat in Alquería Blanca
Rural country retreat in Alquería Blanca
Property Exterior
A strong appeal of this luxurious country villa is its location, surrounded by beautiful mountain and sea views. There are no neighbours close-by, so total privacy and tranquility are guaranteed.
There is a huge pool to enjoy and plenty of terrace area to socialise and get the family together. The property also comes with a large lawn dotted with Mediterranean palm trees and shrubbery.
Property Location
The property is situated in the beautiful village of Santanyí, which is famous for its golden sandstone streets and buildings. It is a highly sought-after area for its nature, peaceful village life and countryside. Some of the island's most beautiful beaches and coves are situated just a short drive away.
Santanyí is the ideal place to settle if you want to immerse yourself in the quiet countryside living but still have conveniences of Palma within easy reach.
Local Amenities
Within Santanyí itself there are plenty of cafés, restaurants and supermarkets. On Saturdays there is a fantastic local market, which supplies the village with fresh fruits, vegetables and local products. There is also a surprising number of home interiors and furniture stores on offer.
However, if you would like access to a larger variety of services, then a 20-minute car journey to Palma is recommended. The closest international school is the Rafa Nadal International School which is 30-minutes away. Otherwise other international schools like Bellver College and Agora Portals are between a 40 and 50-minute drive away.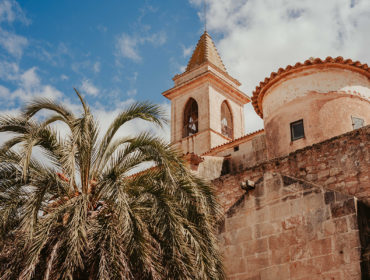 Find out all you need to know about Santanyí in Mallorca. From living in the area to the town's best hotels, restaurants and local events.
What we love about this property
"The sweet private chapel below the house."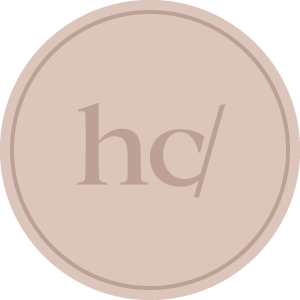 Tell me more about this property!
The real estate agency selling this property will be happy to answer any questions you may have. Simply fill in the form below and the agent will get back to you shortly.
See below for more Villas for sale in Mallorca!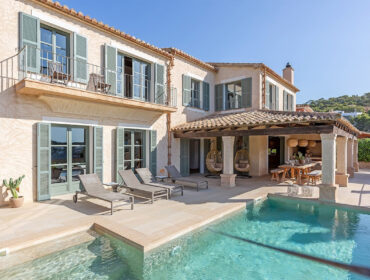 Discover the best Mediterranean villas for sale in Mallorca handpicked by Dr. Helen Cummins and team of local property experts.