While located in the golden streets of Old Town Palma, the interior of this second-floor apartment was so tired that only the vision of a designer like Justine Knox could remedy it from darkness. City apartments are not often on Justine's reform list (spacious new builds are her usual speciality) but luckily for this British client, Justine was up for the challenge. Restricted street access, narrow staircases and trapezoidal shaped rooms might have complicated the process, but true to Justine's professionalism the finished result shows no sign of compromise.
Eggshell and charcoal
The apartment might be small but Justine sought to respect the original structure including the natural stone walls–pairing a base of sandstone with pops of pattern and colour. The owner is a professional make-up artist so the priority was to infuse the interior with a sense of fun and creativity. To achieve this effect, a palette of black and white was used – which on closer inspection is eggshell and charcoal. A softened, much lighter version of the two opposites. The open living / kitchen space is grounded in warmth with some appealing jazzy patterns. The new kitchen is made of oak with white Silestone surfaces used for the countertops, splash-backs and framing. Black appliances like the Smeg fridge match the bar stools and hanging lights above the island which complement the soft glow under the cabinets and ceiling spots.
Opposites attract
Quality furniture (like the Missoni armchair) and locally sourced artwork create a cosy yet sophisticated look in the living area which is connected to a small inner courtyard. French doors were installed to let in plenty of light and the continuation of the funky tiling in the hallway proceeds outside and into the bedrooms and bathrooms. Some might be wary of introducing charcoals and gold into a small interior, but Justine proves that with the right contrast in colour, dark can be used to bring out the light.
Justine Knox's colourful renovation in Palma
Written by Rosie Foot
Photos provided by Justine Knox
Address details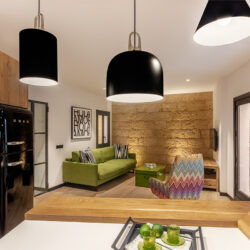 Justine Knox
Calle Valencia 45, Santa Ponsa