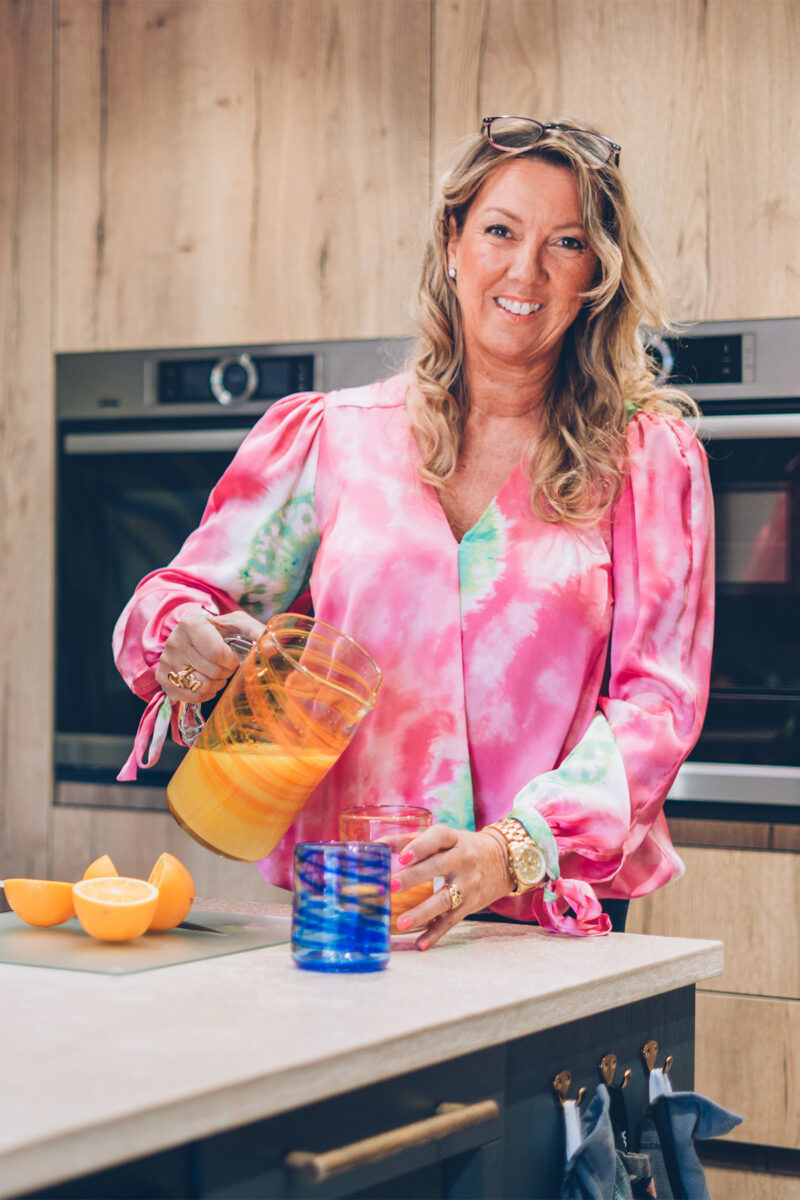 For award-winning interior designer and project manager Justine Knox, the prospect of redesigning her own kitchen took some years to come to fruition. However, in the summer of 2021, Justine made some time to her busy work schedule, accepted a period of dusty air and started making her dream kitchen a reality.
The project involved creating more space, since Justine wanted a large island unit where her family could comfortably work together. Her plumber and electrician were called to do the plumbing and the wiring, and the design and project management was overseen by Justine herself.
Known for her use of bright Mediterranean colours, it was important to Justine to bring the outside in. Glass patio doors give access to a sun-filled Spanish terrace with potted plants and raised flower beds, the ideal base for a bold colour palette. "I am a huge fan of colour and I wanted the walls to reflect this so I had Italian bespoke wall coverings to fit my space," Justine explains.
Now that the project is finished, Justine says that her kitchen fills her and her family with joy and happiness. In true Justine Knox style, colours that pop are given precedence and paired elegantly with the latest in kitchen appliances. Altogether, a smart, bright yet sophisticated space that satisfies every member of the creative Knox family.
Justine's top 10 tips for reforming your kitchen
1. Write down how and who will use your kitchen. This will help create a clear goal of what you want to achieve.
2. Create a wish list of appliances and storage facilities (hot water tap, pet food area etc.)
3. Include layers of light – task lighting, overall lighting and ambient lighting should all be included.
4. Think about your view. Placing your sink at the window is an outdated kitchen design rule, since most items go into the dishwasher. You may prefer a good view from your hob (incorporating it into an island) or for a seating area instead.
5. Consider the durability and practicalities of your wall, floor and work surface (unless you want to be a slave to cleaning!)
6. Plan your layout so that the sink, fridge and hob are within an easy triangle and that traffic flow is not an issue. Think of the space left when the oven or dishwasher doors are open.
7. When deciding on the cabinetry and style of your kitchen, consider the style of the rest of your home. Your kitchen should harmonise with the rest of your interior.
8. Colour is a big trend in kitchens right now, but I would suggest using colour on more traditional wooden doors which can be updated easily rather than on contemporary flat-fronted models.
9. Consider highs and lows. If your wall cabinets are not up to the ceiling, make sure there is enough space above them for storage and it is easily accessible to clean.
10. Last but not least are the details! Good quality and beautiful handles are worth the extra investment and feature lighting above an island can really create that wow factor!
Text by Rosie Foot
Photos by Sara Savage
Address details
Justine Knox
C/ Valencia 45, Poligono Son Bugadelles