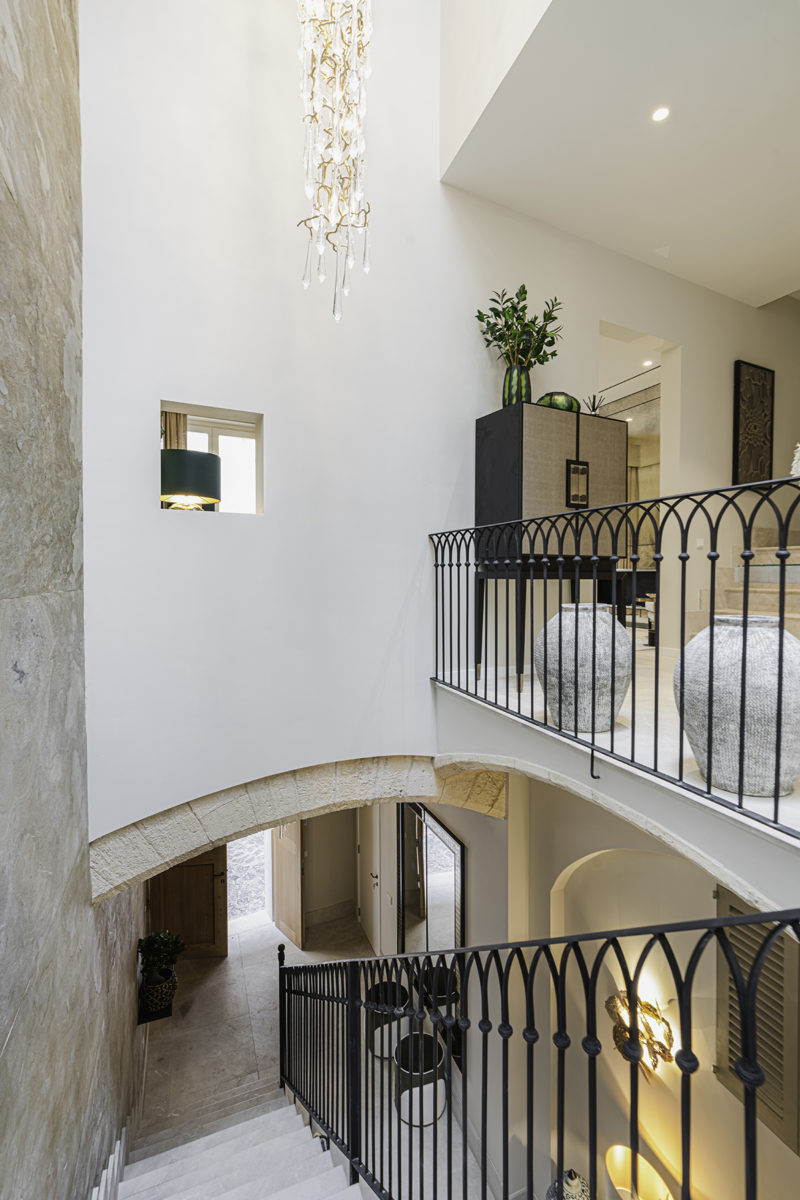 We meet Kevin Stevens, president and founder of E5 Living, at his newest renovation in the centre of Palma. What was once a derelict building has now flown to the top of luxury real estate with its French grey shutters, crisp white front and oak garage door. The exterior alone exudes confidence on this cobbled, quiet street where Kevin exclaims big money is being spent on renovation. "Give it another year and this area of Palma will be unrecognisable," he exclaims, pointing to another construction project close by.
He leads us inside the townhouse, beaming a smile that says it all. The entrance is a golden swirl of age-polished flagstones, a hanging chandelier and softly lit wine cabinet. Natural light floods in from the open glass ceiling above, which paired with Farrow & Ball paintwork invokes a warm, earthy base. Spread over 470 square metres, its size alone impresses and – aided by high ceilings – provides many rooms with a touch of the palatial. It is remarkable to be in the heart of central Palma and feel like we're in several places at once. Wrought-iron bannisters conjure up romantic Paris. Murano glass chandeliers recall quintessential Venice. And then, of course, there are the sandstone archways which draw us back to Mallorca, or rather a luxury villa for sale edging the coastline. All of which make perfect sense given the property name, Villa San Lorenzo.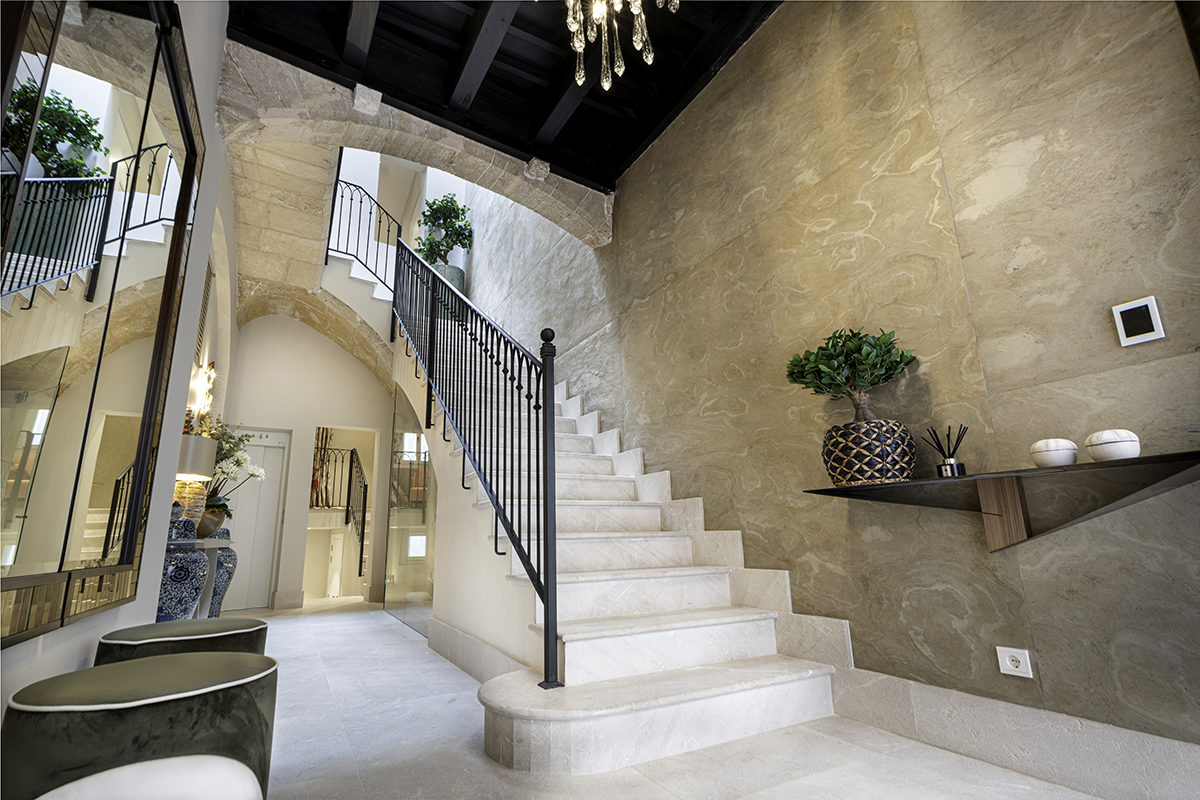 With 4 bedrooms and 4 bathrooms spread across multiple floors, the structure of the property just keeps on giving. Space and more space is revealed as Kevin leads us from one floor to the next. We pass through an elegant living area with velvet furnishings, pearl carpets and mirrored wall. The interior – designed by Harris Byrne Interiors – flows in character and depth, while acknowledging space for personal touches. "It's all ready for you to move in. Nothing else is needed but a few suitcases," Kevin says joyfully. He is just as tempted as we are to call this home. "Everything you see comes with the property, the interior, all the fittings …" he continues, before mentioning that the Smart car in the garage is also included. "A smart car for a smart home" he says, adding that ample garage space means room for a second car too.
On the market with John Taylor Real Estate for €4.5 million, Villa San Lorenzo is yet another success story by E5 Living. Kevin and his team have created a property which allows for tranquil, spacious living on the doorstep of historic Palma. The roof terrace is within plain sight of the jewel in the crown, the Cathedral La Seu, which – along with the accompanying swimming pool – is like a sprinkling of gold dust. "I want people who visit to be overwhelmed, stopped in their tracks, mouths wide open," Kevin concludes as we begin our descent in a glass-floor elevator. We glide swiftly down and return to where the chandelier centres the hallway, in no doubt that "mouths wide open" is the least Kevin should expect.
Photos: Miguel Trias