In recent years it cannot be ignored that the demand to live in Palma de Mallorca has increased two-fold. What was once a humble seaside capital, known largely as a quick stop-off point between airport and hotel, has grown into a destination in its own right. Nowadays, Palma is not just your city to pass through nor see from a plane window, but a place to settle in and call home.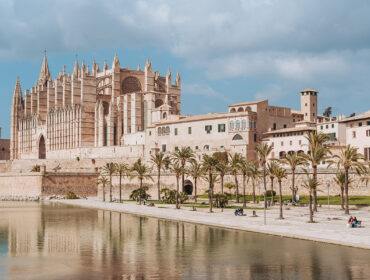 Palma de Mallorca is a city full of surprises. Move to Mallorca's capital and discover the very best of what the island has to offer.
Many areas of Palma have had such a facelift (thanks to money spent on renovation) that now, the city easily rivals other top European cities. Squares like Plaza Raimundo Clar, Plaza Patines and Plaza Santa Eulàlia have increased in interest, paving the way for a new kind of living, one that is largely focused on health. With the Mediterranean coastline within walking distance and the mountains a short car ride away, people have recognised the benefits of life in a city with sunshine and sea air. Take a walk down to the promenade, or even just to the Cathedral, and you will see runners, cyclists and skaters whizzing along the seafront. All around there is an energy to Palma which has fostered a thriving climate for independent businesses like Café de Cicliste, Vegan & Raw and Zunray Yoga to succeed. This healthy lifestyle has worked as a springboard for new ideas, and now as more restaurants, hotels and bars open, interest in buying a property has sky-rocketed.
Areas such as La Calatrava that stretch behind the Cathedral are particularly beautiful and have seen a lot of renovation work in the last few years. It is quiet here, and what makes it special is the centre is so close while waves are heard lapping the shore a few streets over. Historic architecture pervades this tranquil part, hence why it is no surprise to find five star hotels such as El Llorenç Parc del Mar tucked away here. Of course prices in this area are high but you are likely to find a property with lots of character given the area's colonial history. Maple-coloured beams, large windows and petal-shaped tiles are just some of the little quirks you'll find behind closed doors. Otherwise, La Lonja is another desirable area which stretches from Rialto Living on Calle San Feliu all the way to Es Baluard. The vibe is busier so noise is to be expected particularly at the weekends, but if a Mallorcan tradition is adopted, it is Palma Monday to Thursday and the rest of the week by the sea! Or if a second home isn't an option, Calle San Jaume just off La Rambla occupies a nice middle ground, being in the centre but not affected by too much noise.
La Lonja
La Lonja
La Calatrava
Plaza de La Reina
Palma brings together a wealth of lifestyle benefits that make it a desirable city to live in. With the sea nearby, a thriving health community and beautiful properties for sale, it is easy to see why people are flocking to move here. It has a wonderful ambience where a multi-international network has flourished, allowing for cultures from all corners of the map to find their place.
Helen's local knowledge from over 15 years of living on the island includes the best tips and recommendations you can find on Mallorca.