There are still secret places where you get a sense of what Mallorca would have once been like. Beaches surrounded by nature where the only soundtrack is the waves and the gulls. The following beaches have no showers, no toilets, no shops, no bars and possibly no phone coverage. You will need to bring everything with you and of course, bring everything back. Firm shoes, rather than flip flops, are required for many of the hikes which are not recommended for young children or those with mobility issues. Mallorca's sunshine can take its toll and we recommend sun cream, hats and plenty of water.
Discovering a hidden bay for the first time is an energising experience. It's exciting to head off the beaten track; to trek through pine forests or clamber down rocky mountains rather than battle for parking at a beach resort. Long after you've left them behind, the memory of these special beaches will bring you great pleasure.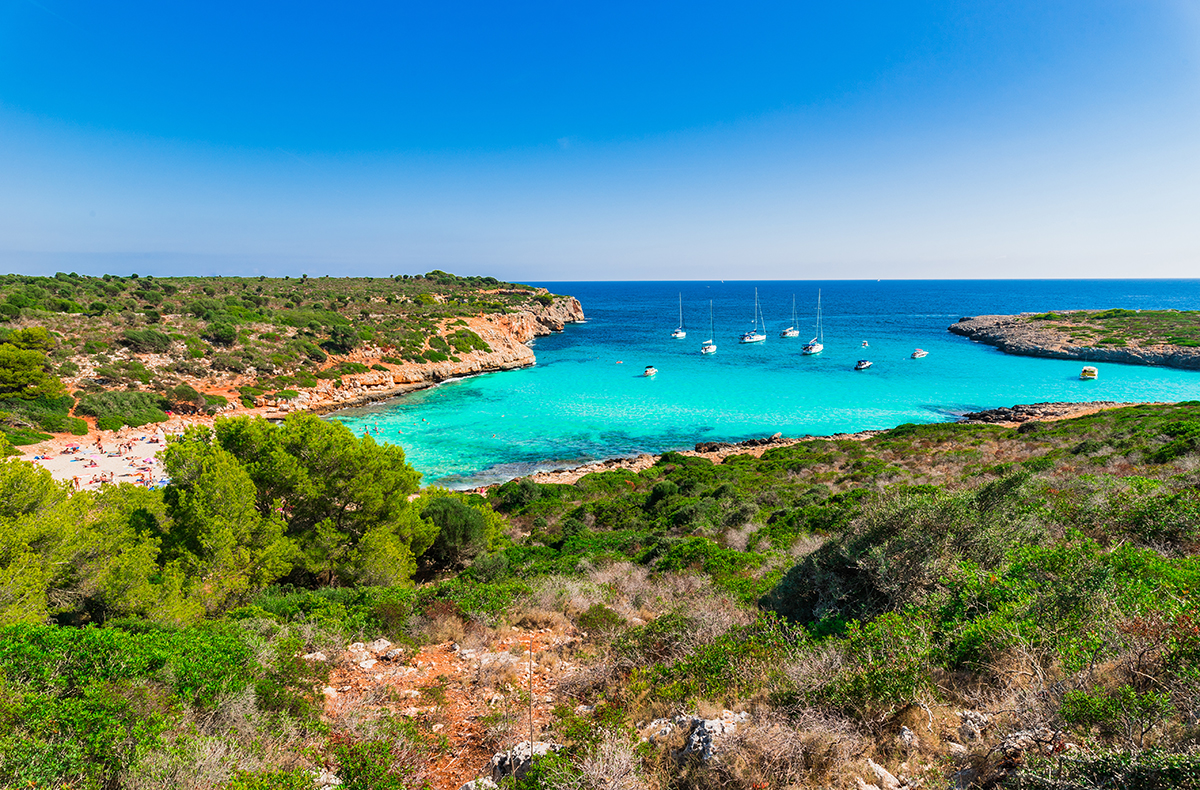 Cala Varques
Keeping this bay a secret is difficult since it enamours everyone who visits. It's situated 13km from Manacor, between Calas de Mallorca and Cala Romántica. Snorkelers and rock climbers love its cliffs and caverns. A path to one side of the beach leads to the rocky cove of Caló Blanc where the water sparkles turquoise beside a staggering underwater cave. A natural rock arch formation is another attraction, providing a striking backdrop for photos. There is no official parking and it will take roughly twenty-five minutes to walk from the main road. The rough stony track passes beside a sign for private property. Continue on fearlessly through forest until you reach the dunes.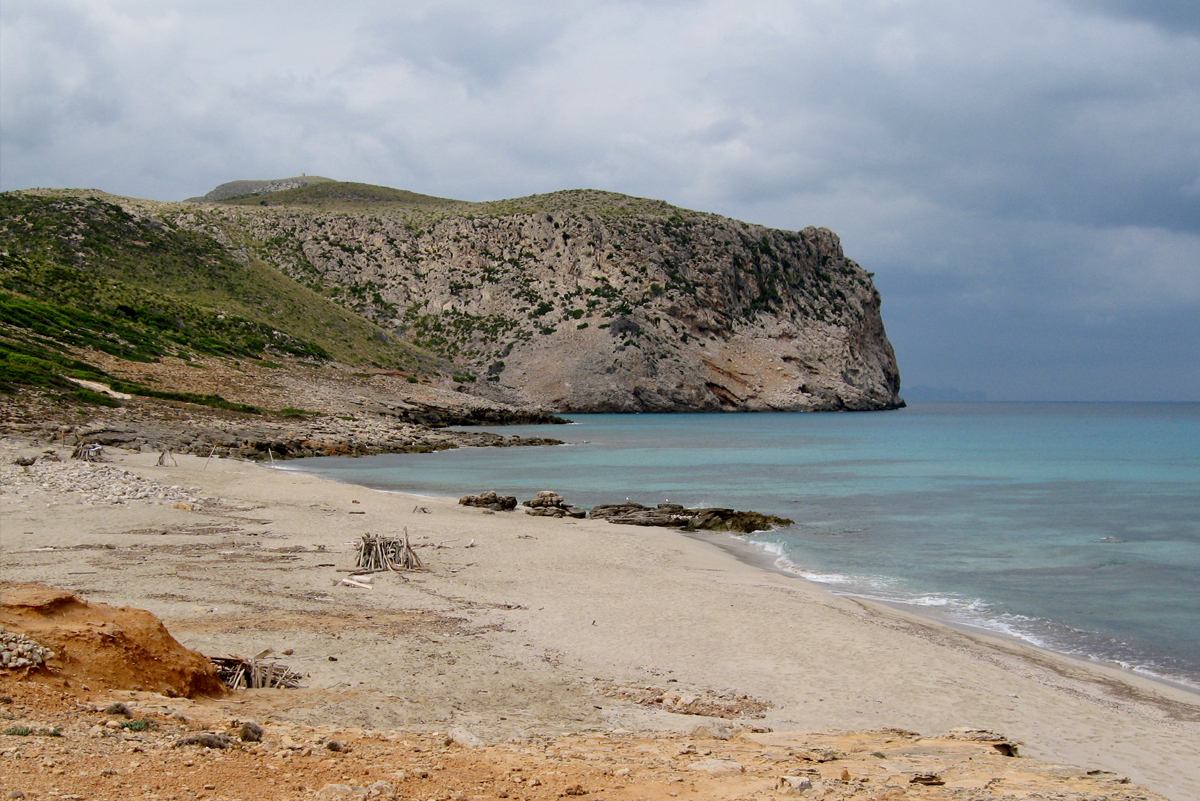 Arenalet Aubarca
Be prepared for at least a one and half hour's hike to this sandy virgin beach situated 12.5 km north of Artá in the Serra de Llevant Nature Reserve. One option is to park just beyond the petrol station and join the coastal route GR222 from Cala Estreta. The hike passes the beautiful and remote beach of Cala Matzoc and the ancient lookout tower of Torre d'Aubarca. When you reach the paradisiacal Playa de Sa Font Celada, it means you are only 500 metres away. The arid summit of Puig de Sa Porrassar looms to the north. Today it enriches the magnificent scenery, but in the 13th century it may well have provided refuge for the Moorish resistance.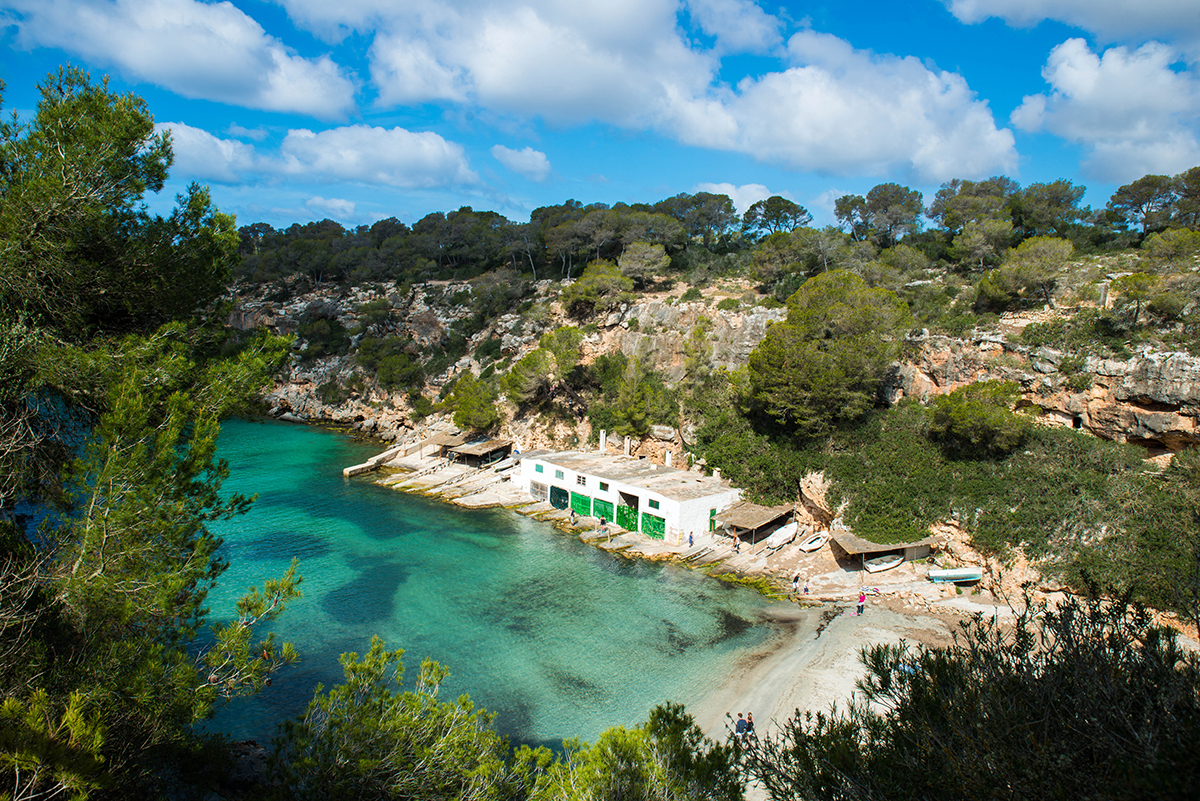 Cala Beltrán
Rugged cliffs frame this narrow cove west of Cala Pi in the municipality of Llucmajor. Due to its long winding mouth it has often been compared to a river rather than a bay. It's not a place for sunbathing but somewhere to contemplate the transparent water and to listen to the waves lapping against the boulders. Pine trees along the headland add to the sense of seclusion. Access is via a path beyond the fishermen's huts to the rear of Cala Pi and then down some steep steps carved into the rock. Some prefer to visit by boat or kayak.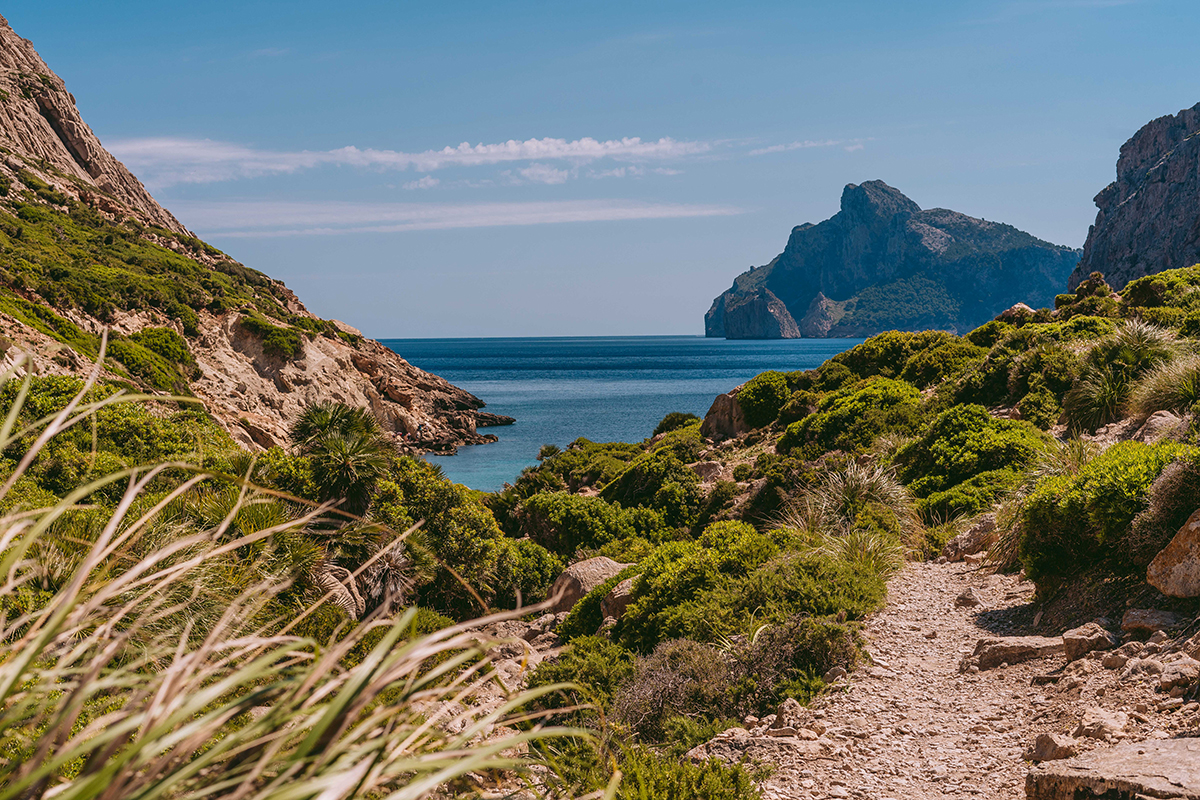 Cala Bóquer
Wild goats may find you at this spectacular pebble beach 5km north of Port de Pollensa. It's certainly one sure way to escape the crowds. The hike from the private finca of Possessió de Sa Boquer to the beach takes about forty minutes and requires firm shoes. Loose stones add to the challenge which the tremendous views and a cooling swim will make up for. Limestone cliffs frame the bay and on the horizon the Colomer islet, so admired by the crowds at El Mirador de Ses Colomers, will be exclusively yours to feast your eyes upon.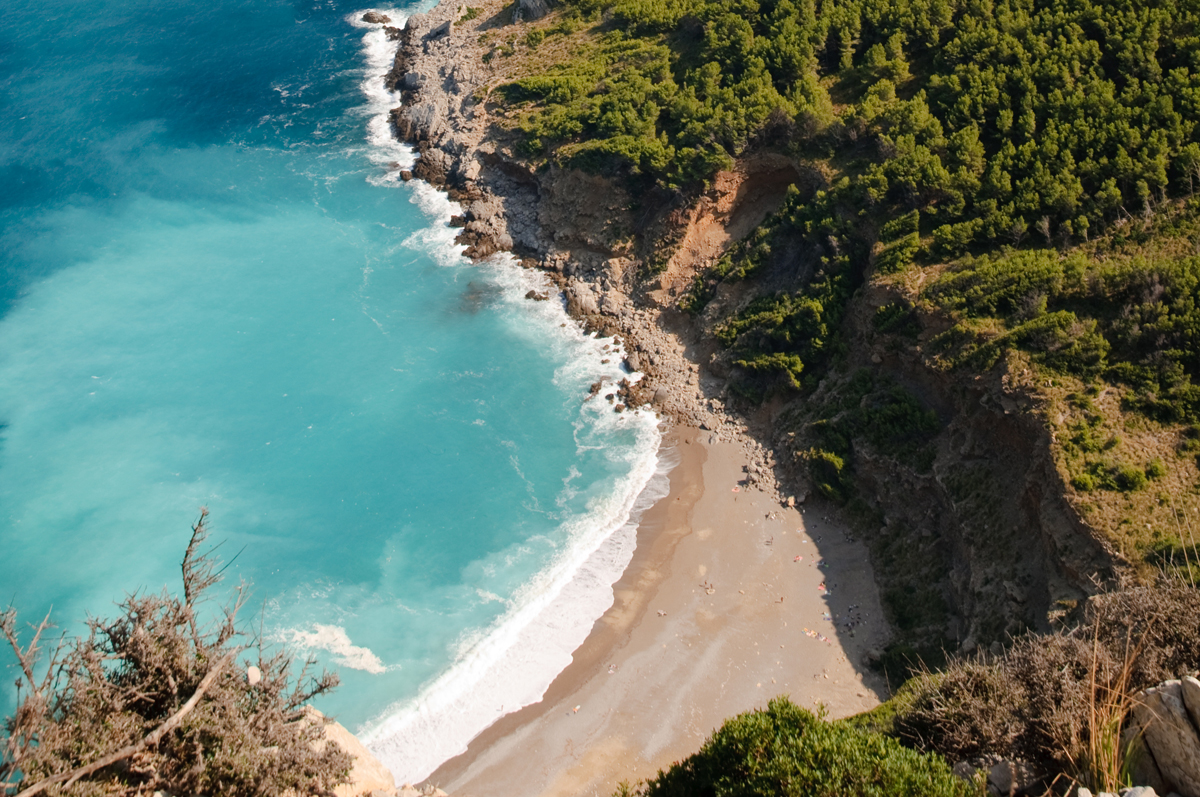 Es Coll Baix
Trek through a pine forest and clamber down rocks to reach this remote pebble beach 8km north of Port Alcúdia. For those who crave an authentic Mediterranean paradise, its sparkling turquoise waters are irresistible. To get to this bay, leave the car at Collet de Coll Baix car park and follow the signs. Some visitors prefer to arrive by boat which means you may find some vessels anchored in view. The presence of gravel rather than fine sand might put some off, but for those who value utter immersion in nature Es Coll Baix offers more than enough.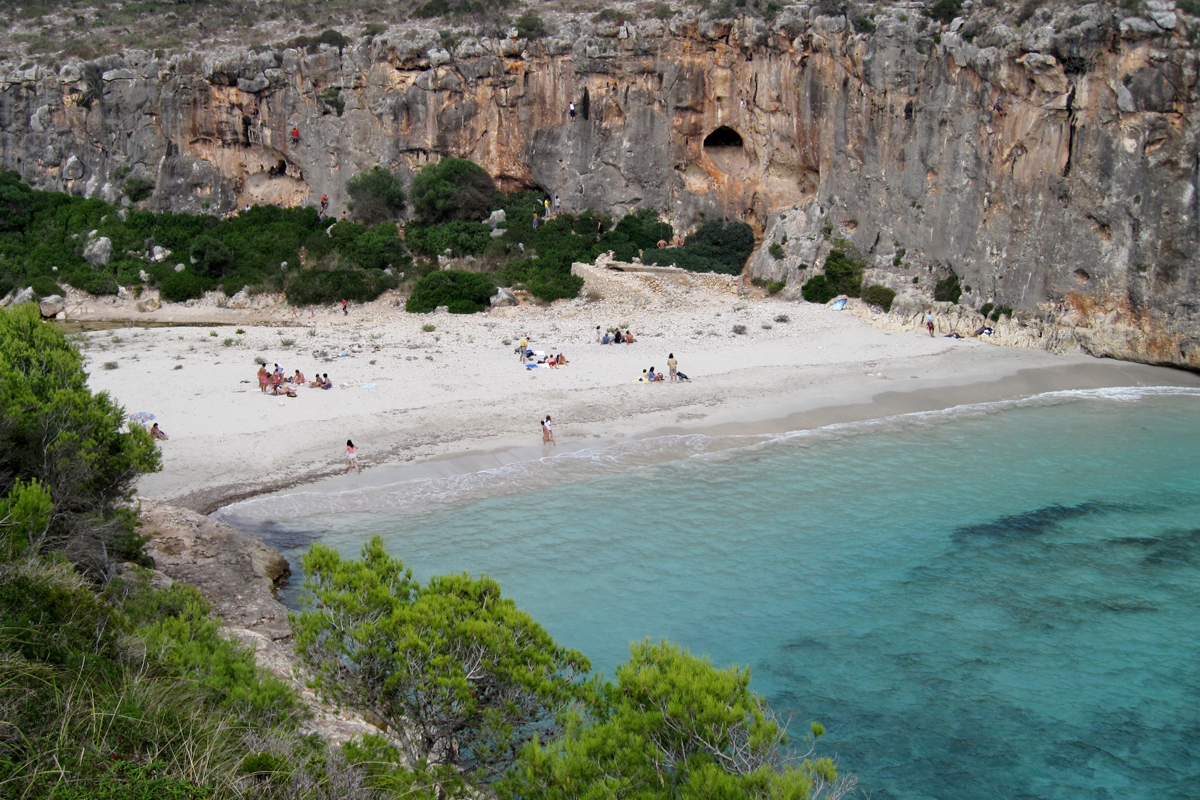 Cala Magraner
The east of Mallorca is rich in remote bays and Cala Magraner is another which is off the beaten track. It's situated 15 km from either Porto Cristo and Portocolom and, like Cala Varques, has breathtaking cliffs and unusual rock formations which excite climbers and photographers. To reach its crystal clear waters requires a forty minute hike from the sign posted gate 3 km away. In addition to Cala Magraner, there are two other secluded bays in the area called Cala Pilota and Cala Virgili which can be explored on foot. All three of these virgin bays are composed of soft sand and gravel.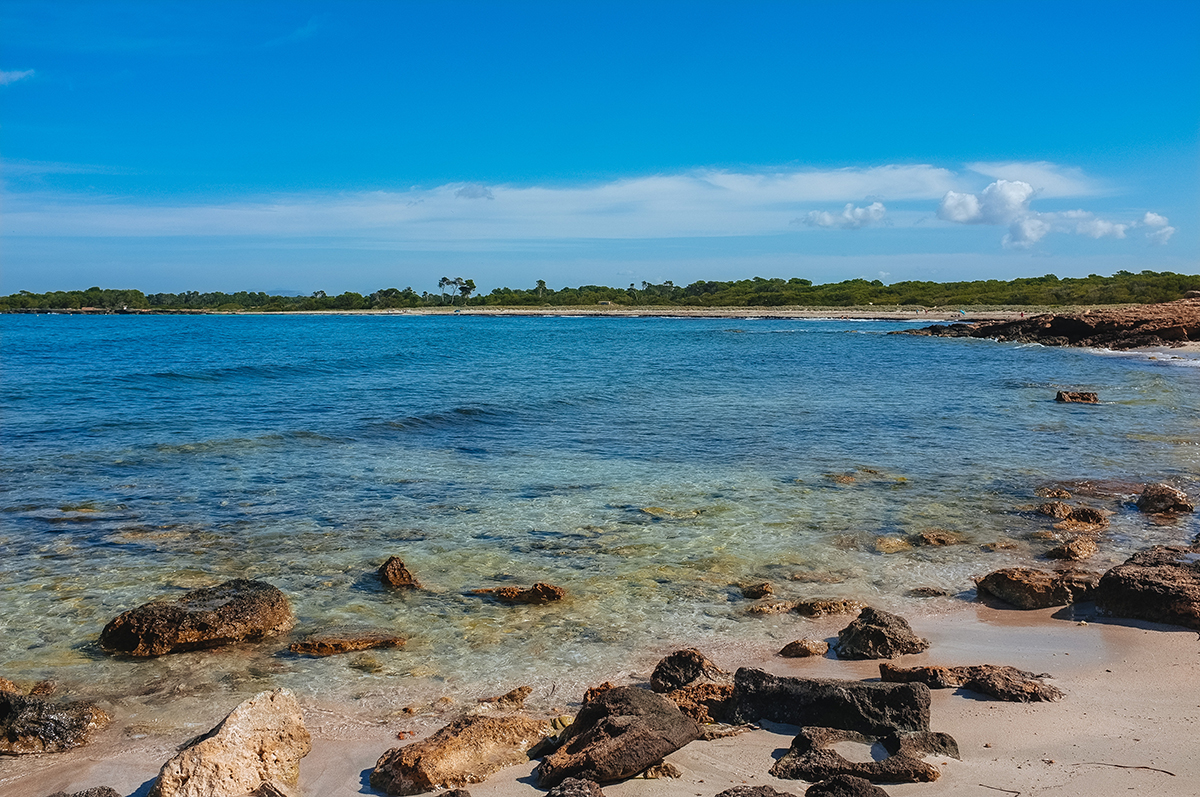 Es Caragol
Mallorca's most southerly beach is located between Colónia Sant Jordi and El Faro de Ses Salines. It's a long deserted stretch of fine white sand and on a calm day, the water is a mesmerising turquoise. From the lighthouse at Ses Salines it's a 2km walk along a flat trail or across the intriguing rust-coloured rocks. Alternatively, the 6km trek from Colónia Sant Jordi passes the beaches of Es Dolç, Carbó and Ses Roquetes. The colour of the water, rocks, vegetation and islets will have you reaching for your camera well before you've arrived at this remote paradise.
Cala Bella Dona
There are no sign posts to clarify the official name of this small secluded bay accessible via the residential neighbourhood of Sol de Mallorca. Locals also refer to it as Caló de sa Nostra Dama (bay of our Lady) and sa Dona Morta (dead lady). Our preferred name, Bella Donna (beautiful lady), seems more appropriate for this cove of crystalline water and white sand. It's only 4km south of Magaluf but it couldn't be more different. The discreet entrance is located on the corner of Embat Street which crosses with Avenida Joan Miró. Pack light; you'll have to descend over sixty steep steps before you reach your reward.
These secret gems are not easily accessible but it's their remoteness which has protected them from development. The journey across a natural landscape is part of the adventure. Be prepared for little shade and always pack plenty of water. The clarity of the sea will change depending on the weather and season, and you may encounter algae on the beach. Find perfection in the wild character of these places. Their raw beauty will bring you closer to the essence of Mallorca.