Nestled within Mallorca's Migjorn region, halfway between the inland and the sea, this newly built finca close to Llucmajor is completely in tune with its surroundings, free of any extravagance or pretensions. The original building project and a large part of its construction had already been completed by the time the new owners acquired the property, at which point they commissioned the services of Organic Studio to take care of the finishing aesthetic touches and furnishings.
A good foundation
The existing project was exceptionally good, with the right choice of materials and very much in keeping with the aesthetic canons of modern, traditional-style housing in Mallorca. This gave Organic Studio the opportunity to work towards enhancing the modern, yet rustic atmosphere that the homeowners wanted for their home on the island.
In a way, Andrea Pussin, creative director of Organic Studio, acted as a mediator between the clients, their preferences, and the existing project, taking advantage of the developer's successful use of materials in the original project and introducing some changes to further refine the final result.
Character-infused materials
The fireplace was completely redesigned, creating an elegant and striking shape out of Santanyí stone, which adds modernity and tradition to a completely minimalist space.
Using a simple and delicate canvas consisting of a white colour palette, bleached wooden beams and a seamless micro-cement floor, the entire house was dressed in natural fibres such as linen, wool, jute or tanned leather, featuring plain and tribal motifs.
The furniture, made of noble materials such as concrete, recycled teak and iron, plays with organic shapes and delicate but striking finishes, as well as contemporary rustic styles, thus softening the rigidity of the architectural spaces and infusing them with personality and character.
Photos by Mauricio Fuertes
Explore similar properties for sale in Llucmajor!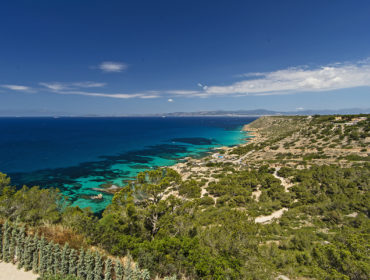 As more people move out of Palma in favour of a quieter lifestyle, the property market is Llucmajor is seeing increasingly more interest.
Address details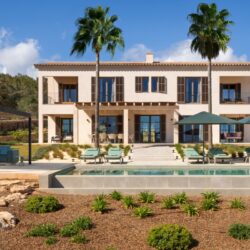 ORGANIC STUDIO
C/ Margalida Caimari, 28 bajos Palma