"Will it be the box room or the bigger room with a balcony?" asked Justine Knox's mother. At just 12 years old, the young Justine followed her heart and chose the box room as her new bedroom. It was a creative challenge, but Justine saw potential where no one else could. She flourished the room in fabrics, handpicked the furniture with her mother and above all, prioritised making it practical. It was clear from the offset that the British girl in the box room not only had creative flair, but an eye for personal style. Years later, Justine's approach has helped hundreds of new homeowners in Mallorca (and around the world) to create their dream home. And while box rooms are rarely on Justine's to-do list, being true to herself and her clients has never felt more important.
Today, Justine lives in Algaida with her family, two Mallorca Shepherd dogs, talkative back cat and a party of red hens, otherwise known as the "ladies". Upon entering her little corner of slow paradise, we couldn't feel more relaxed or at home. Soft Jazz plays from her tropical kitchen and she neatly arranges a leopard print table cloth outside. "Well… it is very me!" she says, wondering at first if it would work on camera. She's right. It is very Justine Knox, but so are the pink bar stools in the kitchen, the artwork from around the world and her jungle kitchen wallpaper. It is an extension of her personality. "You know I'm down-to-earth and this is who I am," she says offering us a tea. "A true home is a reflection of who you are. You can copy what you see in a magazine and that's ok, but if it's not an honest representation of what emulates within you, it won't feel like an authentic home."
Designing truthful homes is a narrative that stretches Justine's 20 years of interior design and project management. Her eye for detail, practicality and instinctual flair for colour have made her an adept reader at knowing what other people want. "I ask the right questions and often look at photos and videos of where my clients currently live," she says, outlining her approach. "Some houses you go into can feel cold. I see it a lot when there's too much marble, glass and leather in one space. There's nothing tactile in there, so it's a matter of rebalance as well."
Justine currently has 17 projects on the go, one of which is in Seattle, USA. She is at a pivotal time in her career, focusing her attention on the bigger projects that give her more time working with clients. "Normally I would've done a 12-month project in 3 months, but this is changing now. I'm ready to take things slower working with the architect and finishing with a bottle of champagne on the table. It really is the luxury of time," she says. Her projects continue to span everything from luxurious fincas to beach-front villas and city apartments, with one consistent trait still remaining. Every home Justine designs is a true one, made with the same dedication and passion as the little girl in the box room.
Written by Rosie Foot
Photos by Sara Savage
Address details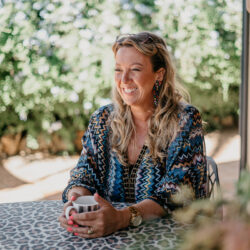 KNOX DESIGN
Calle Valencia 45, Santa Ponsa