At the entrance to this striking new property, a tall door extends playfully to the top of the double-height reception area, where arrivals are first met by a deliberate juxtaposition of antique and modern artworks. Immediately evident is the project's harmonious combination of travertine stone, oak wood, and glass panelling, instilling a graceful neutrality that give both the art – and decorative elements throughout – space to breathe.
The cream-coloured limestone stone dominates the bright corridors, occasionally lined with gently curving oak slat walls that defy the otherwise uniformity of right angles found through most of the house. Transparent walls of glass connect inside spaces, including a shimmering mosaic-lined pool, while also providing an abundance of natural light and views out to the surrounding gardens from multiple vantages.
Every interior design component from beds to tables, wardrobes to washbasins have been customised and curated by Jorge Bibiloni Studio. An understated but characterful combination of Italian-design furnishings, original artworks, and idiosyncratic detailing has resulted in living spaces that are both sophisticated and inviting.
The property's outside space continues in the same elegantly austere styling, with swathes of natural stone creating various sunny terraces. A second mosaic-lined swimming pool is lined with wild grass, while the rest of the grounds are dotted with orange trees, scented lavender, and tall cypresses.
The house is located in the upmarket and sought after neighbourhood of Son Vida, just outside Palma. Property developer Domum Investments were behind the management of the project, which lasted a full year and a half from first breaking ground to the delivery of keys to the undoubtedly proud new owner.
Photos by: Fernando Alda
Address details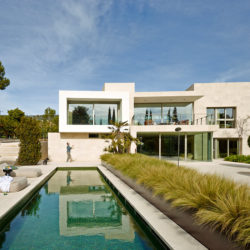 Jorge Bibiloni Studio
Llibertat 26 bajos, Palma