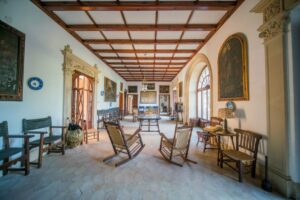 This 15-bedroom estate (named Possessió Bunyolí) is a once in a lifetime opportunity to invest in Mallorca's precious past. Preserved just as it was hundreds of years ago, this historical estate dates back to 1232 to the time of the Barony of Bunyoli. It is located on an enormous 250-hectate farm where sheep and livestock have grazed the lands for hundreds of years.
The mansion is situated in Establiments, in the northern area of Palma de Mallorca. It used to be a separate municipality but today is a residential area of the city. Unlike other properties for sale in Palma, this estate is not only unique because of its sheer size, but its timeless interior and very own chapel.
There are very few properties like this one for sale in Mallorca. The mansion is a unique opportunity to live just as the barons and baronesses of years before would have lived. Prospective buyer for the luxurious life in the Mediterranean are sure to fall in love with this charming estate surrounded by outstanding countryside and gardens.
Property Interior
It is no secret that this extravagant 4-storey mansion is in need of modernisation. There are various areas of this regal home that do require some investment.
Inside, there are 15 bedrooms (some with en-suite), 7 bathrooms and one toilet. There are kitchens, living rooms as well as large terraces and balconies. Each room has huge windows from where you can enjoy privileged views of the countryside, the mountains, city of Palma and even the sea.
Property Exterior
Outside, there are over 250-hectares of land with lush hundred-year-old trees as well as carob, orange and wine crops. For generations, they have cultivated the olive trees to make their own olive oil and sheep have traditionally grazed the land.
There is also a chapel, a lake and splendid gardens. The Sierra de Tramuntana mountain range is located very close-by. The sea is 10km away.
Property Location
The property is situated near Palma de Mallorca, the capital city of Mallorca. The city is revered in Spain for being one of the prettiest cities in the country owed to its Cathedral, beautiful Old Town and proximity to the Mediterranean Sea. Palma is a hot-spot for international business and is welcoming of people from all over the world who want to start a new project or start-up.
Those who move to Palma normally do so for its beautiful architecture, international community and vibrant cultural scene. It boasts the highest concentration of restaurants, cafés and art galleries in Mallorca which remain open, no matter the season. While many other places in Mallorca are affected by fluctuations in tourism, Palma is open all year-round.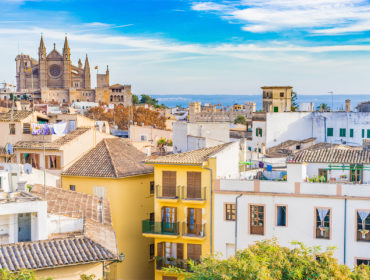 Own keys to an apartment in central Palma and you're looking at real estate gold. Now is the time to find your dream property in the capital city of Mallorca.
Local Amenities
Palma de Mallorca has everything you could possibly need for living in Mallorca. It has some of the biggest supermarkets on the island, as well as plenty of restaurants, cafés, bars and pubs to choose from. Thanks to its strong international community, there is no limit to what you'll find in Palma, with lots of shops selling produce from abroad. There is also a number of health centres in the city with two of Mallorca's biggest hospitals (Clínica Rotger and Son Espases) very close-by.
International schools such as Bellver College, Palma College and Agora Portals can be reached within 5-10 minutes by car.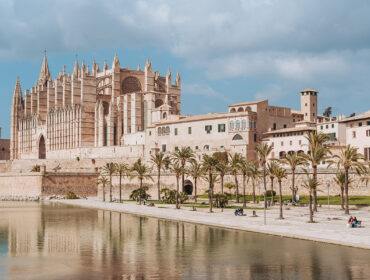 Palma de Mallorca is a city full of surprises. Move to Mallorca's capital and discover the very best of what the island has to offer.
What we love about this property
"The timeless interior, the huge plot of land and regal ambience."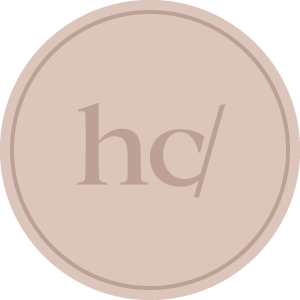 Tell me more about this property!
The real estate agency selling this property will be happy to answer any questions you may have. Simply fill in the form below and the agent will get back to you shortly.
See below for more Fincas for sale in Mallorca!
Discover the fincas for sale in Mallorca that guarantee slow Mediterranean living – handpicked by Dr. Helen Cummins and the hc/ Mallorca Living team.