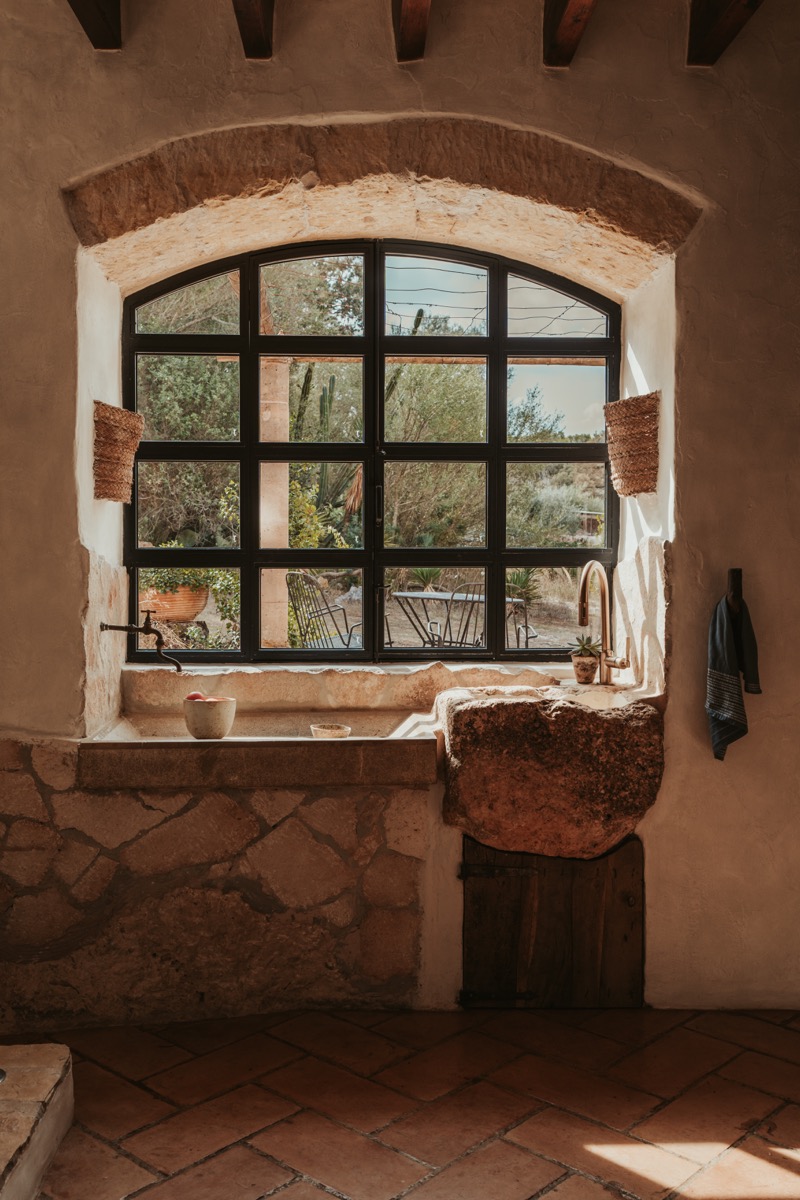 Keen travellers and creatives, Tatiana Baibabaeva and Tyson Strang have explored much of the Mediterranean. During home exchanges, they found themselves particularly drawn to old stone houses and the way they almost seemed to be tied primordially to the land. When the opportunity arose to buy a house abroad the couple's sights were set on Mallorca.
"We were looking for something that looked rooted in its landscape and felt authentic," Tyson tells us. "Rustic Mediterranean was key," Tatiana adds. Little did they know finding the perfect finca in the island's rural centre would set in motion a reform project that would ultimately springboard to the beginning of a career path.
Igniting a passion
Purchasing their dream stone finca, the couple relocated from New York and their focus quickly shifted to the interior work and architectural design as they reformed the property. Learning as they went, their enthusiasm and vision propelled them forward. Now with their home complete, the duo plans to start their own design studio, Terra Coll Home, taking on projects that feel particularly aligned with their rustic approach. "It's exactly what we want to be doing. We get to work together as a partnership. We're stronger together than we are individually," Tyson expresses. "We were lucky to find this place. It's changed us as much as we've changed it."
Their home, Finca Alfabia, provides continued inspiration to refer back to and informs their ideas for new projects going forward. There's a heavy emphasis on local natural materials, things taken directly from the land, but which also have a modern comfort to them. "We love old wood, and the traditional details and natural elements that we found here in the house," reflects Tatiana. Tyson continues, "We're drawn to things that feel real and lasting, that have a patina of use. Coming from the fast world of New York City, it just seems so pure."
A "poc a poc" process
The property had been remodelled sometime around the early 70s and lost much of its charm, but Tatiana and Tyson saw beyond all the plastic and were committed to the idea of bringing out its inherent beauty. One step at a time 'poc a poc', they painstakingly limewashed walls, chipping out anything artificial or unbreathable, adding more natural finishes. Riverstone floors have been carefully laid in varying patterns and concentric circles both inside and out. Repurposing whatever they could find on the property and working with local artisans to integrate them added one-of-a-kind elements.
Trees dug up to make way for the pool were given new life as a pergola. Surplus wood became a floating desk or raw-edge shelving. An old rough-hewn grindstone was made into a coffee table and stones from the yard were chiselled into sinks. Every design choice has been made with purpose, unifying the house with its environment. "It's a different definition of luxury, a luxury of uniqueness, a luxury of originality," Tyson explains. "These things should create a sense of tranquillity like you're stepping into something of profound beauty, like a temple or a sanctuary. I think at its core that's what we're going for."
Text by Ché Miller | Photos by Sara Savage