It was at the request of a wealthy Russian businessman, that renowned architect Alejandro Palomino was called to Santa Ponsa to design not just one house, but several. A task he says, that fused together materials from Moscow, construction from Ukraine, and of course, cutting-edge architecture from Mallorca. Over the course of two years, Alejandro worked side-by-side his client, ensuring that every step of his luxury villa was built with "a sense of openness, where you can feel Mallorca breathe." His pairing of glass partitions, shimmering pools and high ceilings are custom-built for warm, Mediterranean living. The sea, sky and lowering sun filter through the glass, casting a hued glaze over Alejandro as he talks. "The inside becomes the outside and vice versa" he says, "in other words, complete transparency."
Alejandro takes us on a tour of his impressive new-build with head builder Yuriy Zubko to his side, who re-affirms which areas of the property were tricky to construct. The two men draw our attention straightaway to the villa's high walls, which to the sides, sit at a diagonal slant. "These are to open-up the property and maximise on the view" Alejandro says, widening his arms as far as the horizon. "It's always about the location, we design houses that speak to the island." He ushers us to stand back from the glass, which sure enough, spans the entire length of the villa. From the bedrooms to swish living area and kitchen, Alejandro's design ensures that the owners (wherever they are in their home) have Santa Ponsa at their feet.
After years of repeatedly building homes that maximise on Mallorca's light and landscape, Alejandro's unique style has gone global. He shares a recent story of a Jamaican businessman who after a visit to Mallorca, insisted on finding the best architect here. "And not just any," Alejandro adds, smiling "but one who knows how to build for the mountains and sea." It didn't take long before a connection was made, and Alejandro flew to Jamaica to undertake his research and start planning. "Working internationally opens up the mind" he says, pleased that being transparent in design, has meant equally transparent relationships. "Luxury is knowing what my clients want before they do" he grins, pointing at two clear blue pools below.
Through a combination of water, glass and white interior, Alejandro remarks that "a neutral palette brings the colours of Mallorca forward." He gets us thinking about what luxury means in architecture nowadays, and he is quick to share his theory. "In the past, luxury was building a palace with high walls and small windows, everything was kept private. Whereas now, it's all about the outside, keeping privacy yes, but feeling open in that privacy." He walks again to the front of the villa, and we follow, looking out to free, uninterrupted space. At such a height, none of the below properties can see us, with not a fence or hedge to be seen. "Complete transparency and yet complete privacy," he utters, knowing precisely how to strike the balance in both.
Address details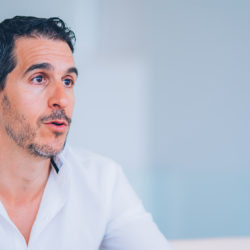 Alejandro Palomino Arquitectos
Arquitecto Francisco Casas 17, Bendinat