"Look, it's flying!" says Alejandro Palomino pointing to one of his projects. The upper level of the building is made almost entirely of glass and it's difficult to differentiate between the exterior and interior. In contrast, the lower floors appear as if they are part of the hill where the house is situated. Intrigued, we follow his explanations on his latest project. When Alejandro talks about architecture it is like watching an artist, in the same way his sharpened pencil fills blank pages with life.
But before he draws his first line, he watches, feels and listens. The landscape and its materials, the Mallorcan culture, the sun and the wind… What is it that his clients want? What are their lifestyles?
"The environment is as important as the client's wishes. We want the building to feel a part of the landscape and not dominate it. This is much harder than designing a typical, white box-style building, but we love the challenge. I do sketches, cross them out and start again and do this multiple times until I have the feeling that it's right."
Then he starts to draw – a skeletal structure made only out of wood with a few walls. Soft organic lines replace square shapes and plants grow instead of stone walls. The stairs, living room and terrace are all incorporated into one large room. This how the Prunera was created, the house, he says, he is proudest of. "We spoke to analysts and architects from all over Spain but no one knew how to build such a design out of wood… so we did the calculations ourselves." Clearly passionate about unusual designs, Alejandro is always looking ahead, never satisfied with the norm.
Alejandro's works have previously involved transforming the Mediterranean style into modern cubic buildings. Today his pencil glides across the paper without interruption. He now seeks something universal, a connection, a flow. "To connect, you have to open up," he says "and this is transferred into the architecture." He only separates his work into segments if really necessary, opting for more inclusive spaces where rooms flow into each other, known as "liquid architecture".
"Sustainability is at the essence of Alejandro's work. Materials are used sparingly with the stone supplied from Mallorca and cut by pedrers (Mallorcan stonemasons). The wood is also sustainably sourced with one of his projects planned to be a zero energy building. "There is a global trend towards sustainability in architecture," he says, and it is not only Alejandro who follows this. His clients as well are increasingly asking for sustainable concepts. Excited by what Alejando will design next, we will continue to follow him to see what he draws for Mallorca in the future.
Address details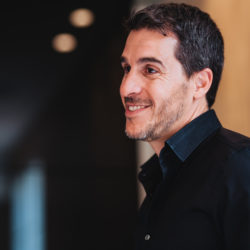 Alejandro Palomino Arquitectos
Arquitecto Francisco Casas 17, Bendinat