A change in mindset happens over time. As human beings we adapt to our surroundings and learn from them, evolving into – hopefully – better and kinder people. We rely on information to listen to and learn from, which in the case of the global pandemic, has forced us to face some serious realities. It has not been a classroom exercise of a hypothetical situation. The world grinded to a halt, hospitals reached breaking point and the environment shrugged its shoulders and sent flooding and wildfires. But a new generation of travellers in Mallorca are adamant that the situation can be made better. They're thinking consciously, understanding people's differences and above all, travelling to learn. They are the Purposeful Travellers.
An intelligent need
While this new drive for travelling with purpose may have strengthened since the pandemic, our need for understanding others is innate. Our curiosity and our inner questioning leads us to ask, 'what's beyond the horizon?' Now this feeling is what's bubbling up to the surface, with more travellers thinking 'what can we do to help the planet?' and 'if we travel, where can we make the most of our time?'. The Purposeful Traveller is solution-orientated, looking at time not as a throw away commodity but something to invest in. If travelling means getting on a plane and exhausting our carbon footprint, then it had also better mean arriving at a place that enhances our abilities. This puts subtle pressure on destinations to offer their visitors more. Sun, sea and sand might have sold itself before, but now there is a greater, more intelligent need for a learning experience strongly focused on the local culture.
Overcrowding in Mallorca
The travel media landscape is dominated by false narratives. An airbrushed view of nature's finest leads to jam-packed beaches, broken coral reefs and a traveller with unrealistic expectations. Tour operators will capitalise on just a few locations, pushing images of the same sites and sunsets. This only leads to overcrowding, which an island like Mallorca knows all too well. Photos circulated the news when the tiny bay of Caló des Moro was treated like a fairground, with queues of tourists waiting for hours for their turn to take a dip. And after the numbers dissipated, rubbish and cigarettes churned in the sand. The locals have rightly raised their voices over the years (urging for a sustainable solution), which since the pandemic and rise in global temperature, is finally being heard. The Purposeful Traveller is thinking twice before they visit, listening to the locals and doing their research before entering the world of mass media.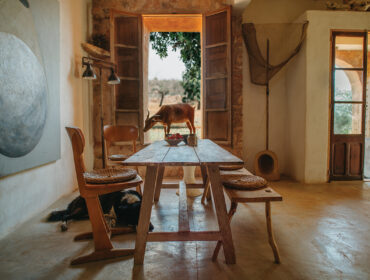 Local products 100% made in Mallorca are what many international second home owners are seeking, driving an increase in sales for the artisan design sector.
Travelling wisely and more consciously
The relationship between people and planet is at the heart of this new age in tourism. If purpose means intent, then this new generation of travellers want to learn, enjoy and leave without disrupting the local landscape. They're the thinkers and go-getters who travel wisely and do so with a conscience. Instead of staying in a big hotelier, they're choosing countryside B&Bs, independent hotels and locally-owned private villas. And if they opt for the bigger tourist chains, then they are holding their actions accountable. Plastic bottles, low-paid cleaning staff and ingredients sourced thousands of miles away – these sorts of things are no longer going unnoticed. Meanwhile experiences are shifting towards local, as classes in wine making, perfume making and organic cooking soar in numbers.
In Mallorca, this change in tourism is reflected in a growing demand for holidays in wellness and personal growth. Yoga retreats have skyrocketed in some beautiful venues (examples being Finca Son Sion and Osa Major) and wellness centres like Sadhana Works are seeing growing interest for classes in Kundalini Yoga. The Purposeful Traveller is looking to expand their minds, returning home a little wiser. Their actions come from a place of giving, which in turn, spurs connection. After 18 months of limited socialising, travelling gives us the wings to re-connect – to spark genuine relationships and to fly in the face of global adversity.
The Purposeful Traveller calls on the travel industry to listen well and to listen hard. Travel is intentional, it is an action for change and the chance to meditate over where this world has gone askew. And from this, finding a practical solution to making it better. The Purposeful Traveller cradles the world, treating it as it should be – with care.
Written by Rosie Foot
Photos by Sara Savage