Word of mouth is always the best advertising and the Steigenberger Golf & Spa Resort Camp de Mar has long made a name for itself on Mallorca, and not just as a five-star hotel. Its spa and wellness area have also become a popular sanctuary with both locals and guests throughout the year. Besides the extensive wellness area with sauna, steam baths and indoor and outdoor pool, the spa offers a unique selling point – no other spa on the whole of Mallorca offers such excellent technical facilities for innovative Medical Beauty treatments and highly trained personnel. The regenerative and medical body and facial treatments that are given here are also becoming increasingly popular.
I recently had a car accident, and a few days later the dreaded whiplash started. When you're in pain you'll give anything a go, including something new. "We're all surrounded by magnetic fields which are measured in Tesla," explains Gitta, whilst she places a device on my neck and I feel a short, agreeable burst of warmth. Then I'm given impulse commands that go right into my fingertips – tense up, let go, tense up and let go – the speed is soon out of my control. Tesla Stym is an innovative magnetic therapy with intense currents of 1.7 Tesla, a technology that stimulates the deep-lying muscle groups, nerves and tendons. The frequencies penetrate up to 7cm deep into the body – much deeper than a classic massage. Muscle stimulation which really hits the mark and has the power to untie knots! It is therefore perfect for use after injuries with acute, as well as, chronic pain and can also be used preventatively. It is, admittedly, an unusual experience when you feel magnetic currents through the body, yet all medical risks are explained in-depth beforehand. For me, it's a treat to not have to control my body for once and to give it over to someone else. "When muscles harden, the supply of nutrients and oxygen becomes blocked," says Gita. "The magnetic therapy gets everything going again and helps the body to regenerate by activating self-healing powers."
During the wellness day, I choose another Medical Beauty highlight: a facelift with diamond peeling. The microdermabrasion removes dead skin cells and stimulates the development of collagen and new cells. This is followed by a CPT treatment – radiofrequency which warms deeper-lying tissues, stimulates the blood flow, speeds up the metabolism and promotes collagen development. To finish, I try a radial endodermo therapy (RDT) – an agreeable vacuum massage which improves blood flow and increases the flow of oxygen, nutrients and enzymes. An ice treatment, as part of the closing cryotherapy, ensures the effects are prolonged. All methods stimulate the body's own production of collagen and elastin and leave you looking healthy, radiant and rejuvenated – naturally!
The next day my muscles were aching all over, right into my fingertips but, the day after, the whiplash had disappeared. Could there be a more convincing result? My conclusion to all of this also results in a good resolution: to take more time for myself and my body in order to make the most of the natural regeneration that lies within. After all, "the body is the space in which we live." What's more, I'd like to see my rejuvenated reflection that's been smiling back at me ever since last a little bit longer!
Address details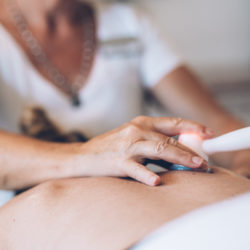 Steigenberger Golf & Spa Resort
Carrer Taula, 2, Camp de Mar