"This property first stands out for its finishes in superb Mediterranean tones, from the colour of its natural stone to the laurel green of the doors and windows," explains Pedro Led, Marketing Manager for CSV Construcción.
This magnificent villa is the result of a comprehensive refurbishment and redistribution by the Santa Ponsa-based construction company. Beautifully finished to CSV's hallmark heights of technical and design excellence – together with interiors by APM design – the result is a calmingly tranquil and eye-pleasingly luxe home.
Sea view mansion
In the open-plan living area, an impressive double-height ceiling with suspended pendant lighting gives a cathedral-like feel to the space with an abundance of natural light from its three huge arched glass doors which lead out onto the terrace. The spacious terrace is a key highlight, with statement arches and columns framing the breathtaking views over exclusive Port Andratx and beyond.
The large living space interconnects with a dining and kitchen area and a state-of-the-art double-sided gas fireplace which opens onto a cosier lounge area. Throughout the property, oak-finished furnishings provide a warm contrast to the high ceilings and open spaces, while feature walls of local stone masonry provide depth and texture. Each of the four bedrooms is spacious and bright, with sea views and ensuite bathrooms with top-end Italian fixtures. Underfloor heating, a Sonos sound system, and a gym and sauna complete this high-end house's luxury touches.
Palatial Mediterranean
While the interiors are undeniably innovative and contemporary, the sea-facing facade is that of a palatial classical Mediterranean home, with its large arched and columned terrace flanked by pergolas on either side and with twin staircases leading down to the tranquil infinity sea-view pool below. "Without a doubt," concludes Pedro, "the arches on the terrace and unbeatable views of the Balearic Sea are what make this house really special".
Text by Leon Beckenham | Photos by OcaraOcruz Photography
Find similar spectacular properties for sale in Port Andratx!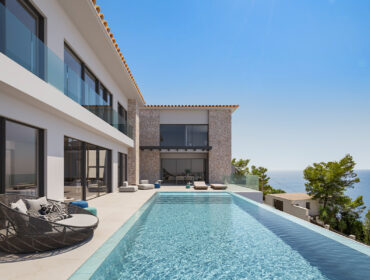 The property market in Port Andratx is synonymous with luxury in Mallorca. It signifies exclusivity and promises a good return on investment.
Address details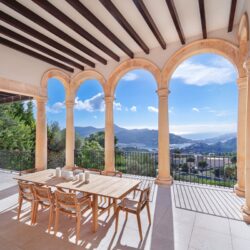 CSV CONSTRUCCIÓN
C/ Alicante, 43 Pol. Son Bugadellas, Santa Ponsa