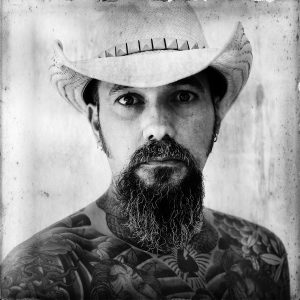 Mallorca-born Pep Bonet (42, Colonia de Sant Jordi) has a mission: to bring light to dark places to highlight the imbalances in the world. For this purpose, the photographer and filmmaker goes to locations where cameras are not welcome. He usually works alone in a secret mission, shooting as cameraman, sound engineer, and interviewer.
His often-multi-year projects focus on African topics. With his most famous work 'Faith in Chaos' – a photo-essay on the aftermath of the war in Sierra Leone – Bonet was part of the World Press Photo Joop Swart Masterclass in 2002. Since then, he has won 3 WPP-Awards, among others, as for example, for his work on the league of amputee football players in West Africa, on the life of transsexuals in Honduras, and the documentary 'Into the Shadows', which shows the persecution of hundreds of thousands of Africans in the inner city of Johannesburg. A kind of counterpoint to these problematic topics is his passion for rock music. Every year, he documents the famous Heavy Metal Festival in Wacken in North Germany and, for many years, accompanied the British rock band Motörhead to produce a visual reportage on Lemmy Kilmister, the band's legendary singer.
We meet Pep Bonet for the interview in his studio in Cala Major, when the family man has just returned from a photo workshop in Paris – offered by the photo agency NOOR, which he founded, and Nikon. He likes to teach young up-and-coming photographers because, to him, the innocent view through the lens is important: "As a photographer you have to come to a place fresh and without prejudice, and you must never be guided by the criteria of other people. Go deeper with the camera and report subjectively."  Bonet does not believe in objectivity – on the contrary: the closer he is to a human being, the more valuable is the message of the story – as, for example, in his photo-essay on discrimination against drug addicts in Portugal, for which he accompanied a drug addict for a week.
His aesthetic demand is high, "because only a good picture will be remembered." Light, composition, and the moment must be right – also, every photo has a human side: "It shows the permeability of a person, although one must not exaggerate or deliberately try to steer the message." To Pep Bonet, black-and-white photos are aesthetically particularly strong, as they are poetic and ambiguous, making them accessible to every culture.
Bonet was already interested in human rights as a teenager, even though he first started a career as a professional windsurfer after school. As chance would have it, he went to Amsterdam, where he took a photo course. At that time, he was impressed by an exhibition of the Dutch photographer and filmmaker Ed van de Elsken and set the course for his future: Ed van de Elsken travelled to Japan and Africa for photographic projects in the '50s and documented life on the streets.
Five years ago, Bonet began to shoot documentaries and movies as well, to expand his photographic work. He founded the independent production company Altamar and also works with NGOs on co-operations. He shot a promotional film about an app for birth registration in Tanzania, for instance. With that app, everyone is given the right to an identity. Find out more about The Most Beautiful Hell I Know photos & film shot by Pep Bonet.

"With entertainment films, I would earn twenty times more," he says, but money has never been his motivation. "I want to stay aware and critically watch what is happening in the world." With photos and movies, he may not be able to change situations, but he can sensitize people about certain issues – and, with a bit of luck, perhaps those who are in the position to change laws.
Since Bonet would now like to spend more time with his family in Mallorca, he started with a new documentary about people from the island. Again, he has not chosen an easy subject: In 'Fel de la terra', Mallorcans who were abused in their childhood have a voice. "These are seven socially marginalized people, seven witnesses who would be forgotten if not given a chance to speak out," he explains. It disturbs him that most reports about Mallorca talk of tourism and paella. He is not against tourism, in an ecological and controlled form, but Mallorca has more urgent stories to tell. "The island also has dark corners, which need to be lit up in order to reveal issues that should be addressed," he says. For his vocation, a critical analyst with a camera, he does not even need to travel to the other end of the world.  
Photos by Pep Bonet
Address details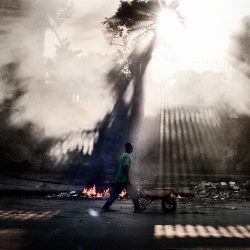 Pep Bonet