Today's technology enables almost anyone to take a decent photograph. That's recently been acknowledged by the addition of a new category for the international 2015 Travel Photographer of the Year awards: Smart Shot – for images taken using a mobile phone or tablet. Capturing moments in time for posterity has come a long way since 1851, when British man Frederick Scott Archer invented the Wet Plate Collodion photographic process.
Revolutionary at the time, this made it possible to capture an image on the surface of a piece of glass. Archer named this Ambrotype, meaning 'immortal' in Greek. It was complicated, time-consuming, and the chemicals involved could be dangerous to the photographer. But it was all about the final result.
Miquel Salom's recent exhibition 'ICTUM OLIM II'– in the Sant Domingo Convent church in Pollença – enabled visitors to understand this process and see the extraordinary results. The first 'ICTUM OLIM' exhibition had been in 2012 at Palma's Casal Solleric, consisting of Ambrotype images taken in Miquel's studio.
'ICTUM OLIM II' was born out of the self-taught photographer's love for Pollença: "I have had a house here for many years and wanted to capture the poetic beauty of the surrounding sea and land. I have a strong connection with the local landscape." He decided to use this "authentic process from the genesis of photography" after being inspired by the work of 19th-century photographer Carleton Watkins, whose images of Yosemite he had seen during a visit to Stanford University, California.
He followed Watkins's philosophy and researched the methodology. The challenges of working outdoors with the required 18 sensitive chemicals included "the temperature, humidity, and atmospheric pressure." Not only did Miquel build his own detachable camera, he also set up a processing lab – all within a tent such as those used by travelling photographers of that period. This took a year. Then there were the hours spent setting up the tent on site, going through the 22 procedural steps required to capture his images, and the subsequent packing up. "Everything fitted in my Prius!" said Miquel.
He would travel to the location at midnight, hiding his chemicals under a bush, so that they would become stable for use the following morning. It was work that had to be done in spring or autumn, or on a fine winter's day. Summer would have been too hot. The unavoidable small imperfections of the wet process add to the images' beauty and create an aged quality. Look closely at what appears to be an early photograph and you may spot a 21st-century hint: a distant woman in a bikini emerging from the sea, or a motor boat at anchor.
Unlike many of the snaps and selfies most of us take (and later probably delete), each of Miquel's extraordinary and evocative images has its own story. He showed us his photograph of Formentor lighthouse – a place of incredible wild beauty. He had gone to the location at 4.30am to set up his equipment (which he had transported there the previous evening). When his assistant arrived at 7am to help, the sky was red as the day was beginning and, in the resulting image, distant Menorca is highlighted by the sun's rays. "When I finally had the photo, I left the tent and found 20 wild goats surrounding it! A magical moment," said Miquel, who at one point in our conversation likens taking the wet plate containing the image to holding one's new-born child.
'ICTUM OLIM II' – this extraordinary body of 21st-century photographic images of north Mallorca – was created with dedication, patience, and at some risk. His unique images are testament to Miquel Salom's love for Mallorca and respect for the origins of photography.
It is wonderful to meet a person who is brimming with passion and enthusiasm for his work, in the way that Miquel Salom oozes his love for photography. It is an even bigger honour to have such an artist invite Helen Cummins the editor of abcMallorca, to have her portrait taken. Miquel has undertaken the lengthy project of researching, reconstructing and reinstating a type of photography that is unique in modern times – and far from ordinary photography.
The special process is called Ambrotype and originated in 1851. Using crystal glass and metal, the entire process is a wet one, giving the process its original name Wet Plate Collodion. He spent over 2 years learning and making this method his own, and his works developed an astonishingly direct and unique effect that most digital photographs lack. The artist sees this as a fusion between a recovered ancient art and a contemporary artist, together with the necessary precision of a chemist.
Less than 500 people in the whole world share this secret method of photography, and even fewer in Spain. Miquel is assisting in the rebirth of this ancient method in order to regain the purity of photography, but also to incorporate the richness of silver nitrate photography that had been lost with digital advances. His photography portraits have a nostalgic feeling of centuries gone by and the objects seem to jump out of the photography – full of life, character and strength.
The outcome of this method is unique and cannot be predicted or repeated due to the nature of the variables. Impurities in the chemicals, the quality and the composition of the water, the temperature, humidity and, last but not least, the subject of the photo all play a role in the outcome. Miquel explains that this method also presents a large health risk and can be highly toxic if the appropriate precautions of wearing a mask and gloves are not taken.
Born on Mallorca, Miquel's passion for photography became apparent at the tender age of 14, when his father let him take a photograph with a Kodak camera. Since then there has been nothing else but dedication for the camera and the art of photography. Miquel sees photography as a spiritual discovery that enables a deep connection between the soul of the artist and the photographer. He is very well-travelled, having visited over 50 countries and different cultures, yet he chooses to live his life between the beautiful island of Mallorca and New York – two completely contrasting places he calls home. Miquel describes the main aim of his photography to be to share his passion for art and to interest people in understanding their own souls.
Miquel invited us to come to his studio on Mallorca to watch the fascinating process of how his pieces of artwork are created. Helen´s first question for Miquel was, how much it would hurt? His reply was true: "Nada . . . but you need patience". Normally it takes half an hour to prepare the delicate Murano glass – it must be perfectly clean, then it is processed in a dark room and a board is constructed that is later inserted in front of the lens in the especially constructed camera box. The seating position – head-holder, shade, and Miquel's only instructions: "Think of something that makes you happy, and concentrate, don't move."
He removes the cap covering the Dallmeyer lens on a camera from 1890 that he bought in New York; Miquel counts to eight and Helen hopes that he gets the shot he is looking for. Capturing the image is quick, taking only 15 minutes – that is, if the desired image is obtained, which in this case takes four attempts. By the third attempt the atmosphere is getting a bit tense. Miquel is agitated and is losing hope of getting a good result. In the 30-degree hot weather we are also hoping that this shot is the one.
As Miquel pours the running water over the glass for the fourth time, a smile starts at the side of his mouth and you can see the relief like a wave across his face: "We got it," he says heroically and there is a sigh of relief from all involved. He says:
"This is not supposed to be a beauty picture – this is Art"
We all nod in agreement. We find the beauty in Miquel's work lies in its subtle yet stunning strength. A great contribution to photography.
The exhibition Ictum Olem opens in September during Nit de l'Art, so make sure you don´t miss the opportunity to see the fusion of an old art and contemporary photography in the Casal Solleric in Palma.
Address details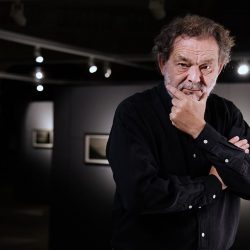 Miquel Salom Fine Art Photographer