The insect colony of glass artist Raquel Pou (44) also seems to have marched into her gallery straight from the 'campo'. The Mallorcan from Campos opened the Hot Glass Studio three years ago on the town´s perimeter. Her home and the workshop are only a few minutes apart (on foot).
"Short distances are important to me," says Raquel, who visited Palma's glassmaking school and learned in the glass factory Gordiola.
She works exclusively with sustainable and recyclable raw materials from the area, recycles iron from the scrap yard, and window glass from the glazier´s workshop in Campos. She buys her drinking water in glass bottles rather than plastic ones and then melts them in the furnace. The oven is not running on a daily basis, but only on workshop days – then up to 14 hours at a stretch.
The artist loves to transform everyday things into unique pieces. If not it would feel like a pointless repetition of the same to her. In the studio there are oil bottles with lids that are bigger than the bottles themselves – a reversal of meaning. Oil containers which were not sold, Raquel melted again and created a new installation: nine long-stretched bubbles are hanging from the ceiling like a huge mobile. Underneath crawls a colony of ants and beetles. With their shiny, turquoise and crystal bodies, and heads made from old bed springs, the little beasts look really amusing.
Address details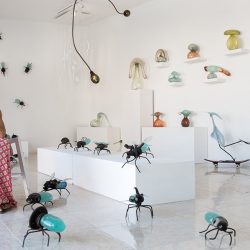 Hot Glass Studio
Ronda Sa Pista, 3, Campos