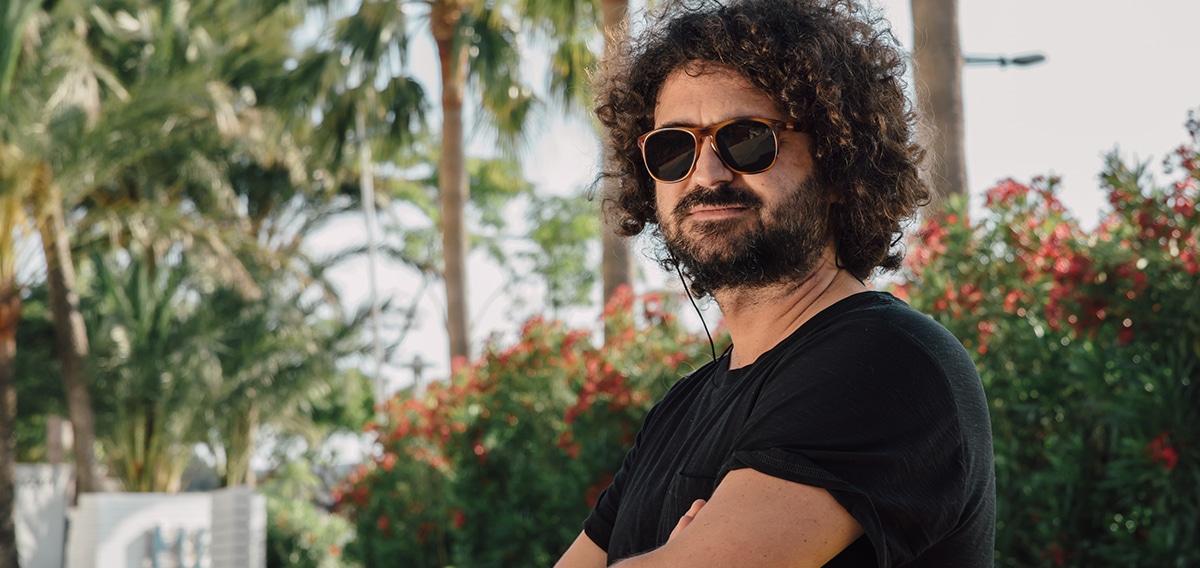 When asked if there is anything he dislikes about his profession, Alberto Van Stokkum draws a blank. He simply can't think of anything negative about the experience of being a top photographer; and why would he?
The life of one of Spain's leading snappers is a crazy whirlwind of travel and bursts of exceptional creativity as he delivers the goods for a stream of fashion shoots and ad campaigns. The girls he captures are beautiful, the locations he goes to exciting, and the creative freedom he enjoys is without bounds. Sometimes, he even gets to sleep.
Known for his wild, experimental style, Alberto captures the fun, cheeky side of his models, possessing a gift for releasing the inhibitions of his subject.
"Freshness and naturalness can only be achieved by conjuring a positive atmosphere on set, so it's really key that people enjoy and have a good time on my shoots," he says. "Often, it's inconvenient for the model to extend a session, so I try to work shoots that are short, but intense."
When our meeting takes place, he is in the middle of a Madrid-Palma-Barcelona city hop, staying at the ME Mallorca hotel for less than 24 hours before he takes flight again. One of his latest collaborations is with the dynamic,young-thinking Meliá hotel group, meaning the eyes of guests are instantly drawn toworks exploding with energy in hotels in Madrid, Miami – and the reception of the Magaluf stay.
On the island for the opening party of the newly-refurbished, South Beach-feel hotel in Mallorca's party capital, the 36 year old approaches the reverse act of having his picture taken with fun and humour.
If anything is evidence of a more grownup, sophisticated side to Magaluf, it is the scene on the expansive terrace at ME later on that night. Nikki Beach is to the left; the sparkling Med stretches out in the distance and, set to the background of a sumptuous sunset, a crowd of more than 500 guests is revelling in a glamour beach vibe set to music from a succession of much hyped DJs.
An exhibition of Alberto's pictures remains on show as a kind of symbolic interpretation of the new spirit, among them his iconic shot of a girl languishing on the bonnet of a yellow Maserati. If his young self, growing up in Palma, could have projected 25 years into the future to the current moment, it would have lent him further motivation to pursue his seed of a dream; not that he needed much encouragement.
"Everything about photography attracted me. I remember exposing photos at the home of a friend and that experience seemed so magical, it captivated me forever."
Born and raised in the Genova area to a Spanish mother and Dutch father, Alberto says he had "a wonderful childhood, with only good memories. Above all, I recall the beaches where we would spend all our summers." What does he do to relax and unwind amidst the madness?
"Always when I'm back in Mallorca, I like to hike up Castell d'Alaró; my way of totally disconnecting. I also love Ses Covetes, and Cala Es Carbó."
There is a long pause as he contemplates his situation, before he says, with heartfelt conviction: "I know I'm incredibly fortunate to be able to convert my major passion into my livelihood. It really is the best, and if I ever find myself getting lost I simply stop and remind myself of the journey it took to get to where I am today.
"I really can't think of anything bad to say," he laughs, clearly enjoying himself as much as one of the stunning models in his photos.
Everything about photography attracted me. I remember exposing photos at the home of a friend and that experience seemed so magical, it captivated me forever.
Photos by Jonatan Barzola & Alberto Van Stokkum