Paul Dimmock was still a teenager, living it up as a DJ in Mallorca, when he came to his first vital realisation about music. Presented with an opportunity any 18 year old would surely jump at, he'd been asked to go and work for a Scandinavian young people's holiday company at Hotel 33 – now Hotel Mimosa – which led to a nightly slot at BCM. "I remember the very first time I put on a record in BCM," Paul admits, "my hand shook, dropping the needle."
He needn't have worried; his time there regularly playing to a full house of 5,000 was a great success. But, more than that, he began to study behaviour on the dance floor. To a casual onlooker, losing 30% of the crowd for 10 minutes may have seemed like a mistake on the young DJ's part. But for Paul, seeing his audience trail off to the bar was exactly what he wanted to achieve: 20 minutes later, people were back dancing, and the bar's takings were up by the peseta equivalent of 1,000 euros. Music has an extraordinary power, and just by playing the right song, I can make these people do anything I want, he thought.
That was 1988, the start of a journey that would culminate in the founding of Sunflower Music, a hugely well-received enterprise delivering tailored playlists to some of the world's top names in the retail and travel sector.
The power of sound to affect the human psyche is something that always fascinated the London-born music buff, who owned bars in Hampton Court and Wimbledon, continuing to DJ at after-show parties for artists like Amy Winehouse, Take That and Diana Ross, learning from real life what makes a crowd tick. In 2000, the light bulb switched on.
"In my bars, I was creating atmospheres and moods for certain times of the day, and I knew I could do the same for companies: making playlists where every featured song matched the brand image and target customer."
Years of sweat and tears followed as Paul built his business. Now, whenever you find yourself in a Virgin Atlantic or British Airways lounge, you'll be listening to music compiled by Sunflower Music; same for Lacoste's retail sites, and hotels in more than 30 countries around the world.
Lately, he has concentrated efforts on the Spanish hotel industry, often ensconcing himself unknown in a target hotel in order to gain an insight into its sound.
"Everything they do is related to the senses, and music is key. Every hotel has a heartbeat," Paul believes, equipping forward-thinking hoteliers with fully-timed and programmed hard-drive systems that require no staff interaction, loaded with tracks designed to convey optimum appeal for target customers.
Last December, he finally returned to Mallorca. "I got this unbelievable feeling," he says. "I've travelled everywhere, but I'd forgotten how beautiful it was. I instantly got a sense of feeling at home. Everything seemed right – and in two days, I knew I was going to buy an apartment here."
Relaxing in the place he bought in Illetas as a reward for his hard work, steps from his favourite Cala Comtessa beach, Paul gets to pause the rollercoaster ride.
"I was sitting by my pool, thinking about how I used to drive around London giving out sample CDs and I thought: how did I do this?"
Success is well deserved – and Paul is about to press fast – forward on the Balearic hotel industry.
Address details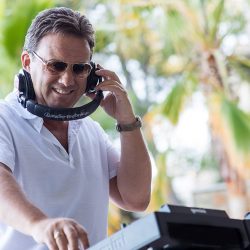 Sunflower Music
Living in London