'Papallona' is the newest collection of jewellery from Isabel Guarch, which has been expertly created on Mallorca and is exclusive to  Gallery Red in Palma.
This event celebrated the release of an exquisite piece of custom-made jewellery by the renowned designer, who is well-known on the island for her eye for detail. Only several pieces of the butterfly necklace have been made which stirred quite the interest among the guests at the event.
Chilled beverages were available outside where guests pondered and chatted over Isabel's beautiful collection. Gallery Red were proud to host such an event and are looking forward to having Isabel's designs in store alongside their other luxury accessories.
Address details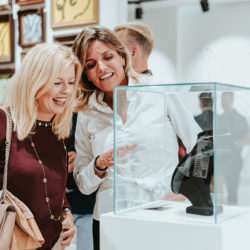 Gallery Red
C/ Tous i Maroto, 10-Plaza Chopin, Palma