On 11th July Gallery Red hosted the opening event of America artist Hunt Slonem's newest exhibition 'Renaissance.' Renowned for his distinct neo-expressionist style, his work was warmly received by invitees who enjoyed his tropical tones and exotic prints.
Gallery Red, Palma's most exclusive art gallery formed the perfect backdrop to Hunt's work, which was greatly received by CEO Drew Aaron and the rest of his team. Everyone was particularly pleased to display Hunt's 'Renaissance' given that it is his first exhibition in all of Spain.
Light chatter and a continuous pouring of drinks contributed to a pleasant atmosphere in which everyone pondered Hunt's works and toasted to his collection of work. Plenty of discussion was had over Hunt's vibrant use of colour and tone.
Address details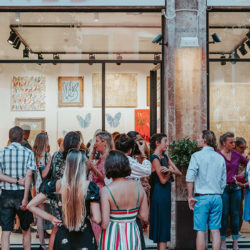 Gallery Red
Plaça Frederic Chopin