'Mediterranean Seaside' is the name of the new Güell-Lamadrid collection designed in collaboration with multi-talented Swedish designer Klas Käll. Guests joined Klas at his lifestyle store Rialto Living in Palma to celebrate his work and peruse the selection of fabrics.
The collection is inspired by a series of unique places in Mallorca in which Klas draws on in his use of shape, colour and texture. The fabrics range from earthy browns and reds to striking blues and greens, which all derive from Mallorca's diverse landscape of rock, mountain, sand and sea.
'Mediterranean Seaside' is made up of six different designs that can be used for a variety of purposes. The Caves of Arta and Puerto Pollensa Waves contain a mixture of linen and cotton, ideal for decorative use. Whereas Bellver Floral and La Calabra Rocks comprise of more resistant materials perfect for upholstery.
The 'Mediterranean Seaside' collection is available to purchase at Rialto Living.
Address details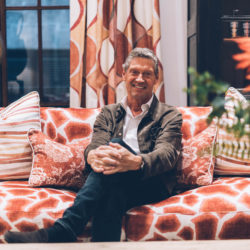 Rialto Living
Carrer de Sant Feliu, 3, Palma