Reach the fountain at the bottom of El Borne and notice how the water spills over and gently laps the basin. Slow and tranquil, this is the tone that continues for the rest of the journey, where an arrowed sign signals the next direction. 'Rialto Living' it reads, pointing down a cobbled street where casual wanderers peruse and chatter. The glass door to Rialto Living slides open to a place where time hangs golden and suspended. A lifestyle store this destination might be, but it feels – in its muted colours and naturally aged stone – a place to unwind. Owners Klas Käll and Barbara Bergman smile at this comment, welcoming us in to what they call "relaxed elegance."
In a lifestyle store there would be the temptation to refer to the 'display' or 'items for purchase' but this way of thinking just doesn't apply here. The line between home and store is blurred which offers us a space to chat with Barbara and Klas, quite naturally, in one of their 'home settings.' We opt for a cushioned sofa and wicker recliners encircling a glass table with polished cutlery. Content customers pass us by, happily pondering the store's treasures.
Once a former cinema, Barbara explains how over the twelve years they have created something that feels entirely their own. "[For us it's] never been about pressing something or pushing something to sell, it's more about doing something good in a city that we love." she says looking at Klas. "We would never buy something that we don't like, even if we think it could be a best-seller" he adds, resting his arm on the back of the sofa.
Through conversing with Barbara and Klas, it is easy to see where Rialto Living adopts its relaxed and understated vibe. Both are humble and considerate, taking the time to reflect on their work and its presence on Mallorca. We talk of the brand 'Rialto Living' and its connotation on the island, which for many, epitomises 'luxury'. Barbara and Klas agree but tiptoe around the word very modestly, happier opting for 'good-quality' as an alternative. "We never talked about luxury here" Barbara says, "…it's just about quality and creating a nice place to work and be."
They speak fondly of their staff and express how important it is to hire people they like over their skills. "I see a lot of friendships within our staff, even after they leave us" Barbara explains, emphasising how these genuine connections create a friendly service for their customers. Klas agrees, and reflects on their seamstress who he says has been with them almost since the beginning. "I don't know what we'd do without her" he says, as they highlight how their staff create the feeling of belonging in the store. They both pause and look around them, proud of the Rialto Living their customers love, but mostly happy with a place they call home.
Address details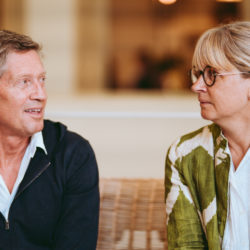 Rialto Living
Carrer de Sant Feliu, 3, Palma