Behind any successful business in Mallorca, there is often not just one brilliant mind, but two. You'll find a careful balance at play where, like ying and yang, two people perfectly complement each other. However, for Swedish couple Klas and Barbara at their Rialto Living store in Palma, the idea of "roles" is quickly cast aside. In the same way their interior design services, fashion line, art gallery and Café Rialto harmoniously blend together, so does their work behind the scenes. Their connection, driven by a passion "to always find new ways of improving" is what gives the Rialto Living store its relaxed elegance. "It comes naturally" Barbara says, highlighting how since their opening in 2007, their values have never changed. "We've always stayed true to who we are" Klas says, gesturing the beauty that surrounds us.
We meet the couple in Café Rialto where tropical palms and wicker seating gather under sand-stone archways. The glass roof above floods in plenty of light, casting a warm bluey haze over our table. A colour that Barbara and Klas admit, is what they call "the Rialto Blue", where swirls of Mallorcan sky and sea show-up in many of their displays. Although, for Klas who devotes most of his time to his design work, the Rialto Living colour palette goes far beyond the store. "We take many of our clients decorating their home to our Rialto warehouse" he explains, which is situated on the outskirts of Palma. "There, our clients have even more choice in styles of furniture." We wonder whether they prefer decorating an entire project from scratch or incorporating their pieces into an existing interior, and Barbara is quick to respond. "A clear canvas definitely makes it easier, yes." Although Klas, deeper in thought, reflects a little longer. "I think if a client has something like an old chest of drawers they want to keep, it adds personal character." Together, they agree, it's a mixture of both.
With 50 staff working in everything from catering to décor to gifts and fashion, the couple explain that there is always "a buzz about the place." However, for Barbara who manages more of the admin work, it's always been important to retain a sense of calm. While she talks, she welcomes their Jack Russel onto her lap who doesn't take long to close her eyes. "I get a lot of my energy from nature, walking by the sea and going out into the forest" she says, looking at Klas who is grinning. "Of course, for Klas it's the complete opposite." He leans over, resting his hand on the snoozing dog. "I love visiting places like London and New York, and keeping tabs on what's going on in the retail world," he says, outlining his passion for innovative design.
It is through drawing from contrasting environments that Barbara and Klas give Rialto Living its unique ambience. While contemporary and modern in style, the store inhabits a Mediterranean warmth which encourages a moment of pause. Appreciation of difference is what sits at the heart of Rialto Living's success. The fusion of two talented people who are in love with what they do, and most importantly, conscious of how they do it.
Address details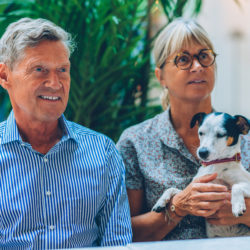 RIALTO LIVING
Carrer de Sant Feliu, 3, Palma