British designer Matthew Williamson has joined forces with Bconnected's Christine Leja and her team to create a space where interior design smiles in colour. On a bright, sunny afternoon in Santa Catalina, the launch of this new universe of design could not have felt more alive. The event was attended by over 100 guests who came to celebrate this unique collaboration and toast the new showroom with a glass of bubbly and delicious food.
The two designers have successfully assembled a collection that feels distinctly vivid in its design and layout. The whole showroom moves in vibrant tones and draws you in from one item to the next. From small intricacies (petal-shaped tea cups and luxury ceramic candles) to larger statement pieces (a beautifully embellished window cabinet) there is plenty of inspiration for those wanting to add a splash of colour to their home. The two designers have perfectly aligned their styles, using complimentary colours to create something straight out of a tropical dream.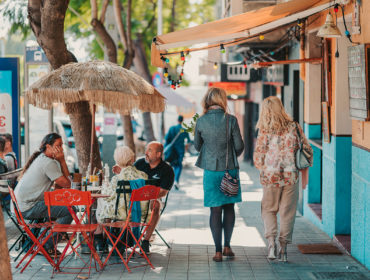 Santa Catalina has it all. Find out everything you need to know about living in Palma's buzziest neighbourhood in this definitive area guide.
Against a backdrop of his 'Deya meadow' wallpaper, it is not hard to mistake Matthew who is radiating a huge smile and wearing a pastel-blue shirt. "Today is the culmination of 9 months of planning, creativity and lots of hard-work; but really it's a joyful day to celebrate a new space in Palma for those interested in interior design. It's an honour and I'm very flattered to be a part of Bconnected."
Much of the event is enjoyed in the afternoon sun where the Bconnected store and new showroom directly face-each other. Giant neon flowers and sky-blue ribbon adorn the street where guests happily converse and enjoy the DJ's soft beats. Christine is glowing in orange attire and smiles when asked about Bconnected's relationship with Matthew. "Honestly I'm so proud that Matthew has joined us, he colours our life and brand even more".
This event took place in the summer of 2019.