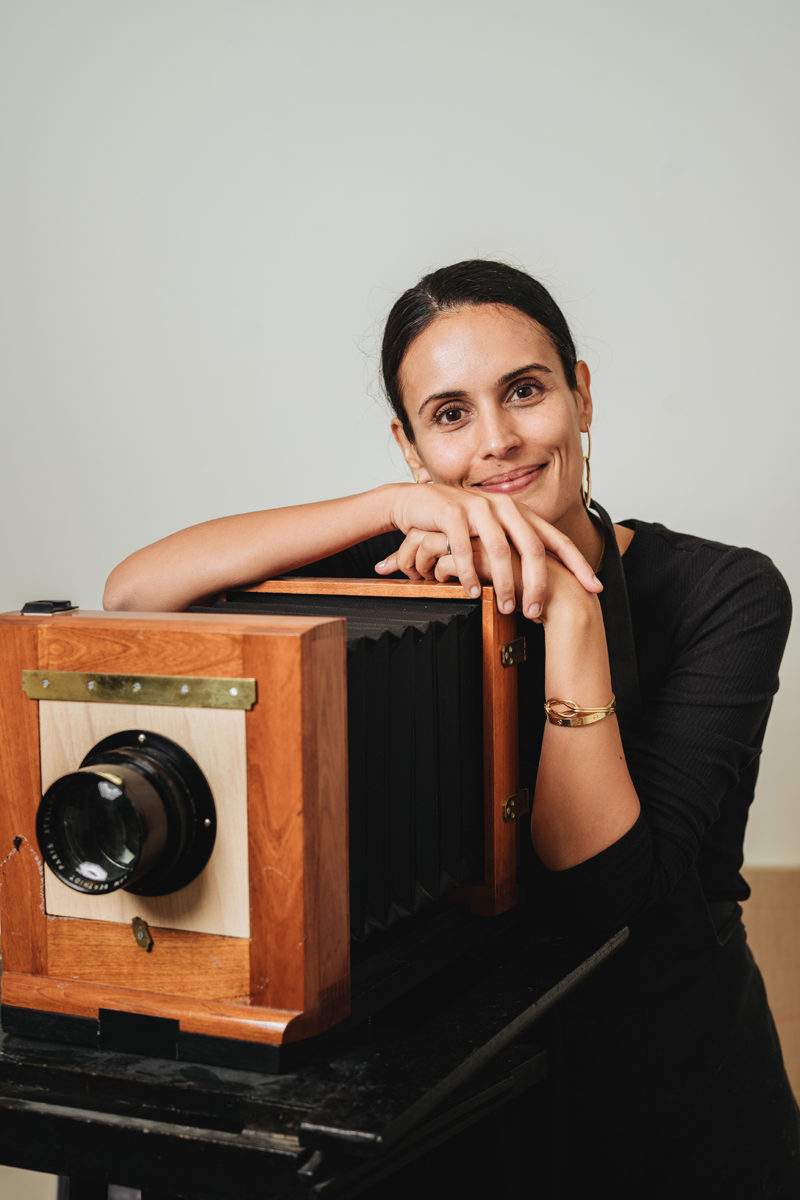 In her studio in Old Town Palma, Lola Álvarez – as she's known artistically – shows us her most precious treasure, a Pezval lens from 1860. The studio, a relaxing and simple space, which is a world away from her former life in Los Angeles. That's where Eva, her first daughter, was born and from where she moved with her family 11 years ago. "Swimming in the cold sea, hiking, and feeling the power of nature's beauty, is what awakens my creativity and causes countless ideas to flow," she says, with a blend of genuine tenderness and assertiveness.
Passion and influence
Lola studied Fine Arts at Chelsea College London, training in painting, illustration, and mixed media. But it was her collaboration with the prestigious artist Geoffrey Berliner, 7 years ago in Utah, which led her to discover her true path, the technique of the ambrotype. The process is an intriguing and exciting one, not only because of its originality, but because it revolutionized the photography of the time, back in 1858. "You need a lot of passion and dedication because the method is highly specialized. To learn it I had to fully immerse myself in the Penumbra Foundation NY programmes," she explains. Her sincere gaze transmits an inner strength inherited from her Galician ancestors.

Joni Sternbach is another significant influence with whom Lola had the opportunity of collaborating with in Biarritz. Their photogaphs of surfers were later exhibited in Paris Photo. A real defining factor occurred once she was installed in the Mallorcan mountains in Campanet. "Making my own chemicals and taking the first portrait of my daughter Eva was such a powerful experience. All the elements came together to magically capture her calm intensity and elegant nature. I cried with joy because as a beginner the complexity of the process can be very frustrating, but the small triumphs outweigh all disappointments. It's my favorite piece, not only because it's one of the most successful, but because I managed to reflect her authentic personality." The photo was part of her exhibition in Zürich last January.
Capturing spirit
Each image printed on a steel plate is unique, indestructible and carries a certain imperfection that Lola defines as "realism". Her gut instinct and acute sense of observation are her guides when it comes to portraying what is her most intimate circle. "Each person has a mystery to reveal. One of my muses is my niece Elisabeth who studies textile design in Brussels. Her creations feature in the photographs. I also had a lot of fun photographing Ivonne Strahovski (The Handmaid's Tale) for Glamour UK. It was a challenge and a great experience to work in Canada in sub-zero temperatures for a summer edition. One of my dreams is to capture the spirit of the old generation which is disappearing from the towns of Galicia and with which I feel such a connection," she tells us.
While she poses on the stairs in her study, Lola shares how she and her husband adore Mallorca for its pastoral paradise and daily inspiration. Despite having to spend long periods of time away for work, they always long to go back and reconnect with their friends. "My youngest daughter was born in Campanet, so I have already accumulated many important moments on the island," she concludes. Her radiant smile conveying effortless warmth and empathy.