Members and guests joined another transformative day retreat in a beautiful location surrounded by nature and great views. This retreat focused on connecting deeply with your inner self to open the heart and unleash your true creativity.
The day started with a welcome tea, setting intentions and getting to know the other participants. Afterwards, we enjoyed a waking-up Yoga practice, transformative Kundalini Yoga, Pranayama sessions and meditation. We let go of any inhibitions with some ecstatic dance, before joining a Family Constellations workshop to connect with our own life force energy. We had a lunch break where we tasted some delicious fresh food and the afternoon continued with a creative workshop, where everyone came up with their unique painting inspired by their feelings during the day.
Our next Autumn Lunar Eclipse Day Retreat will take place on October 28th. You can reserve your place here now!
Address details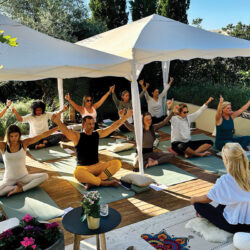 hc/ Living & Business Lounge
C/ Jardí Botànic 2