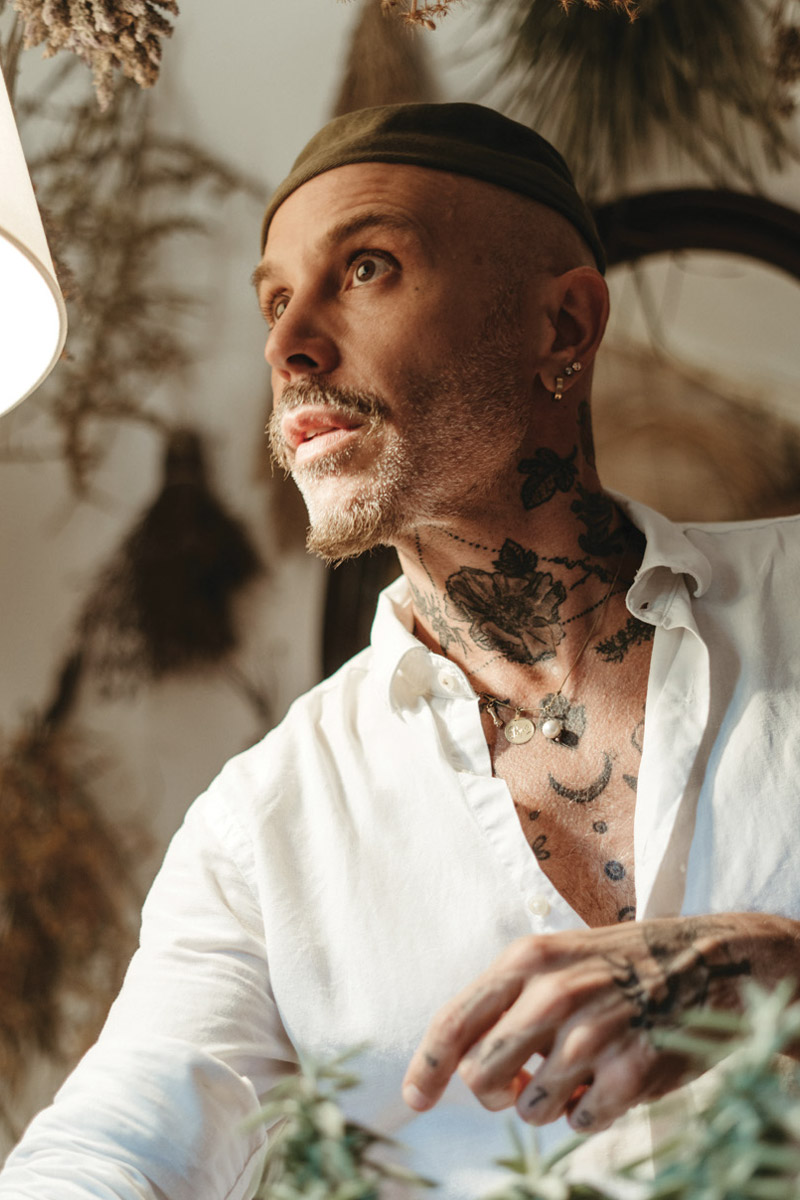 Lucas Riso is a creator in search of peace. "I was a florist for 20 years in Buenos Aires. We prepared floral arrangements for weddings, christenings and other events, and designed gardens." The 47-year-old Argentine came to Europe for a change of direction. "I tried Italy, which wasn't for me. Then friends recommended Mallorca." Upon arrival three years ago, he felt an instant connection. "I loved the sea, the forests, the flowers and the wilderness. I learnt of the old people's profound appreciation for herbs. They know what you can eat and what can heal." 
A LOVE OF NATURE
From this well of knowledge, Lucas has drunk deeply. ''Often when driving through the countryside a plant will catch my eye; a borage bush, some ox-eye daisies or a patch of mallow. I keep my scissors with me and don't get anywhere fast!" Applying his skills as an artisan and florist to Mallorcan wisdom, he has created a range of conscientious products almost entirely from the island. His incense, for example, makes careful use of native varieties instead of more popular imports, such as Mediterranean rather than California white sage. In the forest near his workshop, he passes this knowledge on to customers in occasional sessions when they can create their own unique objects. 
The former florist's goal is to deepen relaxation and spiritual exploration with tools that heal rather than harm nature. The candles are made with vegetable wax. When heated, this becomes a butter ideal for massage. The coconut casings are fit for reuse or compost. "I'm no shaman or guru. I simply let visitors to my Son Armadams workshop talk. This way they can find or design the thing they need to boost their inner power." For all his humility, moustachioed Lucas cuts a striking figure. Much of his lean body is covered in captivating tattoos. "Relics of another life," he smiles, "but I am proud of them." 
THE PATIENCE TO CREATE
It's obvious a great deal of love and patience goes into Lucas' creations. His incense sticks and cones, hand-poured candles, embroidered leaves, hand-stitched notebooks and other curios have a charming simplicity. "What more do you need than a palm leaf?" he says, referring to one of his beautifully embroidered fans. "This is probably what the first people on the island used, and it works well." It's no surprise Lucas' products have proven popular at such shops as NU Market in Santa Catalina and Joymadebyhand in Deià. The consummate craftsman admires the work of other artists too, such as fellow Argentine and musician Luis Alberto Spinetta. "You must create if you want to see your land at peace", Spinetta sings in Quedándote o Yéndote, as quoted by Lucas in a thoughtful Instagram post. Lucas' so-called 'little project' may just have that effect.
Text by Ciarán McCollum / Photos by Sara Savage