Sustainability also means knowing who you can trust on a building project, particularly one in which millions will be invested. We all want to know who we are dealing with and, on Mallorca, recommendations as well as positive reviews are worth their weight in gold.
The Mallorcan construction company Llull Sastre was founded in 1934 and has been run by the same family ever since, who are now in their third generation. The family business survived the wave of excessive tourism growth, as well as the economic crisis, and has gone from strength to strength since then. From five-star hotels and residential complexes to luxury yacht marinas – no challenge is too great.
"The secret of our success lies in thinking ahead and identifying problems with foresight, and then seeking solutions for these. Those who look to the future will also find things that point the way," explains Managing Director Pedro Martín, who has been working in the company for 20 years. He owes the longevity of Llull Sastre to its family spirit and genuine connections which have kept his team strong. "During the economic crisis we consciously addressed the international market." This led to many, very interesting projects from private investors as well as those with a sustainable approach.
An example of this is the recently completed energy-efficient luxury villa in Son Vida, under the management of client Fabien Leduc. Only high-quality materials were used in the building with the adherence to the strict energy efficiency standards of a 'passive house'. "High-quality insulation, environmentally-friendly systems and a maximum use of natural light, as well as solar radiation, reduce energy consumption in all areas of a home," explains the managing director.
"Light is everything!" he continues. "The more glass and windows a building has, the better!" Boundaries merge. There are no longer any trip hazards when everything seamlessly merges. The exterior takes over the interior and vice versa. The oversized windowpanes use special glass with a UV filter and the technical facilities offer maximum energy saving. "Minimum consumption with maximum comfort," says Pedro Martín, explaining the concept.
If you look at this philosophy closely it contrasts significantly with the Mallorcan building tradition. A traditional stone finca, for example, is like a fortress against natural light – for centuries, windows resembled light shafts to offer protection from the heat and intruders. "The patio is the nicest area," laughs Pedro Martín. This also proves a certain courage and awareness of trends among Mallorcans – in freeing themselves from the past and showing confidence in an international awareness of modern comfort and quality standards. It also shows that on the island nothing is more recommendable than choosing a long-established Mallorcan company – it's almost like marrying into the family, as nobody knows the island better!
Discover more top construction companies in Mallorca!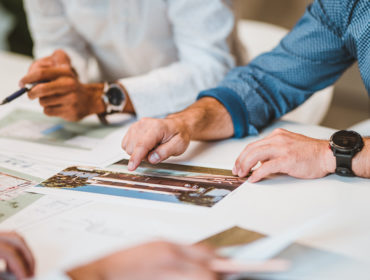 Discover the very best construction companies in Mallorca with Dr Helen Cummins' handpicked list of the firms that you can trust.