Miquel Bauzà, director of LF91 Project Management is acutely aware of detail, as he explains that when it comes to approaching a construction project, every aspect must be considered. "It´s often in the things that you don´t see" he says, pressing how he oversees every aspect of his projects down to the very last seal, glaze and join. He sits back in his chair with a manner that is cool and relaxed, a trait entirely apt for over a decade of highly-intensive, precise project management. He is incredibly conscientious, affirming that the basis of his reputation is formed on executing the vision of his client. From the initial sketches to executing tailor-made architectural design, Miquel – aware of its cliché – insists that his work really is about "making dreams come true."
Responsible for project managing some of Mallorca's most stunning properties, Miquel presses that the key is trust, to ensure a smooth and effortless collaboration.
"I believe in my clients, they believe in me" he says, bringing his hand to his chest. With most projects spanning years to accomplish, he instils a firm relationship with his collaborative team of architects, engineers and designers to ensure project stability. The nature of his work is a process of discovery, as he explains that his renovation projects in particular expose the finer details of building work. He reaffirms his initial point of looking beyond the veneer, captivated by the smaller details that lie under paint and plaster. He uses a current project as an example which involves reforming a historic townhouse in Pollença. Raising his hands above him, he imitates its bodega ceiling and the methods involved to bolster its form. He takes us through every phase of the work ahead before pausing to let us in on a little prediction. He tilts his head, "I´m pretty certain we'll find original sandstone there." There is an excitement to this foretelling which Miquel can barely contain. Fueled by a passion for original features, we remark that he couldn't be working anywhere better. He agrees, "Mallorca is a mix of cultures and history, there is so much variety in architecture." We ask how he approaches these more sensitive rebuilds and he smiles, "I am always open-minded."
Miquel steers the conversation back to the emotion involved in bringing a client's vision to life. As expected he talks of the challenges involved when there are specific tastes to satisfy. One client he recalls "wanted everything shiny and sparkly", which we can assume with Miquel's meticulous attention, would mean quite literally everything. Clearly his clientele – rarely burdened by financial limitation – push Miquel's creativity to oversee building the most opulent homes. A skill that he says is what makes his work so unique, particularly when it involves clientele from outside Spain. However, with Miquel roots firmly based on Mallorca, LF91 remains as unchanged as the day it started. Using trusted suppliers and local creatives, their projects all stem from the same land, a place that Miquel proudly calls home. On the topic of attachment, we ask how it feels for Miquel to finish a project after so many years of dedication. "When I hand-over the keys sometimes my clients cry with emotion" he says, proud of meeting his clients' expectations.
Address details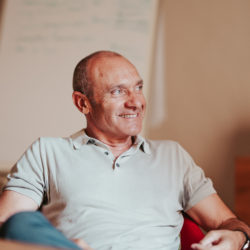 Lf91
Rotonda de Can Berenger S/N, Pollença